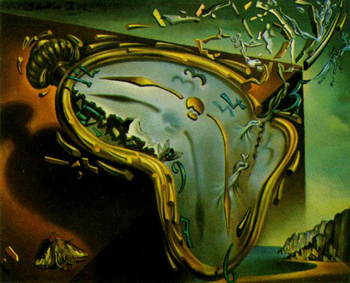 (Illustration: Salvador Dali's 'Soft Watch at the Moment of First Explosion,' found here).
A pathological nut-case getting ready to speak to America — T-Rump is scheduled for a TV speech in about half-an-hour, and maybe the end will ring.
Gabriel Sherman at Vanity Fair this morning on the T-Rump's world:
It's the president's personal Alamo.
Inside the West Wing, Trump has told aides he's prepared to stake his presidency on making a last stand.
"He has convinced himself he can't win re-election in 2020 unless he gets a lot of the wall built. It's fundamental to his id," a former West Wing official said.
"The problem is, the Democrats know that."
Trump's aides fear he has given himself no way out.
"The president put himself in a box," the former official in touch with the White House told me.
"The problem is there's no endgame. Right now the White House is at a seven on the panic scale. If this thing goes on past the State of the Union they're going to be at an 11."
Another prominent Republican close to Senate Majority Leader Mitch McConnell described Trump's handling of the shutdown as "total fucking chaos."
Beyond the overall horror-shit-show, the Trump's lying precedes him — pros gamble on how many lies the T-Rump will spout off in eight minutes tonight. He's going to lie, that's a given; the waging is strongly based on how many lies the orange turd spouts off.
Via the New York Daily News this afternoon:
BookMaker, an offshore gambling house that claims 30 years in the business, is laying odds on how many times President Trump will lie when he addresses the nation at 9 p.m.
…
"We tend to post these odds for entertainment purposes, however, as a part of a larger trend in interest in political props that we have have been experiencing since the current administration has taken office, we are seeing unexpected volume on such a short term basis," according to John Lester, who sets odds at the Costa Rica-based gambling site.
"We have received over $100,000 in action on this wager in the first 12 hours alone."
…
Online gamblers can place up to $500 per bet on how many "false statements" Trump will make by logging onto BookMaker.Eu, where the over-under is 3.5.
That means bettors who believe the President to be a man of integrity can win money by wagering the Trump makes fewer than three and a half statements that are demonstrably untrue.
Skeptics who want a piece of the action — which represents an overwhelming majority of BookMaker's clients so far — can claim a cash prize by betting the President makes more than that number of false claims.
Despite the lying, even the gambling world is scared of talking reality:
Lester and his colleagues at BookMaker aren't interested in gambling on Trump's intentions.
"We actually chose the phrase 'false statement' instead of 'lie' to avoid having to prove that the President is intentionally misleading the public," he said.
After a period of time, however, and with a continuing-series of obvious, most-similar situations, anyone should know the T-Rump's intention is to lie — he'd rather lie than tell the truth (or use facts) to spin whatever fucked-up piece of shit he's created.
Hence, deceit-fueled chaos.
We wait…