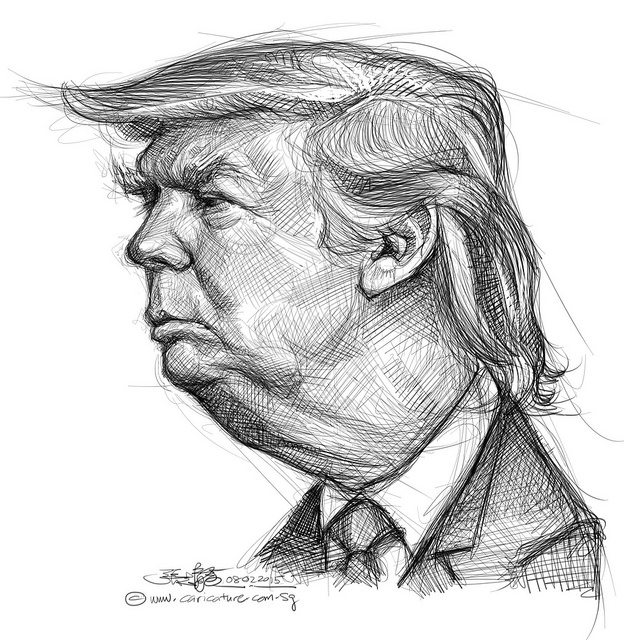 (Illustration: Donald Trump, 'Basic Shapes,' by caricaturist/illustrator Chong Jit Leong, found here).
Another book about the shit-ways of the T-Rump, this time from political author Larry Leamer, and 'Mar-a-Lago: Inside the Gates of Power at Donald Trump's Presidential Palace' — understand his 'temper tantrums' are part of his mean-ass/cold-cruel baby syndrome.
Via People this afternoon:
"He [Trump] took these people on and he didn't back down," Leamer tells PEOPLE.
"He left no prisoners. People either loved him or hated him. That's what he wanted. He wanted to be talked about."
According to Leamer, Trump's combative style was on display even in the kitchen, where he once fired a chef because he did not like the chef's signature (and widely loved) Caesar salad.
But not Trump, who preferred hamburgers, steak and a wedge of iceberg lettuce.
According to Leamer, several months after the chef was hired, Trump came into the kitchen one day "swearing like a truck driver."
"He went into the kitchen and he just blew up," Leamer says.
"He screams and yells and says 'You and your f-ing salad.
[And then] he makes his own salad and tells him, 'I'll show you how to make the Caesar salad.' "
Trump proceeded to do just that, tossing together lettuce and croutons, "sprayed with salad dressing," according to Leamer.
He fired the chef the next day.
While in the vicinity, an overall view of Palm Beach/Mar-a-Lago area of South Florida at the Washington Post a couple of days ago — the beach-side communities in the age of the T-Rump.
Read the whole piece, pretty interesting on the influence of money, and way-more money on a community, but here's some noted snips:
"He has to be the center of attention," says Laurence Leamer, author of the forthcoming book "Mar-a-Lago: Inside the Gates of Power at Donald Trump's Presidential Palace."
"He doesn't give a damn if it's negative."
…
"It's very divisive," says a wealthy Washingtonian who owns a home in Palm Beach.
"People try not to talk politics. I tend to socialize with people who do not like Trump, but the few Republicans I end up with — some don't like him and are embarrassed by him.
"But a lot of them, especially if they have a lot of money, think he's great."
…
There were heirs and heiresses with vast fortunes and little to lose.
Trump was one in a long line of colorful personalities when he first came in 1982; unfamiliar with the history and class structure, he was, as one local puts it, "a Miami Beach kind of guy."
During a tour, he spotted Mar-a-Lago, the mansion built by cereal heiress Marjorie Merriweather Post in 1927.
…
"He wanted to be king," explains Leamer.
"He wanted to be the biggest thing ever. And it was the most incredible place in America."
And we're stuck with the cretin…for the time being, anyway.