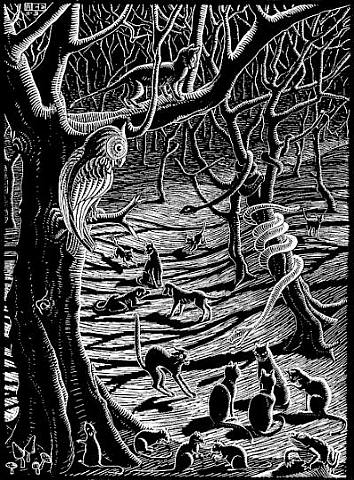 (Illustration above: M.C Escher's 'Scholastica,' found here).
As the work-week comes to a close this Friday evening, the natural momentum of our terrifying times-of-history doesn't have weekends off, so the ruthless grind of weird shit will keep on trucking — an iconic phrase there, 'keep on trucking,' first poised in the jazz-music scene of the 1920s and 30s, through a set of watchwords for the 1960s Hippie, and on into the nowadays. Except it's a positive phrase, an encouragement, a 'go for it,' a cheer-you-on — except our predicament isn't of a good nature.
It sucks…
Widening our insight into the unhinged/illegal/immoral/treasonous activities of the T-Rump, the 'Witch Hunt" got some back story today, per reporting from the New York Times:
In the days after President Trump fired James B. Comey as F.B.I. director, law enforcement officials became so concerned by the president's behavior that they began investigating whether he had been working on behalf of Russia against American interests, according to former law enforcement officials and others familiar with the investigation.
The inquiry carried explosive implications. Counterintelligence investigators had to consider whether the president's own actions constituted a possible threat to national security.
Agents also sought to determine whether Mr. Trump was knowingly working for Russia or had unwittingly fallen under Moscow's influence.
The investigation the F.B.I. opened into Mr. Trump also had a criminal aspect, which has long been publicly known: whether his firing of Mr. Comey constituted obstruction of justice.
…
The special counsel, Robert S. Mueller III, took over the inquiry into Mr. Trump when he was appointed, days after F.B.I. officials opened it.
That inquiry is part of Mr. Mueller's broader examination of how Russian operatives interfered in the 2016 election and whether any Trump associates conspired with them.
It is unclear whether Mr. Mueller is still pursuing the counterintelligence matter, and some former law enforcement officials outside the investigation have questioned whether agents overstepped in opening it.
…
As F.B.I. officials debated whether to open the investigation, some of them pushed to move quickly before Mr. Trump appointed a director who might slow down or even end their investigation into Russia's interference.
Many involved in the case viewed Russia as the chief threat to American democratic values.
…
F.B.I. officials viewed their decision to move quickly as validated when a comment the president made to visiting Russian officials in the Oval Office shortly after he fired Mr. Comey was revealed days later.
"I just fired the head of the F.B.I. He was crazy, a real nut job," Mr. Trump said, according to a document summarizing the meeting.
"I faced great pressure because of Russia. That's taken off."
The T-Rump will soon so-so-wish it was all just a 'Witch Hunt' — not!
In the midst of the T-Rump's negotiating attributes in keeping the government shut-down, two people from his past remember the now-obvious (HuffPost this morning):
President Donald Trump may hype himself as a master dealmaker.
But that's not how former longtime Trump Organization executive Barbara Res or, Trump's 'The Art of the Deal' co-author Tony Schwartz see it.
They told MSNBC's Ari Melber on Thursday that Trump's dealmaking skills aren't what the president brags them to be.
"I never thought he was a great dealmaker, to be honest with you," said Res, who was the organization's vice president in charge of construction.
"In terms of taking the responsibility for the buck, he just would never do it. It's not in his DNA. He's never responsible. It is always someone else's fault."
Schwartz, meanwhile, said he recently looked back on Trump's business deals that he "unfortunately described 30 years ago" and realized that "most of the deals in that book were failures."
"And the number of deals he's made over the years since then have overwhelmingly been failures," Schwartz added. He said Trump was "really one of the worst" dealmakers he's ever come across.
The entire T-Rump drama is just getting old real fast — a lot of people have finally come to grips with the rock-and-a-hard-place.
From NPR, also this morning:
Three-quarters of Americans say the government shutdown, now tied for the longest in U.S. history, is "embarrassing for the country," including a majority of Republicans, a new NPR/Ipsos Poll finds.
If no deal is struck by midnight Friday, this partial shutdown will be the longest ever. From late 1995 to early 1996, the government was shut down for 21 days.
Friday is the 21st day of this current shutdown.
Neither side appears ready to budge, and this poll and others make Democrats feel they have the upper hand.
…
A Reuters/Ipsos Poll out Tuesday found that 51 percent of Americans said President Trump "deserves most of the blame," up 4 points from late December 2018 around when the shutdown began.
A YouGov Poll out this week found 50 percent also blamed Trump, also up 4 points from late December.
Ihe NPR/Ipsos Poll also found that Trump's Oval Office address Tuesday had little effect.
Just 10 percent of Americans said the president's speech brought the country closer to ending the government shutdown.
(Nearly 4 in 10 said they did not watch or even follow the address.)
And maybe the T-Rump can use the savings off not cleaning up nuclear waste to finance wall. Supposedly, the US Department of Energy wants to cut back on working with the shittiest waste products on earth, but yet is part of the government.
Via the UK's Independent from a couple of days ago:
A federal government plan to reclassify this waste as less dangerous has been fiercely criticised by officials in Washington state, who said the move would allow it to walk away from its responsibility to clean up millions of gallons of toxic, radioactive material.
The state is home to the Hanford nuclear site which houses the nation's largest collection of nuclear waste, left over from atomic bomb production.
…
Critics say that reclassifying some of the high-level radioactive waste to low-level could save the government billions of dollars and decades of work, but would do so by simply leaving dangerous material in the ground.
…
Currently, all of that waste is classified as high-level.
Plans for its treatment and disposal have been developed to isolate it from the environment until it is no longer dangerous.
The energy department wants to reclassify some waste if it meets certain highly technical conditions, and says such measures would save $40 billion in clean-up costs.
Washington state's Gov.Jay Inslee, a politically-minded Democrat, is throwing the radioactive material back at the T-Rump machine:
"This dangerous idea will only serve to silence the voices of tribal leaders, Hanford workers, public safety officials, and surrounding communities in these important conversations," said Mr Inslee, a Democrat who is considering a presidential run in 2020.
"This is unacceptable, and we will not stand by while this administration plans to abandon its responsibility to clean up their mess."
And an end with frosting on top — Ivanka Trump is being considered for made president of the Wold Bank.