Early-evening Sunday here on California's north coast, another gorgeous day with sunshine and warm temps (or the lack of hardly any wind) all day long — again to the dunes with the dogs, and then some house cleaning — a good time had by all.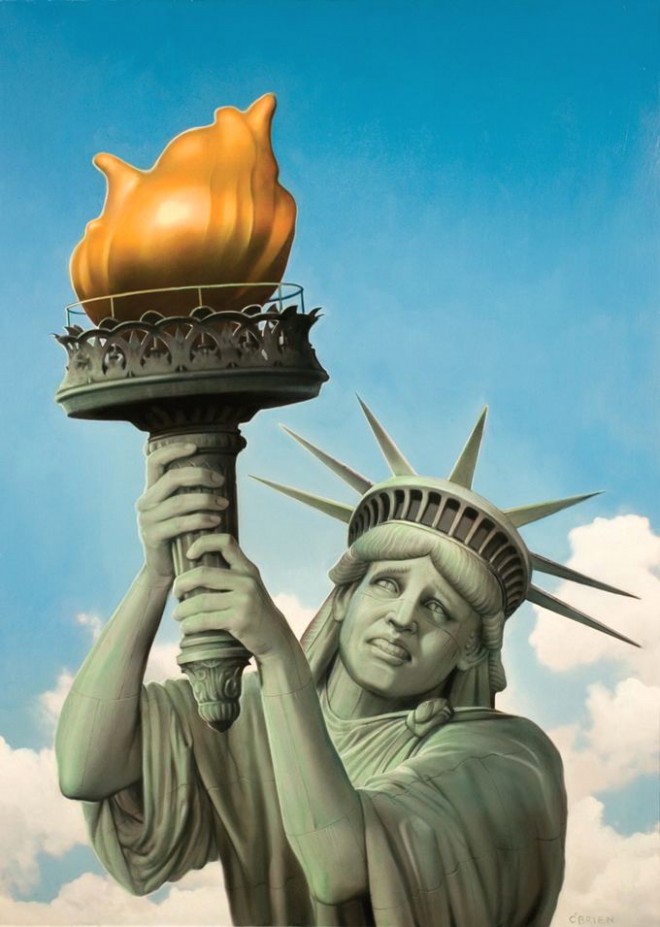 (Illustration: Artwork by illustrator and portrait painter, Tim O'Brien, found here).
Meanwhile, further adventures of America in The Twilight-T-Rump Zone — an alternative-universe really-bad Aaron Sorkin dodo-drama. Apparently, the T-Rump has been in co-hoots with the Russkies.
Feels a vindication, but still stinks way-foul — 'collude' via Merriam-Webster:
Our English "lude" words (allude, collude, delude, elude, and prelude) are based on the Latin verb ludere, meaning "to play."
Collude dates back to 1525 and combines ludere and the prefix col-, meaning "with" or "together."
The verb is younger than the related noun collusion, which appeared sometime in the 14th century with the specific meaning "secret agreement or cooperation."
Despite their playful history, collude and collusion have always suggested deceit or trickery rather than good-natured fun.
An insane wrap from the Guardian this afternoon, a quick low-down on the Russian 'Witch Hunt,' and some nonsense spittle from:the bowels of the T-Trump:
The New York Times reported on Friday that law enforcement officials were so concerned about Trump's behavior after he fired James Comey as FBI director that they launched a counterintelligence investigation into whether he was acting as a Russian agent, either intentionally or unwittingly.
According to another report by the Washington Post, Trump has taken unusual steps to conceal the contents of his discussions with Putin.
After meeting with the Russian president in Hamburg in 2017, the Post reported, Trump took his interpreter's notes and instructed him not to disclose what was discussed to other US officials.
On Saturday night, Trump was asked by a Fox News host whether he had ever worked for Russia.
"I think it's the most insulting thing I've ever been asked," he said.
He did not give a yes or no answer.
As for his conversations with Putin, he said: "I'm not keeping anything under wraps, I couldn't care less."
He will soon.
Bloomberg this morning has another overview on T-Rump's bro-love of Vladimir Putin, and the obvious:
A reasonable person might wonder if the president has been going out of his way to hide something.
The president was less concerned.
"I'm not keeping anything under wraps. I couldn't care less," Trump said.
"I mean, it's so ridiculous, these people make it up."
…
Whether any of that looms large in the president's mind — or whether he completely understands the potential threats of the various probes surrounding him — is unclear.
An open season of House probes is set to kick off publicly next month in Washington when the president's former lawyer, Michael Cohen, testifies in a hearing about his experiences working for Trump.
Pirro asked the president on Saturday night if he had concerns about Cohen's testimony.
"You know, you're supposed to have lawyer-client privilege, but it doesn't matter 'cause I'm a very honest person, frankly," Trump responded.
He's a major, fucking-ass psycho…