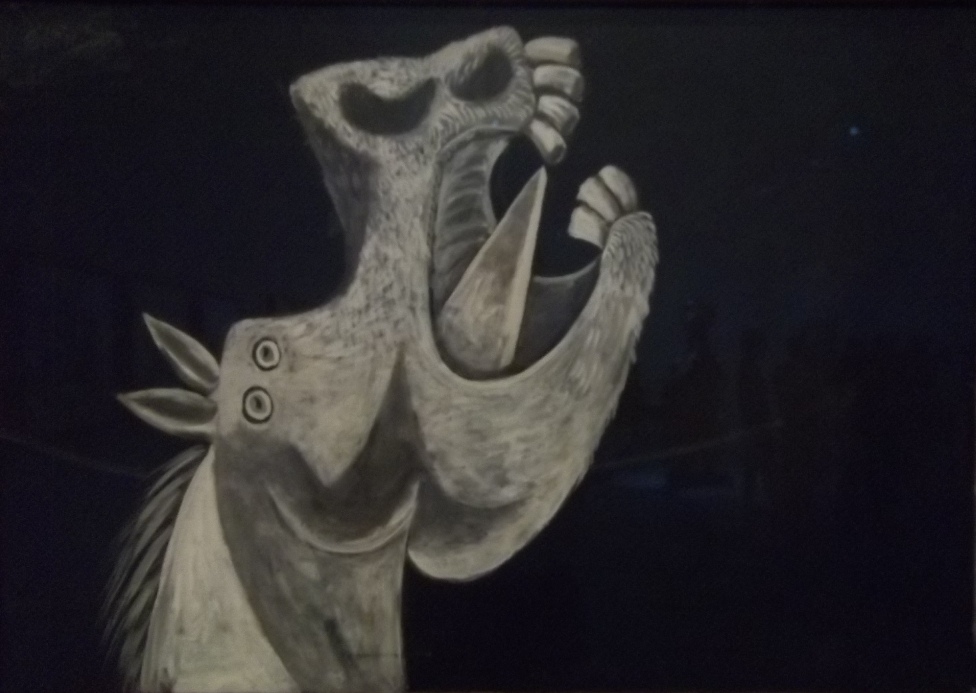 (Illustration: Pablo Picasso's 'Agonizing Horse,' found here).
A gray-white overcast and chilled sky this late Tuesday afternoon on California's north coast, the dark approaches. Fairly-deep fog this morning when I walked the dogs (or the dogs walked me) out on the Ma-le'l Dunes, the southern unit, and it was more-than-nice; the dogs loved it — in the past few weeks I've grown to enjoy the Dunes, and the strange deep-sand valleys.
According to WunderBlog's weather thingie, 'Mostly Cloudy'/'Mostly Sunny' for tomorrow and Thursday, but rain starting Friday and lasting nearly a week — winter.
Friday, too, the first of February — seems just like yesterday the federal shut-down started (Dec. 22, 2018), and presto, here we are. Time flies when you're having fun, or so they say.
Of yesterday, I noticed this afternoon the report of two TV networks being absent from the first White House news briefing, the first in 41 days — they abandoned the event after the news segment, cut away upon Huckleberry Sanders arrival at the podium
The announcements segment included National Security Advisor John Bolton, babbling/lying about Venezuela , along with Treasury Secretary Steve Mnuchin, both bullshitting about new sanctions on Venezuela's state-owned oil company, and then out popped senior economic adviser Larry Kudlow, who during his bullshit part, unwittingly blurted the T-Rump's team slogan: '"No, I won't acknowledge any of that right now…"' (Mediaite):
Fox News and Fox Business Channel carried the briefing, including the warm-up acts, live. But both CNN and MSNBC went with other programming, even after Sanders took the stage.
MSNBC stuck with Nicolle Wallace's Deadline: White House, which featured panel discussions on the latest developments in the Mueller investigation.
On CNN, The Lead with Jake Tapper stuck with its live broadcast from Des Moines, IA, in anticipation of Monday night's Jake Tapper-hosted town hall meeting with California Senator and 2020 Democratic presidential candidate Kamala Harris.
And speaking of which:
Monday night's CNN Town Hall with Senator Kamala Harris was the most watched cable news single candidate election town hall ever.
…
In total viewers, the Town Hall averaged 1.957 million, a +75-percent advantage over CNN's prior four (1.119 million).
MSNBC had 2.345 million and Fox had 2.256 million total viewers at 10pm last night.
Interesting times we live in, healthy or way-not — just moving really, really fast…