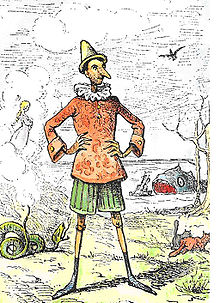 (Illustration: 'Pinocchio,' by Enrico Mazzanti (1852-1910), found here).
 Quietly wet this Sunday evening on California's north coast — rain-showers and clouds all day, and although maybe a little undramatic, getting soaked is still no fun. Some real-foul weather though, down in the LA area, and along the Central Coast with heavy rain, mudslides and wind.
Weathering the T-Rump, shit-slides and all — in an interview aired today:
"On the 15th we have now set the table beautifully because everybody knows what's going on because of the shutdown," Trump said.
"People that didn't have any idea — they didn't have a clue as to what was happening, they now know exactly what's happening."
Trump added: "I don't like to take things off the table. It's that alternative. It's national emergency, it's other things and you know there have been plenty national emergencies called. And this really is an invasion of our country by human traffickers…"
The president repeated his assertion that without a border wall the US is subject to vast lawlessness, including "human trafficking — drugs and gangs and criminals pouring in."
Actually would be hard-to-believe someone could be so full of bile, slobbering bullshit-lies and ignorant bluster so continuously — if he didn't do it constantly,/repetitiously. But the T-Rump has performed in such a manner for so long.. He blurts out the same shit for months, since forever — a review via Politifact last month on the T-Rump's 'wall' talking points:
President Donald Trump's arguments for a border wall at the U.S.-Mexico border generally center on two themes: the dangers and costs of immigrants.
Often the facts behind those claims are either inaccurate or unsubstantiated. Here's a rundown of Trump's repeated mischaracterizations of immigration issues.
And down the list in somewhat detail, from actual crime rates, drug smuggling, and so on, but the gist of the matter:
There is crisis, but it's about the asylum system, not people pouring across the border, experts say.
The overall number of people caught at the southwest border is not at historic high levels.
During Trump's time in office, overall apprehensions have been below 400,000; there were more than 1.6 million apprehensions in fiscal year 2000.
Illicit drugs mostly enter through legal checkpoints, not in between points of entry.
Several studies also say that immigrants (regardless of immigration status) are not more prone to crime than native-born Americans.
Trump regularly contends that immigrants coming in illegally will increase crime in the United States.
The most pressing problem, researchers say, is the country's backlogged system for dealing with asylum claims from migrants.
Less dramatic, and his own deplorables won't pay attention…