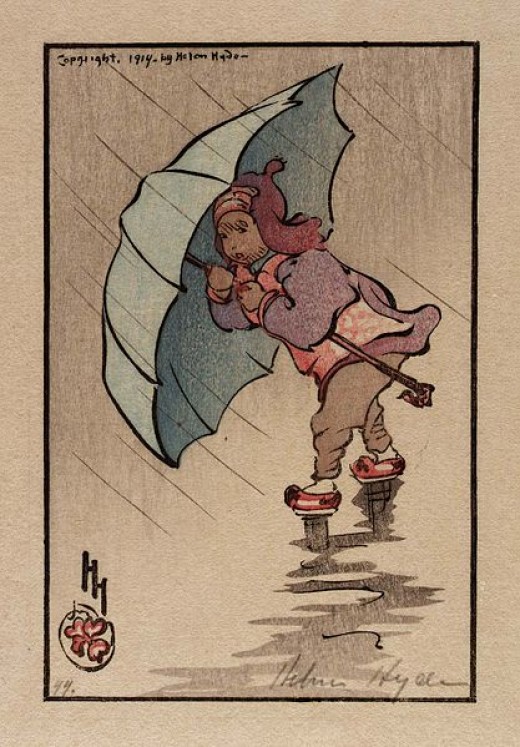 (Illustration: 'The Blue Umbrella 1914,' by Helen Hyde, found here).
Just a bit above freezing this late-afternoon Monday on California's north coast — and after a decent rainfall this morning, I took the dogs out to Samoa Beach, right-near that upside-down/half-buried in-the-sand red Chevy pick-up truck (see Lost Coast Outpost).
And during our walk, we experienced some beautiful sunshine for a few minutes at a time, and big patches of blue sky among big-fluffed clouds floating rapidly above, even a small rainbow was spied way to the northwest, though, only a small burst of those colored, curved bands could be seen. There'd been showers/rain on the drive out to the beach, but once on the sand, all was good.
According to the NWS, 'Rain/Snow Likely then Scattered Rain/Snow' forecast for tonight, and tomorrow the forecast drops to 'Slight Chance' rain-or-snow as winter continues…
As we ponder climate change and our corresponding weather, the horrible consequences of what's happening to our environment is quickly approaching a cut-off line. Even in the midst  of technology, there's not much in the way of optimism. An interesting read at New York Magazine from this morning off an excerpt/adaptation from a new book, "The Uninhabitable Earth: A Story of the Future," by David Wallace-Wells, to be published later this month.
Hope in the face of the reality of global warming is hard, because…reality:
Since I first began writing about climate a few years ago, I've been asked often whether I see any reason for optimism.
The thing is, I am optimistic.
But optimism is always a matter of perspective, and mine is this: No one wants to believe disaster is coming, but those who look, do.
…
If the task of reversing all that seems incomprehensibly big, it is.
The scale of the technological transformation required dwarfs every technological revolution ever engineered in human history, including electricity and telecommunications and even the invention of agriculture 10,000 years ago.
By definition, it dwarfs them, because it contains all of them — every single sector needs to be rebuilt from the foundation, since every single one breathes on carbon like it's a ventilator.
In October, the U.N.'s Intergovernmental Panel on Climate Change warned that the world has only a dozen years to halve its carbon emissions to safely avoid two degrees of warming and all those "catastrophic" impacts.
…
Is it possible?
The short answer is, technically speaking, maybe — though just maybe.
But speaking practically, and politically, is another matter.
…
The longer we wait, the steeper the declines will have to be.
If the world as a whole had begun decarbonization in the year 2000, when Al Gore collected half a million more votes in the presidential election than George W. Bush, emissions would have had to fall by 3 percent per year to achieve climate stability at two degrees; if we begin now, we will have to cut them by 10 percent each year; if we wait another decade, the cuts will be enormous, 30 percent per year, to even hope for warming levels below "genocide."
Last year, Nordhaus's own nephew Ted wrote in Foreign Affairs that the dream of keeping the world under two degrees of warming, under any approach, was simply naïve.
Read the whole piece, it's kind of sad-gripping — in an interview at the Guardian yesterday, Wallace-Wells notes the emotion: '"My hope is first of all to tell the story as I see it. That has a couple of components. One is to show the crisis is happening much faster and is more all-encompassing than people think. And then also to think how those dramatic changes are going to cascade through the lives we live, the way we relate to one another, our politics, our culture, our psychology, all that stuff. I would like people to be scared of what is possible because I'm scared. And because I am motivated by fear, I also hope they will be motivated."'
Motivation is indeed in the eye of the beholder…