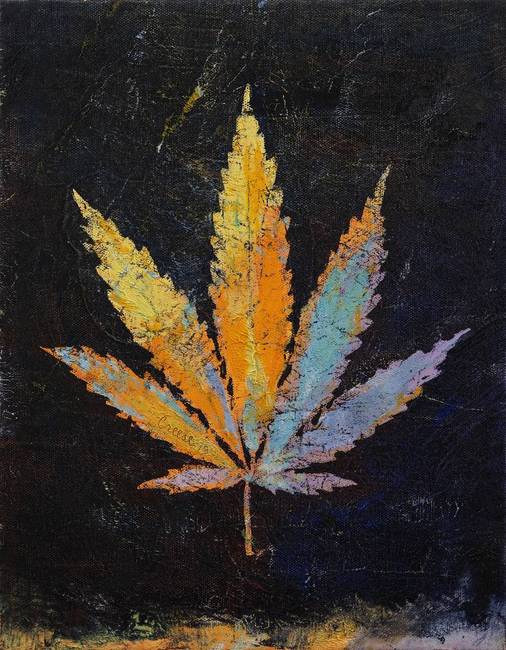 (Illustration: 'Cannabis,' by Michael Creese, found here).
Faded-bright sky with chilly air this late-afternoon Tuesday on California's north coast, a beautiful sunshine day, though, and Samoa Beach was again gorgeously tranquil.
The NWS forecasts 'Mostly Sunny' for tomorrow, but rain-showers expected for Thursday, and continuing onward for maybe a week.
Right as I type this, the T-Rump is blubbering-forth in his State of the Union speech. I'm not going to watch — gotten to where he makes me so mad, so sick, and just generally makes me feel miserable when I hear the sound of his voice.
I'll check later via the InterWeb for reaction, though. I do want to see how Stacey Abrams performs, hope she does the AOC on the T-Rump.
In other noted news, I spied this on the medical marijuana front — new research indicates a shitload of Americans use cannabis for pain relief, and evidence shows weed works. The study comes from the University of Michigan, and published in the February issue of Health Affairs.
One big find was the 'variability of available data,' which shows federal law way-way-outdated.
Some noteworthy points from Gizmodo this afternoon:
Patients use medical cannabis to treat the symptoms of a wide variety of ailments — but only some of those uses are actually backed up by science.
A new study out Monday, however, suggests the vast majority of patients are prescribed medical pot for conditions like chronic pain and multiple sclerosis, for which there is good research supporting the use of cannabis.
In light of their findings, the authors say it's high time that cannabis be downgraded from its federal status as a Schedule I drug, and it should be better tracked and regulated as a medical treatment.
…
All in all, they found, 85.5 percent of patients reported conditions that passed muster, with "substantial or conclusive evidence" of a therapeutic effect from medical cannabis.
The most common condition, by far, was chronic pain, with nearly 65 percent of patients reporting it as a qualifying condition in 2016.
The other two well-supported conditions were chemotherapy-induced nausea and vomiting, along with spasms caused by multiple sclerosis.
Other qualifying conditions reported in 2016 included cancer, epilepsy, arthritis, Parkinson's disease, post-traumatic stress disorder, and irritable bowel syndrome.
….
"If legal cannabis use is increasingly decoupled from medical need or oversight at the state level, then a larger role for federal government oversight—for instance, by the Food and Drug Administration—regarding product safety and information may be warranted," the authors said.
All of these complications, they concluded, make the strong case that not only should cannabis lose its status as a Schedule I drug, "but also that state and federal policy makers should begin evaluating evidence-based ways for safely integrating cannabis research and products into the health care system."
Furthermore and also (WebMD today):
"We wanted to understand the reasons why people are using cannabis medically, and whether those reasons for use are evidence-based," said lead author Kevin Boehnke.
He's an investigator at University of Michigan's Chronic Pain and Fatigue Research Center.
…
Though the number of registered U.S. medical marijuana patients rose from more than 641,000 in 2016 to nearly 814,000 in 2017, researchers said that's likely far lower than the actual number of users.
Of the license holders, 85.5 percent said they were seeking treatment for an evidence-based condition, with chronic pain accounting for 62 percent of qualifying conditions, according to the study.
This last year from Harvard Health Publishing, a part of Harvard Medical School:
Least controversial is the extract from the hemp plant known as CBD (which stands for cannabidiol) because this component of marijuana has little, if any, intoxicating properties.
Marijuana itself has more than 100 active components.
THC (which stands for tetrahydrocannabinol) is the chemical that causes the "high" that goes along with marijuana consumption.
CBD-dominant strains have little or no THC, so patients report very little if any alteration in consciousness.
Patients do, however, report many benefits of CBD, from relieving insomnia, anxiety, spasticity, and pain to treating potentially life-threatening conditions such as epilepsy.
One particular form of childhood epilepsy called Dravet syndrome is almost impossible to control, but responds dramatically to a CBD-dominant strain of marijuana called Charlotte's Web.
The videos of this are dramatic.
Meanwhile, back to the T-Rump…