Odd-off Sunday here on California's north coast, and now in early evening there's maybe just a tiny fraction of snow remaining from last night's storm — earlier today south Arcata's infrastructure-structure operation of house and porch roofs, car roofs, sidewalks, lawns, flower beds, everything was covered in surreal puffs of snow.
Did I go to sleep and wake up in Wisconsin?
And for emphasis, bright sunshine for awhile in the morning, making the scene even more surreal. Reportedly, this the most snowfall for our area in nearly three decades.
Late last night, the NWS tweeted:
Snow is coming down here at the office in Eureka, essentially at sea level. We are receiving numerous reports of significant snow accumulations along Highway 101 in the Arcata/McKinleyville area, making roads VERY hazardous. Please stay off the roads if at all possible! #CAwx pic.twitter.com/imJZ7mwO7x

— NWS Eureka (@NWSEureka) February 10, 2019
Out in the happening last night, with just the right pitch — Quinn Murdy, freshman member of the HSU football team, posted this video today on the snowfall high-jinks: :
Well-crafted, extreme-fun thingie right there…
Late this morning in the sunshine, without any musical accompaniment, I performed my walk-round-about-way to Safeway, and felt fairly-cold the whole trip, supposedly then about 39-degrees (little before 11). The sidewalks were still slushy in shaded parts, but streets/roadways were clear and mostly dry, though, none of the snow on buildings seemed to melt in a hurry.
Arcata Plaza held thin ribbons of snow, and looked slushy — not that many people in and around downtown.
Actual weather situation from Lost Coast Outpost this morning:
Meteorologist William Iwasko with Eureka's National Weather Service office told the Outpost that McKinleyville got the most snow last night, with 2 to 3 inches in the valleys and up to 5 inches in higher elevations.
Arcata, meanwhile, saw about an inch of snow, and areas of Eureka got about half an inch.
"The last time [Arcata and McKinleyville] had measurable snow that exceeded half an inch was March of 1999," Iwasko said.
"That was .6 inches. The last time we had over an inch of snow was February of 1990."
We're forecast for rain later tonight, 'Chance Rain and Breezy' for tomorrow, but snow not expected — and onward…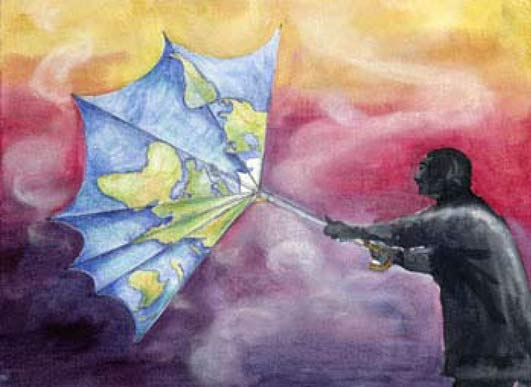 (Illustration: Artwork from the UN's International Children's Painting Competition, found here).