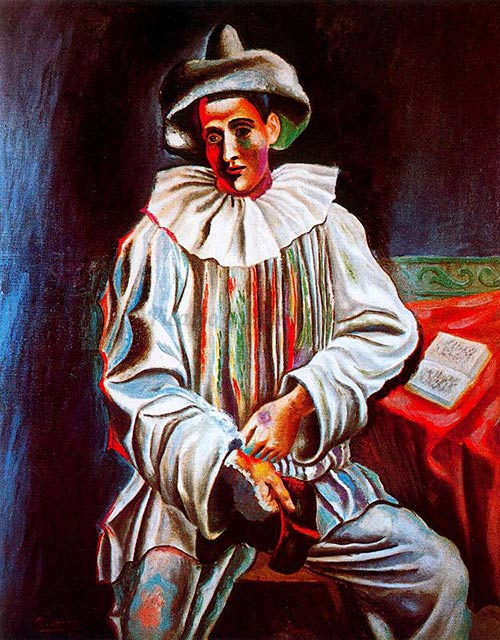 (Illustration: Pablo Picasso's 'Seated Pierrot,' found here).
Cloudy and damp this early-evening Saturday on California's north coast, though, I could see the three-quartered moon out my bedroom window a little while ago, but probably not now.
Showered on-and-off all today, with some heavy downpours mixed in for good measure. More rain forecast tonight and in the morning.
Supposedly/hopefully, sunshine slated starting tomorrow afternoon, and the days maybe bright and dry through Wednesday.
Typical of the world in regards to the feelings on the T-Rump. One case in point, Mike Pence's asinine speech yesterday in Germany at The Munich Security Conference — a stark example on how the world views our president (HuffPost):
"I especially want to invite all of you to thank Senator Lindsey Graham for leading this delegation," Pence said.
A strong round of applause followed.
"And to […] all of you I bring greetings from a great champion of freedom and of strong national defense, who must work with these members of Congress to strengthen America's military might and strengthen the leadership of the free world," he continued.
"I bring greetings from the 45th president of the United States of America, President Donald Trump."
The crowd did not react.
Pence then paused for several long seconds before continuing his planned remarks.
He was speaking at the conference's inaugural John McCain Dissertation Award ceremony, an academic prize named in honor of the late senator who attended the meeting for decades and who was famously antagonized by Trump.
And great music group, R.E.M., also popped back on the T-Rump (TPM):
The publisher of the rock band asked Twitter to remove a video Trump tweeted of his State of the Union speech that included their hit song "Everybody Hurts" late Friday night, according to CNBC.
The video was originally created by pro-Trump Twitter account @CarpeDonktum.
Mike Mills, the band's bass guitarist, called the makers of the video "assholes" when he first caught wind of it and asked Twitter CEO Jack Dorsey to take it down.
The video was removed, and the group later tweeted: 'World Leader PRETEND!!! Congress, Media — ghost this faker!!! Love, R.E.M.'
Sad, and scary.
The T-Rump is way-disliked, mainly because he's a way-repugnant asshole. And corrupt. A way-good side view of this whole shit comes from a piece by Andy Kroll at Rolling Stone from last Tuesday, eyeing another aspect of the horror of an 'idiot' like the T-Rump — a total, vile corruption not seen outside a movie set — and zones-in on total grifter-extraordinare, Elliott Broidy.
I'd heard of the guy before in the fabled T-Rump cast of villainous characters, and seemingly would take the cake, if they weren't a shitload of other assholes just as bad if not worse.
And Broidy's perception of the T-Rump is about the same as all of them:
In the 2016 presidential race, Trump wasn't his first (or second or third) choice: He'd initially supported Lindsey Graham, whom he'd known from the Bush years, switching to Marco Rubio, then to Ted Cruz.
At first, Broidy didn't think much of Trump: He allegedly told someone close to him Trump was an "idiot" who couldn't even pronounce the names of countries correctly.
But when the RNC and Trump campaign, whose lead fundraiser was Broidy's friend Steve Mnuchin, came calling in 2016, desperate to find anyone who could raise money, Broidy threw himself into a campaign other Republicans couldn't stomach. And it surely seemed like a lost cause to the people Broidy was soliciting — until the night of November 8th, 2016.
Read the whole article, it's crazy. In the rift-from-the-raft, Ann Coulter's just a more-recent throw-out of the T-Rump being an 'idiot.'
Sad, and extremely-way-scary…