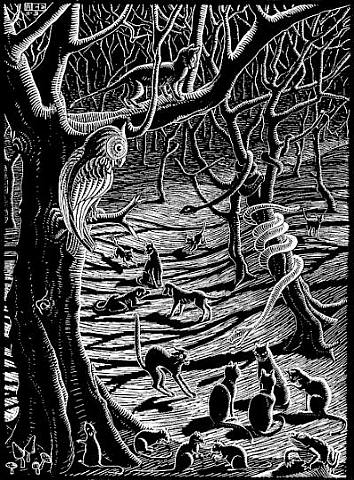 (Illustration: M.C Escher's 'Scholastica,' found here).
Near-clear and chilly this Saturday evening here on California's north coast — mostly sunny today, though, some cloud coverage throughout, and on the dunes at Little River Beach, the scene was way-nice, and warm, too. The dunes make for a most-excellent wind break.
Supposedly dry and sometimes-sunny until Wednesday, then more rain forecast for a few days thereafter…
Terrible the news cycles lately, pivoting off one shit pie to another. Yet a certain strand of this news carries an agenda, a darkly-deep docket of murderous shit.
David Cassidy at The New Yorker this afternoon:
So much for Donald Trump's absurd response, on Friday, when he was asked whether he thought that white nationalism was a rising threat around the world.
"I don't really," Trump said.
"I think it's a small group of people that have very, very serious problems. It's certainly a terrible thing."
Of course, Trump had good reason to try to minimize the threat from the extreme right.
In his manifesto, Tarrant praised Trump as "a symbol of renewed white identity and common purpose," while also criticizing his leadership skills.
"As a policy maker and leader? Dear god no," Tarrant wrote.
The T-Rump's form of governance is of the bully, and the use of fear. Personally, he's nothing more really than a scared-shit-less little asshole, but his words seem to perk up the worse of the worse, people like himself, and they'll do his dirty work. A horrible two-bit Mafia boss want-to-be, who's also a mean-cruel racist — this afternoon at NPR and what what this shit be:
Experts who monitor hate groups say the attacks on Friday at the mosques in Christchurch, New Zealand, follow a sharp rise in violent white extremism around the globe and especially in the United States.
"They operate in an ideological world of people that reinforce each other's ideas but may never actually meet each other in person," says Kathy Blee, who studies white extremism at the University of Pittsburgh.
It's a common misconception that the average white supremacist is a disaffected white guy with economic anxieties.
Blee's research shows middle class and even upper-middle class men from the mainstream are increasingly being drawn into this movement, which is mostly online and worldwide.
"A lot of them are very casual viewers initially, and they get pulled into these very extreme ideas," Blee says.
…
Here in the United States, there's been a spike in white supremacist-motivated violence and murders.
According to the Anti-Defamation League, ideologically-motivated extremists killed at least 50 people in the U.S. last year, and all but one of those murders had at least some links to right-wing extremism.
Only one, according to its recent report, was blamed on Islamist extremism.
And therein lies another widespread and dangerous misconception, says Brian Levin, director of the Center for the Study of Hate and Extremism at California State University, San Bernardino.
"This threat of homegrown, far-right wing, white nationalism, terrorism and extremism is the most prominent threat," Levin says.
…
"We're not getting much, if any, national leadership in terms of how to respond to hate and extremism," says Pete Simi, sociology professor at Chapman University in Orange, Calif.
…
Simi says, whether intentional or not, President Trump also speaks the language ?of white supremacists when he promotes a travel ban against majority Muslim countries and when he repeatedly talks about an "invasion" of immigrants at the U.S.-Mexican border.
Trump did so again on Friday, the same day as the New Zealand mosque attacks, when vetoing Congress' attempt to block his emergency declaration:
"We're on track for a million illegal aliens to rush our borders," Trump said.
"People hate the word invasion but that's what it is."
Simi says that kind of language sends a message to white extremists, "that this is not only permissible, it's encouraged."
And that drumbeat is picked-up, in terms of marketing schemes, we're in the exporter business, and it's not pretty:
In a less publicized shooting this week, two young men killed seven people at a school in Brazil.
Police say they were obsessed with the 1999 Columbine attack.
(Shooters in Germany, Canada and Finland have also cited Columbine.)
Mass shootings are often called a uniquely American problem, but experts say violence here has global impact.
"There's no doubt that previous mass shooters in the United States have been imitated by shooters in the U.S. and outside it," said Adam Lankford, a criminal justice professor at the University of Alabama who studies mass shootings, noting "the influence of America culturally and cross-culturally."
The United States is ranked No. 1 in international influence, based on its economic and military power as well as its "cultural imprint," according to U.S. News & World Report.
"America's culture and actions are contagious, as the U.S. draws a lot of attention," said Gary Slutkin, founder of Cure Violence, a nonprofit which treats gun violence like a disease.
…
Evidence shows mass shootings often have strong copycat effects, particularly for a certain kind of offender, said Jonathan Metzl, a professor of sociology and psychiatry at Vanderbilt University and author of "Dying of Whiteness: How the Politics of Racial Resentment Is Killing America's Heartland."
"The thing that's being exported is not just mass shootings, it's a particular form of hate and hate crimes that blames immigrants and outsiders and people who look different," Metzl said.
"It's impossible to see this crime and this mass murder just as a mass shooting. It took place in the context of the global spread of white nationalism."
And another worry to worry about…