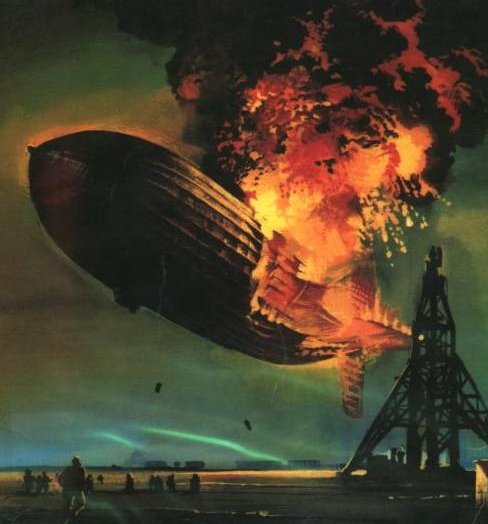 (Illustration: 'The Hindenburg Airship Disaster,' found here).
Sunshine and breezy this early-evening Monday on California's north coast — dog-running this morning at Ma-le'l Dunes was way-cool, though, a bit on the sharp-breezy side. 'Breezy' the word next few days…
In the rash of ugly news on the T-Rump and the state of the union — not so good — this is at least of pepper-upper good lowdown off some new polling data:
A poll conducted by ABC suggests the majority of Americans are unwilling to support President Donald Trump in the 2020 election, with healthcare and immigration policy cited as major deciding factors.
Released Monday, the poll found 55-percent of those polled refuse to vote for Mr Trump in 2020, with 40-percent opposing his re-election based on his handling of healthcare.
On immigration, 44-percent oppose a second term for the president, while 31-percent support it.
A majority of Americans polled — 58 per cent — also believe Mr Trump lied to the public about the Mueller investigation.
And a blow-back/blow-forward indication: 'Intended turnout meanwhile appeared "remarkably" high, with 75-percent of Americans, including 85-percent of registered voters, saying they are "certain" to vote in the election.'';
And us old folks — from the same poll:
In an earlier analysis of 2016 voter data, Pew Research Center found that Trump easily won over voters age 65 and up, with a margin of 53-44.
Yet that group may now be at risk for Trump, with 53 percent saying they definitely wouldn't vote for him in 2020, a Washington Post/ABC News poll has found.
And once again, from that same ABC poll, a view of the T-Rump's own party (HuffPost):
Nearly a third of self-described conservatives and 1 in 6 Republicans say they will not vote to give Donald Trump a second term as president, according to a poll released Monday.
…
"He's hemorrhaging Republicans and conservatives," said John Weaver, who ran former Ohio Gov. John Kasich's 2016 campaign for the GOP nomination and may do so again if Kasich jumps in the race to challenge Trump.
…
The poll of 1,001 Americans conducted over four days last week confirmed Trump's continued weakness with minority and well-educated voters in addition to the weakness among his own base.
"In his own party, 15 percent of Republicans say they definitely will not support Trump for-election, as do 30 percent of conservatives. This soars to 61 percent of 18- to 39-year-olds, 62 percent of women, 64 percent of those with a postgraduate degree, 68 percent of urban residents, 81 percent of Hispanics and 86 percent of blacks," the pollsters wrote.
Rick Tyler, who worked on the 2016 presidential primary campaign of Sen. Ted Cruz (R-Texas), said he tends to believe the poll results.
"At least that number of Republicans and conservatives can't be happy that Trump is squandering his presidency and basing his reelection, so far, on a campaign of grievances instead of policies," he said.
"But given Trump has no real vision for the country, beyond what's in it for him, and no capacity to bring about change in a constitutional republic by working well with others, his only real choice is to run as a weak, pathetic victim.
"Only the brainwashed or dead would cast their lots with him."
Still, 18 months to go, and Democrats have a history of fucking shit up…