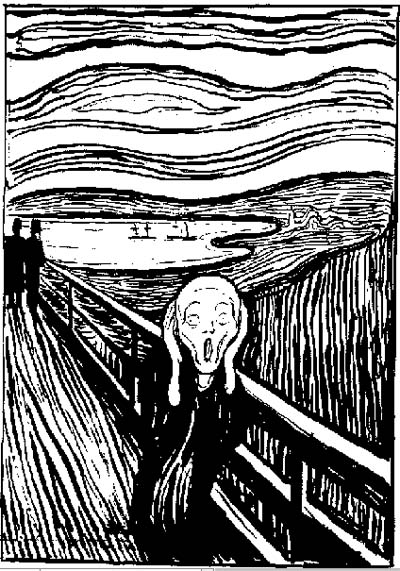 Horrific project the T-Rump boys are developing with Iran — most-ludicrous and way-scariest analysis came from the dumb-shit lips of Kentucky Sen. Rand Paul, as per USAToday this afternoon: 'Asked if he is worried about Bolton pushing for military action, Paul said: "I think that the president's instincts are good on this and hopefully he'll listen to his inner voice."'
T-Rump's inner voice is cruel chaos amplified…
Enough is enough, and it's enough to make me want to way-scream out loud, and for a way-long few minutes, too. Hence to the left, Edvard Munch's 'The Scream,' lithograph version (found here), in order to not upset the dogs, and the neighbors.
Art for our emotional age: 'The Scream is ugly and brutal and belongs in the here and now. It is a symbol we reach for as we might for a strong word, to express what we're feeling this minute.'
War is a leg-up over a subpoena…
Overall drama of the T-Rump era is getting hardcore. Beyond a catastrophic-looking Constitutional meltdown in DC, there's whole other long-set of chaos-induced shit across the globe, fueled by actions of the T-Rump and his nasty-faced underlings/henchmen, from economics and the incoherent tariff tussle with China (farmers losing their collective asses), to warmongering, incompetent-weirdness with Venezuela, and now fucking Iran.
Already a US Naval carrier group heading that way, and today some added crazed-muscle (CBS News):
Four B-52 bombers are being deployed to the Middle East in response to what administration officials said earlier this week are threats of a possible attack by Iran or allied fighters on American troops in the region.
Two of the bombers are expected to leave Tuesday from Barksdale Air Force Base in Louisiana, arriving at Al Udeid Air Base in Qatar on Wednesday, CBS News national security correspondent David Martin reports.
Background on the whole scope of this craziness from Forbes, also this afternoon:
On Monday, CNN reported that, according to U.S. officials, this move followed "specific and credible" intelligence that suggested "Iranian forces and proxies were targeting U.S. forces in Syria, Iraq and at sea, [which] led the Pentagon to recommend a carrier strike group be moved to the region."
Media reports in Israel suggested that this intelligence originated there: "According to Israel's Channel 13, Israeli officials conveyed information gathered largely by the Mossad on an Iranian plan to attack either a U.S. or U.S.-allied target, details of which were not provided to the network."
Specific scary detail:
Iran dismissed this deployment of the U.S. carrier group as a long-planned operation being hijacked for political purposes.
The carrier group would have transited through the Middle East on its return to the U.S. and Mike Pompeo, U.S. Secretary of State, conceded to reporters that the deployment was "something we've been working on for a little while."'
Keep in mind, Benjamin "Bibi" Netanyahu and the T-Rump are buddies…