Still bright and warm this early Monday evening here on California's north coast, a gorgeous sunshine day with a summer's heat. Supposedly, 74-degrees forecast tomorrow for Arcata, triple-digits interior temps, and fairly-much the same through the rest of this week.
Dog run to Little River Beach was hot…
Also today in faraway DC, the US House Judiciary Committee started the show — going after the T-Rump with a hearing aptly titled, "Lessons from the Mueller Report: Presidential Obstruction and Other Crimes," and Wednesday, the Intelligence Committee will conduct a second hearing in the "Lessons from the Mueller Report" series.
Former Nixon White House counsel John Dean, of Watergate fame, was today's featured witness: 'Dean testified that there were "exhaustive" and "remarkable" parallels between special counsel Robert Mueller's report and the findings compiled in the wake of the Watergate scandal. He said "events in both 1972 and 2016 resulted in obstruction of the investigations."'
Of course:
Can't believe they are bringing in John Dean, the disgraced Nixon White House Counsel who is a paid CNN contributor. No Collusion – No Obstruction! Democrats just want a do-over which they'll never get!

— Donald J. Trump (@realDonaldTrump) June 10, 2019
Not just Dean — also testifying at the hearing today was former US. attorney Joyce White Vance, who was pretty straight-forward about the T-Rump's actions:
"Based on my years of experience as a prosecutor, if I was assessing that evidence as to a person other than a sitting president… the facts in that report would be sufficient to prove all of the elements necessary to charge multiple counts of obstruction of justice," Vance said.
She added that the evidence is "not equivocal" and that the decision to charge Trump would not even be a "close-call."
"I would be willing to personally indict the case and to try the case. I would have confidence that the evidence is sufficient to gain a guilty verdict and win on appeal," Vance said.
No wonder when he'd heard about Mueller's appointment as Special Prosecutor, the T-Rump blubbered-out, '"I'm fucked."'
He lies so much, though. he has to be fucking himself.
The T-Rump lies so freaking often, he pushes lying as a way of life — even in math, with poll numbers a three could easily be a four (via today's New York Times):
After being briefed on a devastating 17-state poll conducted by his campaign pollster, Tony Fabrizio, Mr. Trump told aides to deny that his internal polling showed him trailing Mr. Biden in many of the states he needs to win, even though he is also trailing in public polls from key states like Texas, Michigan and Pennsylvania.
And when top-line details of the polling leaked, including numbers showing the president lagging in a cluster of critical Rust Belt states, Mr. Trump instructed aides to say publicly that other data showed him doing well.
…
In a recent overarching state-of-the-race briefing in Florida with Brad Parscale, his campaign manager, Mr. Trump was consistently distracted and wanted to discuss other things, according to people familiar with the meeting.
When it came to the campaign, his main focus was on his own approval numbers.
And the numbers are shitty, have been his entire presidency — way-unpopular — and after seeing those numerals, or told of them, apparently the T-Rump then must first directly lie to his own self in order to pass on the deceit in a authoritative fashion. The guy is a top-rate villain.
According to The Washington Post's Fact Checker, he usually lies about something every couple of hours:
As of June 7, his 869th day in office, the president has made 10,796 false or misleading claims, according to the Fact Checker's database that analyzes, categorizes and tracks every suspect statement the president has uttered.
The president crossed the 10,000 threshold on April 26, and he has been averaging about 16 fishy claims a day since then.
From the start of his presidency, he has averaged about 12 such claims a day.
Lying about anything/everything is a cornerstone of the foundation of his entire life.
Anyway, on a more-soothing front, right now the last couple of weeks I've been listening to this particular song way-whole a-lot.
Such a incredible cover, same lyrics different sense.
And it creates a certain vibe toward the extreme weariness of this era:
And also been listening a-bunch to this old, but new sound too. Truly sensational, emotional (first time I heard this version, h/t to Susie):
And away we go…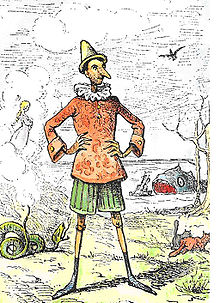 (Illustration: 'Pinocchio,' by Enrico Mazzanti (1852-1910), found here).