Sprinkling sunshine this late-afternoon Monday here on California's north coast, beyond some patchy-fog here-and-there, our daytime weather should supposedly stay this way for awhile. Although the NWS does forecast a 20-percent chance of showers tomorrow, we're in summer mode along the coast, hence, no one really knows for sure the real shit.
First dog run in a couple of weeks with a trek this morning through the Ma-le'l Dunes in Manila — overcast but warm. A decent-length up-and-down walk just to get to the ocean, but makes for a neat round trip.
Cowboy and Kuru way-enjoyed it, and I did, too, albeit the journey way-over exercised my old ass…
Last couple of weeks I've been in Merced, down in the San Joaquin Valley portion of California's lanky-giant Central Valley, a sea-bed bowl of great heat and dust, and a place where you can sometimes feel the earth move.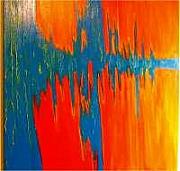 Earthquakes, always a noted statewide topic (Duh!), have jolted into the high-level news cycle the past few days.
Early last Friday night, a big-ass 7.1 magnitude popped 11 miles northeast of Ridgecrest, a town just a bit more than four hours or about 275 miles south of Merced.
Day before, July 4th, a 6.4 shaker about the same spot — on Friday that one became a 'foreshock.'
Live Science this afternoon: 'There's an 8-percent chance that Southern California could be rocked by another magnitude 6.0 or above earthquake this week, according to seismologists'.
Despite the sensation of 878 earthquakes in that same region the last 24 hours, or 7,700 earthquakes in a week, 4,000 aftershocks in Ridgecrest since Friday, experts are optimistic: 'But chances are, the 7.1 magnitude quake is as bad as it's going to get: The U.S. Geological Survey (USGS) estimates a 1-percent or less chance of a magnitude 7.0 or above quake in the Southern California desert in the coming week or month.'
And some not-so-charming information as seen by Planet Labs satellite on that 7.1 quake, via Gizmodo, also this afternoon:
Because of the logarithmic nature of the earthquake magnitude and energy scales, the July 5 quake released approximately 11 times more energy than its magnitude 6.4 predecessor.
(It also released substantially more energy than the atomic bomb at Hiroshima, per this handy USGS graphic.)
It's unsurprising, then, that the ground around the epicenter cracked up a bit, although it still speaks to the awesome power of the event that this is so clearly visible from orbit.
Earthquakes to me are nature's pure horror. As a resident of California the past 37 years, living for a time in places from Orange County northward to finally up here on the Lost Coast, I've experienced a few shakers during that time, but only a select few were scary-ass motherfuckers.
Earthquakes are worse even than tornadoes or hurricanes, both I'd dealt with growing up in southeast Alabama and the panhandle of Florida.– with earthquakes there's minus-zero control covering just mere seconds of crazy, jilting, rock-n-rolling panic.
My biggest quick-fright, scared-shitless event was in January 2010 when a a 6.5-magnitude earthquake way-jarred the Lost Coast, and really created a lot of rocking back-and-forth — a Saturday afternoon, I was watching "300" on my DVD player, and was apparently so traumatized/shocked by the jolt, I've never been able sit through the movie since (tried once when it was on cable, but didn't get close to finishing it).
Video sample of the quake from the Times-Standard newsroom in Eureka. A dog knows:
That quake was the first of three biggies  — three days after we were freaked in Humboldt, a 7.0 struck Haiti, caused a shitload of damage, then at the end of February, an 8.8 shaker occurred off the coast of central Chile, also creating havoc.
And a lot of earth quivering been going on the past nine years.
Anyway, my trip to Merced coincided with those two major quakes last week in the Ridgecrest vicinity, and was the third major shaker I'd experienced/felt in less than three weeks. A scary record for me.
First in the string was a quake up here, a 5.6 shaker centered near Petrolia, about 50 miles south of Arcata. I was lying in bed with my iPad when there was just a little roll — I quickly went to the USGS site, but there was nothing.
I thought maybe I had hallucinated — a few minutes later, though, I re-visited the site, and sure enough, a big red dot indicating an earthquake.
Meanwhile and a week or so later, I felt the 6.4 July 4, and the 7.1 the next day. The 'foreshock' was just a whimper — I was sitting in the same cushioned chair both times, but the bigger one was a rolling, strong tremor, lasting several seconds — I felt borderline great fright until there appeared no big bang to follow.
And a good note from all this jolting around: '"Any time that we can go through a 7-point earthquake and we do not report a fatality, a major injury, do not suffer structure damage that was significant, I want to say that that was a blessing and a miracle," Kern County Fire Department spokesman Andrew Freeborn said Sunday.'
Just waiting…
(Illustration above found here).