Bright and chilly this early-evening Thursday here on California's north coast.
After some pretty-deep fog, the skies cleared onto a really beautiful afternoon. When the dogs and I arrived at Ma-le'l Dunes for our walk/run the area was coated in fog, but those grays were shortly thereafter softly burned-off into gentle, surrealistic colors.
Another way-wonderful natural experience.
An unnerving experience is in the nowadays sense of unease — the whole-wide world is under pressure:
Time is running out, and like Annie sings, these are "days that it rains but it pours," duress imposed (the LA Times this afternoon):
Prime Minister Benjamin Netanyahu's widely condemned decision Thursday to bow to President Trump's pressure and bar two U.S. Democratic congresswomen from entering Israel was a calculated but risky move.
…
On Thursday, Netanyahu abruptly reversed an earlier decision to grant permission to enter Israel to Reps. Ilhan Omar of Minnesota and Rashida Tlaib of Michigan.
The two first-term congresswomen, who were planning a fact-finding trip to Israel and the Palestinian territories, have been fiercely critical of Israel's treatment of Palestinians and support an international boycott movement against Israel.
The decision came shortly after Trump tweeted that allowing the women to enter Israel would "show great weakness."
…
Last month, Israeli Ambassador to the U.S. Ron Dermer assured U.S. lawmakers that Israel would not deny entry to any member of Congress "out of respect for the U.S. Congress and the great alliance between Israel and America."
And the T-Rump horror-tale is so beyond surreal shit —  how about America buying Greenland? Via The Wall Street Journal this evening:
At a dinner with associates last spring, Mr. Trump said someone had told him at a roundtable that Denmark was having financial trouble over its assistance to Greenland, and suggested that he should consider buying the island, according to one of the people.
"What do you guys think about that?" he asked the room, the person said.
"Do you think it would work?"
The person described the question less as a serious inquiry than as a joke meant to indicate "I'm so powerful I could buy a country," noting that since Mr. Trump hadn't floated the idea at a campaign rally yet, he probably wasn't seriously considering it.
The person believed the president was interested in the idea because of the island's natural resources and because it would give him a legacy akin to President Dwight Eisenhower's admission of Alaska into the U.S. as a state.
And onward…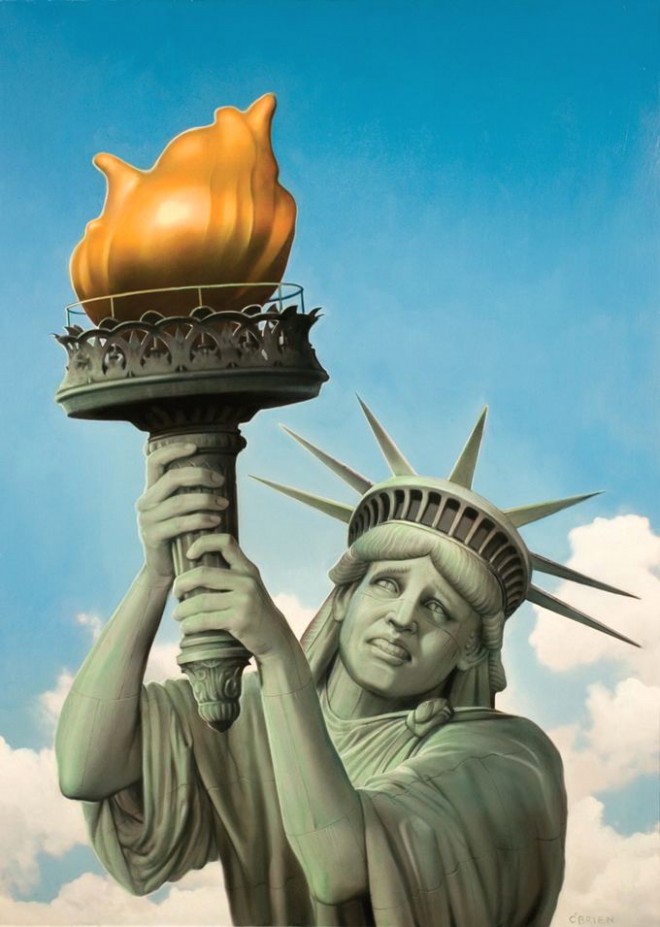 (Illustration by illustrator and portrait painter, Tim O'Brien, and can be found here).