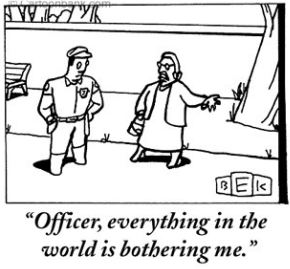 Sunshine this late-afternoon Monday here on California's north coast — been a fine Labor Day, with a chilly component found in the shade.
Fog this morning beach-side on a dog walk at Ma-le'l Dunes; the gray burned-off a bit on occasion to let some sunshine glow, creating some warmth, but overhead mostly all misty-ash.
Our environment's weather is top of the news cycle right now, especially pointed with Hurricane Dorian creating '"catastrophic"' havoc in the Bahamas.
Our planet's weather is quickly getting worse and worse — warm water and warm air makes for deadly disasters.
Climate is just one story in the Naked City, where shit-storms and insanity are the norm. Although war between India and Pakistan is alarming, and the thought Kim Jong Un has a submarine capable of delivering nuclear rockets anywhere is freaking scary-as-shit, climate change is a total-waste biggie, mankind's nightmare.
An update this afternoon on Dorian via The Weather Channel
As Hurricane Dorian remained nearly stationary over Grand Bahama Island in the devastated northwestern Bahamas Monday, Prime Minister Hubert Minnis said that 5 in the Abaco Islands were confirmed dead from the storm.
Minnis said there were also numerous injuries, and that the injured had been taken to a hospital on New Providence island.
It was previously reported by the Bahamas Press that 7-year-old Lachino Mcintosh drowned on Great Abaco, and that the boy's sister was missing.
The news organization reported that many other people were missing in the wake of the storm.
"We are in the midst of a great tragedy," Minnis said.
And the PM also described the events in up-to-the-minute terms: '"The Bahamas is presently at war and being attacked by Hurricane Dorian," Minnis told the Nassau Guardian. "And yet, it has no weapon at its disposal to defend itself during such an assault by this enemy."'
And our commander-in-chief: despite already getting a brain fuck-up 'on the existence of Category 5 hurricanes,' still even more ignorant and pain in-the-ass:
In addition to Florida – South Carolina, North Carolina, Georgia, and Alabama, will most likely be hit (much) harder than anticipated. Looking like one of the largest hurricanes ever. Already category 5. BE CAREFUL! GOD BLESS EVERYONE!

— Donald J. Trump (@realDonaldTrump) September 1, 2019
Alabama will NOT see any impacts from #Dorian. We repeat, no impacts from Hurricane #Dorian will be felt across Alabama. The system will remain too far east. #alwx

— NWS Birmingham (@NWSBirmingham) September 1, 2019
The T-Rump, however, spent the day on his golf course in Virginia, and after the sojourn on the links: .'As his motorcade left the club, a group of protesters had gathered outside and touted signs with slogans like, "Cheater," "Impeach," "Jail Trump," "Stop the Donald" and "Rat-infested Trump family reunion," according to a pool report.'
Just to flavor the hurricane news, this from Agence France-Presse last Friday:
The same oceans that nourished human evolution are poised to unleash misery on a global scale unless the carbon pollution destabilising Earth's marine environment is brought to heel, warns a draft UN report obtained by AFP.
Destructive changes already set in motion could see a steady decline in fish stocks, a hundred-fold or more increase in the damages caused by superstorms, and hundreds of millions of people displaced by rising seas, according to the Intergovernmental Panel on Climate Change (IPCC) "special report" on oceans and Earth's frozen zones, known as the cryosphere.
…
The 900-page scientific assessment is the fourth such tome from the UN in less than a year, with others focused on a 1.5-Celsius (2.6-Farenheit) cap on global warming, the state of biodiversity, and how to manage forests and the global food system.
All four conclude that humanity must overhaul the way it produces and consumes almost everything to avoid the worst ravages of climate change and environmental degradation.
…
Even in the United States, where billions are being spent to protect New York, Miami and other exposed cities, such efforts could easily be overwhelmed, say experts.
"There is a pervasive thread in the US right now promoted by techno-optimists who think we can engineer our way out of this problem," said Michael Mann, director of the Earth System Science Center at Pennsylvania State University.
"But the US is not ready for a metre of sea level rise by 2100," he told AFP.
"Just look at what happened in the wake of superstorm Sandy, Katrina, in Houston, or Puerto Rico."
And we await the consequence…
(Illustration/cartoon above found here).