Near-windless, bright and warm this Thursday afternoon on California's north coast, and despite the beautiful day, another ride on the edge of darkness supposedly this weekend punctures any kind of happy balloon.
We're going into an idiotic electrical outage once again on Saturday — this afternoon from Lost Coast Outpost via the Humboldt County Sheriff's Office:
Due to an expected severe wind event anticipated to occur around 10 pm Saturday night, Pacific Gas & Electric (PG&E) notified the county this afternoon that it will de-energize some power lines in Humboldt County as part of the utility's Public Safety Power Shutoff (PSPS) program.
At this time, PG&E expects that 2,188 customer connections in Humboldt County will be affected.
Electricity is expected to be turned off for those PG&E customers Saturday evening, possibly several hours before the wind increases.

This PSPS event is expected to last longer than the roughly 24-hour event earlier this month, which means residents who are affected may have electricity shut off for a longer period of time.
The Humboldt County Sheriff's Office of Emergency Services (Sheriff's OES) will provide updated information from the utility as it becomes available.
The length of the outage and estimated time of restoral [sic] is entirely up to PG&E.
For information about PSPS or to sign up for alerts, go to www.prepareforpowerdown.com or call 1-877-9000-PGE.

PG&E expects to issue maps later today that show the anticipated affected areas.
The Humboldt County Sheriff's Office of Emergency Services (Sheriff's OES) will provide those maps and any information regarding affected areas as it becomes available.
If the shutoff is isolated in Humboldt County, or includes distribution lines in our area, ground inspection may take longer than the aerial inspection completed after the Oct. 9th shutoff before restoration can begin.

The overall PSPS is expected to affect 32 California counties and approximately 640,000 customer connections.
As conditions may continue to change and the scope of this event may be expanded, the county recommends that all county residents be prepared for an extended power outage beginning Saturday night.
And just a short while ago from the Mad River Union:
The City of Arcata has been notified that PG&E expects to shut down power to approximately 2,188 customers in Humboldt County on Saturday, Oct. 26.
This shutdown is a result of local wind-driven fire conditions.
PG&E has not confirmed that Arcata will be affected, but residents are encouraged to prepare for a power outage that could last several days.
PG&E has not confirmed the specific timing or estimated duration of the power shutdown.
Anticipated wind conditions are expected to occur the evening of Saturday, October 26, and power may be shut off several hours in advance.
These wind conditions may persist for a few days before the power restoration process can begin.
…
In the event of a power outage in Arcata, the City is preparing to host a Community Relief Center at the Arcata Community Center, located at 321 Dr. Martin Luther King, Jr. Parkway.
The Center will provide charging stations for critical devices, medical treatments and charging stations for cell phones, with priority given to those with medical needs.
The City would like to remind residents to be prepared to conserve water and minimize sewer use during a power outage in order to help maintain services to residents until power can be restored.
Updates hopefully at the city's web site.
The real sad, depressing thing about these intentional power outages is the situation will only get worse, then soon become even more worse as the climate changes, and we get into that routine of drought/rain years, a weather 'whiplash,' which over time will create some highly-flammable woodlands.
Couple that noise with a hugely-incompetent, bankrupt energy company, and you've got yourselves a constantly-producing piece of shit…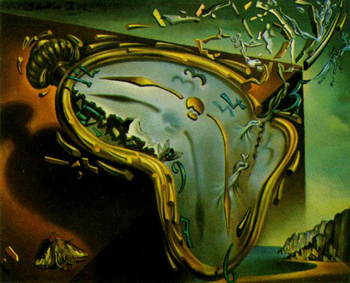 (Illustration: Salvador Dali's 'Soft Watch at the Moment of First Explosion,' found here).