Here we go, the opening round of the T-Rump's Kangaroo Court — oops, sorry, Senate trial on impeachment — and the shit has already hit the fan. Closed tighter than a clam, the Senate is listening to itself this afternoon as the world isn't watching (h/t Susie):
BIG change from the Clinton Rules: Info and testimony collected by the House is NOT AUTOMATICALLY evidence in the Senate. There would have to be a motion to admit this evidence AFTER a vote on the question of subpoenaing additional witnesses and info. https://t.co/LuQaLhes3C

— Ross Garber (@rossgarber) January 20, 2020
Just in the nick, there's been a decent first start as a couple of points were included in Moscow Mitch's slanted bullshit on the proceedings — (via CNBC) the material gathered in the House segment of this impeachment drama will 'now automatically be admitted into evidence,' which McConnell had initially denied; and Democrats have three days (instead of Moscow Mitch's two) 'to make their opening statements.'
In the process of this thing, T-Rump toadies really do not have any kind of legal leg to stand upon and are working their case through sheer asshole-like, phony-angry bombast, yet with Adam Schiff arguing with facts and truth, the shit is already hitting the GOP fan:
I sat in chamber for entire Schiff speech. That was a mauling. Trump team thought they were there to debate process and Schiff ambushed them with a full-throated case for impeachment. Republicans were visibly uncomfortable. Sekulow & Cippolone responses were rambling & bombastic

— Jon Ward (@jonward11) January 21, 2020
One paragraph of Schiff's argument:
"When you hear them attack the House managers, what you're really hearing is, 'We don't want to talk about the president's guilt.
"We don't want to talk about the McConnell resolution and how patently unfair it is. We don't want to talk about how — pardon the expression — ass-backwards it is to have a trial and then ask for witnesses."
Although Republicans will probably clutch their pearls on Schiff's 'ass-backwards' verbiage, it wasn't the first time the phrase was used — Lindsey Graham,blustered more than three years ago with the same term about a military arms sale to Saudi Arabia. Republicans are such shitheads with way-way-short memories.
Right now, I'm in my daughter's small but comfortable back yard of her apartment writing this post — a sunny, warm afternoon here in this part of the San Joaquin Valley, and it's nice, a contrast to the miserable weather going on elsewhere (Just yesterday around these parts we had cold, heavy fog).
And in a related sector, also yesterday the Sacramento Bee tore into the ass-backwards asshole Devin Nunes for his lying, shitty ways in working as a full-throated toady for the T-Rump — some bits of the Bee's editorial:
Text messages released by the House Intelligence Committee last week reveal that a top Nunes aide named Derek Harvey — who served on Trump's National Security Council before he joined Nunes' staff — sought direct contact with Ukrainian officials in an effort to smear former Vice President Joe Biden.
This developing story about Nunes and his staff should raise serious concerns for all Americans.
"An aide to Rep. Devin Nunes exchanged dozens of text messages with indicted Rudy Giuliani associate Lev Parnas about a search for information on former Vice President Joe Biden from Ukrainian prosecutors," wrote Sophia Bollag of The Sacramento Bee.
"The exchanges include repeated references by Nunes aide Derek Harvey and Parnas to Biden.
Parnas allegedly helped carry out President Donald Trump's campaign to pressure the Ukrainian government for investigations that would benefit Trump's re-election."
…
For months, Nunes has acted as Trump's attack dog, defending the president from accusations that he pressured Ukraine to investigate Biden.
Nunes sat in House Intelligence Committee meetings and derided the impeachment proceedings against Trump as a "hoax."
Yet he was sitting on a ticking time bomb the entire time.
The newly-released texts prove that Nunes' staff also engaged in secret efforts to damage Biden.
Nunes knew the Ukraine allegations were true because his office was involved in the same plot.
But he used his position in Congress as a platform to spread lies and mislead the public.
During an interview with Fox News last year, Nunes denied any memory of a phone conversation with Parnas.
Now that evidence has proven that Parnas spoke the truth, Nunes has backtracked.
During a Fox News appearance on Friday, he admitted to a call with Parnas but sought to downplay its significance.
…
Devin Nunes has betrayed the truth, betrayed the trust of voters and, quite possibly, betrayed our country.
We don't know exactly where this new evidence will lead, or what fate has in store for Nunes, but we do know this: The people of California's 22nd congressional district deserve better.
Nunes is normal for Republicans who are living in a vile, repugnant bubble that's shitting on the country.
And despite the rule in the Senate on no electronic devices, several Senators/and aides wore Apple watches in an effort to be assholes.
Stay tuned for the rest of the story. Good live blogging from the Guardian, and the same from Daily Kos, which posted this not too long ago: 'Schumer immediately responded by offering a second amendment seeking to subpoena documents from the State Department. The description of the documents seems to overlap the documents sought from Trump, but with the addition of documents that circulated between Kurt Volker, Gordon Sondland, and Mike Pompeo.'
And onward we go…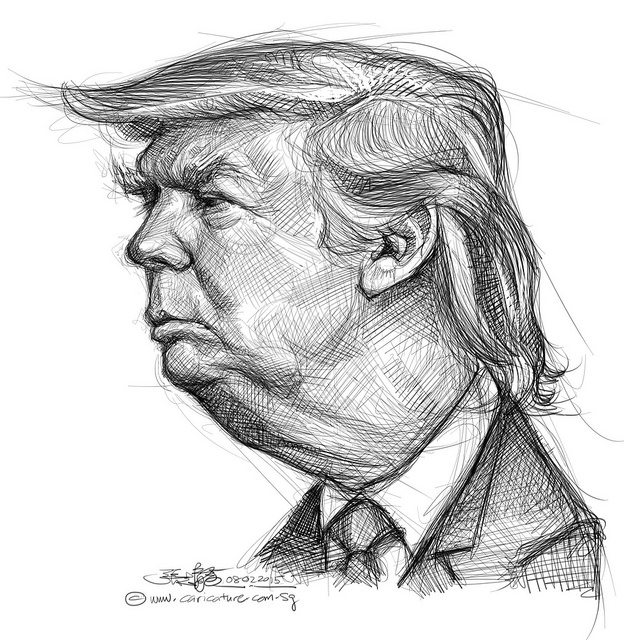 (Illustration: 'Basic Shapes,' by caricaturist/illustrator Chong Jit Leong found here).