Even expected shit still stinks, but a redeeming sweet scent came last night from rippling fingers of Nancy Pelosi, and so again this afternoon at the hand of young Grete Thunberg (h/t tengrain):
Along with the double ripping a new one, major-major news was the T-Rump being acquitted earlier today of charges of abusing his office and obstruction of Congress. Not an unexpected result. The only Republican who voted to convict was Mitt Romney, who has since taken shit from GOP everybody. Romney's decision was the right one, and his goose is cooked politically.
And shortly thereafter, the T-Rump exploded out of the gate with a tweet-video of terrifying consequences — the vile asshole has seemingly entered an even more-nasty phase, if humanly possible, in his zero-vindication. From The Hill late this afternoon:
President Trump on Wednesday tweeted a video showing him running for president indefinitely minutes after the Senate voted to acquit him on allegations he abused his power and obstructed Congress.
The video, which Trump has shared before, plays on a Time magazine cover from October 2018 that showed campaign signs showing Trump running for office every four years from 2024 until 2044.
The cover story that month was titled "How Trumpism Outlasts Trump."
Trump did not mention impeachment at all in the tweet, but it marked his first public statement since the GOP-controlled Senate voted to acquit him Wednesday afternoon.
Trump later said that he would make a public statement about impeachment at 12 p.m. on Thursday at the White House to "to discuss our Country's VICTORY on the Impeachment Hoax!"
Trump often jokes at his campaign rallies that he could serve more than two terms as president.
U.S. presidents are limited to serving two terms in the White House.
The edited clip that Trump shared on Wednesday afternoon is set to the tune of "Peer Gynt Suite No. 1."
It zooms in on an additional campaign yard sign reading "Trump 2048" that Trump is standing behind.
The sign ticks up by several hundred years and eventually transforms to read "Trump 4EVA."
Understand the significance, even at being a malignant asshoe:
— Donald J. Trump (@realDonaldTrump) February 5, 2020
We're in for some shitty-bumpy times ahead, I expect…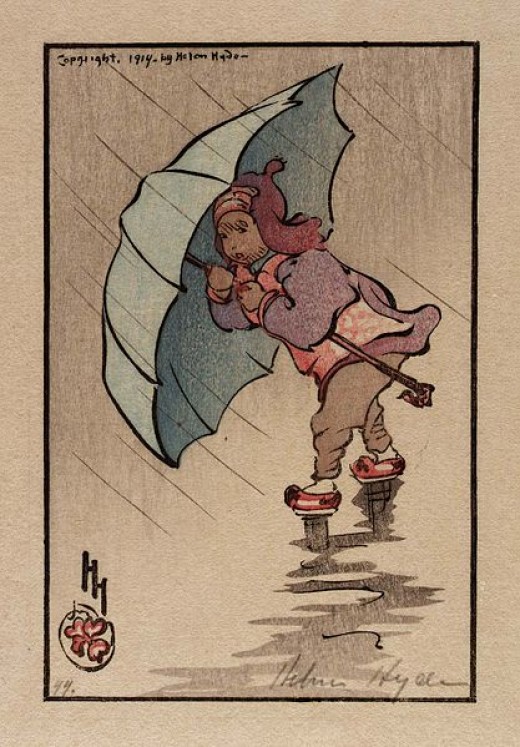 (Illustration: 'The Blue Umbrella 1914,' by Helen Hyde, found here).