Time flies when you're having fun — this evening 56 years ago a major social event which set the cultural standard-pace even until to this very day, media/music/me: The Beatles appearance on the Ed Sullivan TV variety show, Sunday night, Feb. 9, 1964.
Unfortunately, or maybe fortunately, too, I was out of the country at the time of that show.
In the ninth grade then, I was in Japan, as my dad was with the USAF civil service, assigned to an air force base near Fukuoka, a city on the Japanese island of Kyushu. Actually, the tour ended maybe a couple of years early when the base suddenly closed — closure probably wasn't that quickly but that's how I recollect it — (originally an assignment for two/three years).
Americans at the base were reassigned, which for me and my family meant back to Florida. We were gone just enough time to miss two of the 20th Century's biggest US events, the Beatles, of course, but also JFK's assassination less than two months before the Sullivan show.
Later that summer of 1964, I was able to catch that particular live event on a Sullivan taped re-run.
However, even before leaving Japan I was already goofy on Beatlemania. I'd developed the habit of listening to Japanese radio stations, and there were many, which played a lot of American music, the top-ten lists always carried a number of English-speaking singers and songs. Big on the Japanese music lists were Beatle hits "Love Me Do," "Please, Please Me," earlier releases, and the then-current newest, "I Want to Hold Your Hand," all dominating the airwaves in the top spots.
And we'd read about, heard on radio news, the reception of the Beatles in America, and fans screaming, and whatnot.
In the summer 1964, I attended what could be described as a Beatles near-live concert when I saw "Hard Day's Night" in a theater — a screaming mass of girls screaming during the whole movie, couldn't hardly hear the boys talking, or singing. An experience, though.
Closer to the nowadays, I recently heard/saw this somewhere online in tribute to John Lennon and George Harrison — Lennon shot and killed Dec. 8, 1980, (less than a month after the death my way-most-favorite actor, Steve McQueen), while Harrison, my way-most-favorite Beatle, died on my birthday, 2001.
Nostalgic heart-touching shit…..
The Beatles on Ed Sullivan via the History Channel a decade ago:
It is estimated that 73 million Americans were watching that night as the Beatles made their live U.S. television debut.
Roughly eight minutes before Fred Kaps took the stage, Sullivan gave his now-famous intro, "Ladies and gentlemen…the Beatles!" and after a few seconds of rapturous cheering from the audience, the band kicked into "All My Lovin'."
Fifty seconds in, the first audience-reaction shot of the performance shows a teenage girl beaming and possibly hyperventilating.
Two minutes later, Paul is singing another pretty, mid-tempo number: "Til There Was You," from the Broadway musical Music Man.
There's screaming at the end of every phrase in the lyrics, of course, but to view the broadcast today, it seems driven more by anticipation than by the relatively low-key performance itself.
And then came "She Loves You," and the place seems to explode.
What followed was perhaps the most important two minutes and 16 seconds of music ever broadcast on American television — a sequence that still sends chills down the spine almost half a century later.
And this interesting note per MentalFloss a year ago: 'While The Ed Sullivan Show marked the first time The Beatles had performed live on American television, it wasn't the first time they had appeared on American television. On November 18, 1963, NBC's The Huntley Brinkley Report aired a whopping four-minute-long segment on Beatlemania — the craze that was sweeping England. Just a few days later, on November 22, CBS Morning News ran a five-minute segment on the band's overseas popularity. The segment was scheduled to re-air that evening, but the news was preempted because of JFK's assassination. Walter Cronkite eventually re-aired it as part of the CBS Evening News on December 10, 1963.'
Title of this post was filched from the first line off a revolutionary Beatles album released in 1967, about the time I graduated high school:
It was twenty years ago today
Sergeant Pepper taught the band to play,
They've been going in and out of style,
But they're guaranteed to raise the smile,
So may I introduce to you,
The act you've known for all these years,
Sergeant Pepper's Lonely Hearts Club Band.
Calendars are too-quick on the flip…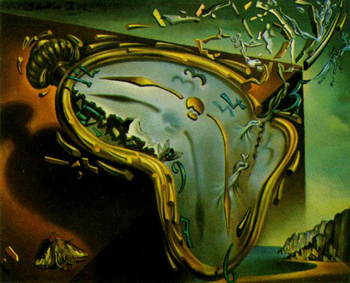 (Illustration: Salvador Dali's 'Soft Watch at the Moment of First Explosion,' found here).