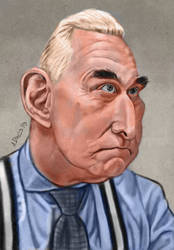 All over the news this afternoon — via CNN:
In an extraordinary move, all four federal prosecutors who took the case against longtime Donald Trump confidant Roger Stone to trial withdrew Tuesday after top Justice Department officials undercut them and disavowed the government's recommended sentence against Stone.
The mass withdrawal of the career prosecutors on the case was a stunning response to the Justice Department's controversial and politically charged decision to reduce prosecutors' recommended sentence of up to nine years, which came just hours after Trump publicly criticized it on Twitter.
Bill Barr's boys at it again.
When the T-Rump yelps, the toadies respond, despite the obvious play to circumvent justice. (Illustration, Roger Stone, a caricature, by adavis57, found here).
Less than a week after his infamous Senate acquittal, the T-Rump has crossed legal wires to punish all those who had supposedly done him wrong. Just today, the T-Rump offered that the DOD 'will likely look at disciplinary action against Lt. Col. Alexander Vindman,' after the officer was fired last Friday because he did his job — his twin brother, and Gordon Sondland, ambassador to the EU, were also fired from their posts. All in retribution/vengeance from the stable-genius against all who oppose him.
In the case of Stone the ratfucker, it was cover for shit done — the Guardian this evening:
The growing crisis raised fresh questions over the role of William Barr, the attorney general who has been criticised as a partisan Trump loyalist.
Stone, 67, a self-described dirty trickster, was found guilty last November of seven crimes including obstruction of justice, lying to Congress and witness tampering.
He was the sixth former Trump aide to be convicted in cases triggered by special counsel Robert Mueller's Russia investigation.
In a court filing on Monday, prosecutors had requested that Stone serve seven to nine years behind bars, arguing that his actions showed "contempt for this Court and the rule of law".
But just before 2am on Tuesday, Trump registered his disapproval in a tweet, claiming without evidence: "The real crimes were on the other side, as nothing happens to them. Cannot allow this miscarriage of justice!"
In an extraordinary move on Tuesday afternoon, a new court filing cut the proposed sentence recommendation and sought to rebut the prosecutors' arguments, suggesting that seven to nine years would be too harsh.
"While it remains the position of the United States that a sentence of incarceration is warranted here, the government respectfully submits that the range of 87 to 108 months presented as the applicable advisory Guidelines range would not be appropriate or serve the interests of justice in this case," the filing said.
Among the mitigating factors, it contended, are Stone's "advanced age, health, personal circumstances and lack of criminal history."
…
Speaking in the Oval Office, according to a pool report, Trump denied speaking to the justice department about the case but claimed that he would have "the absolute right" to do so.
The president said of the prosecutors: "They ought to be ashamed of themselves … I think it's been disgraceful."
The president declined to say whether he might consider commuting Stone's sentence.
Marcy Wheeler had an excellent notion on the 'advanced age' premise of Stone's jail-cell time: 'Roger Stone is 67. If Roger Stone is too old the go to prison until he's 74, then the guy on whose behalf DOJ is arguing, Donald Trump, probably is too old — at 73 — to run for a term that will last until he's 78.
It's not me arguing that 73 is too old for a four year term. It's Bill Barr's DOJ.'
However, Judge Amy Berman Jackson can do what she wants during sentencing set for Feb. 20.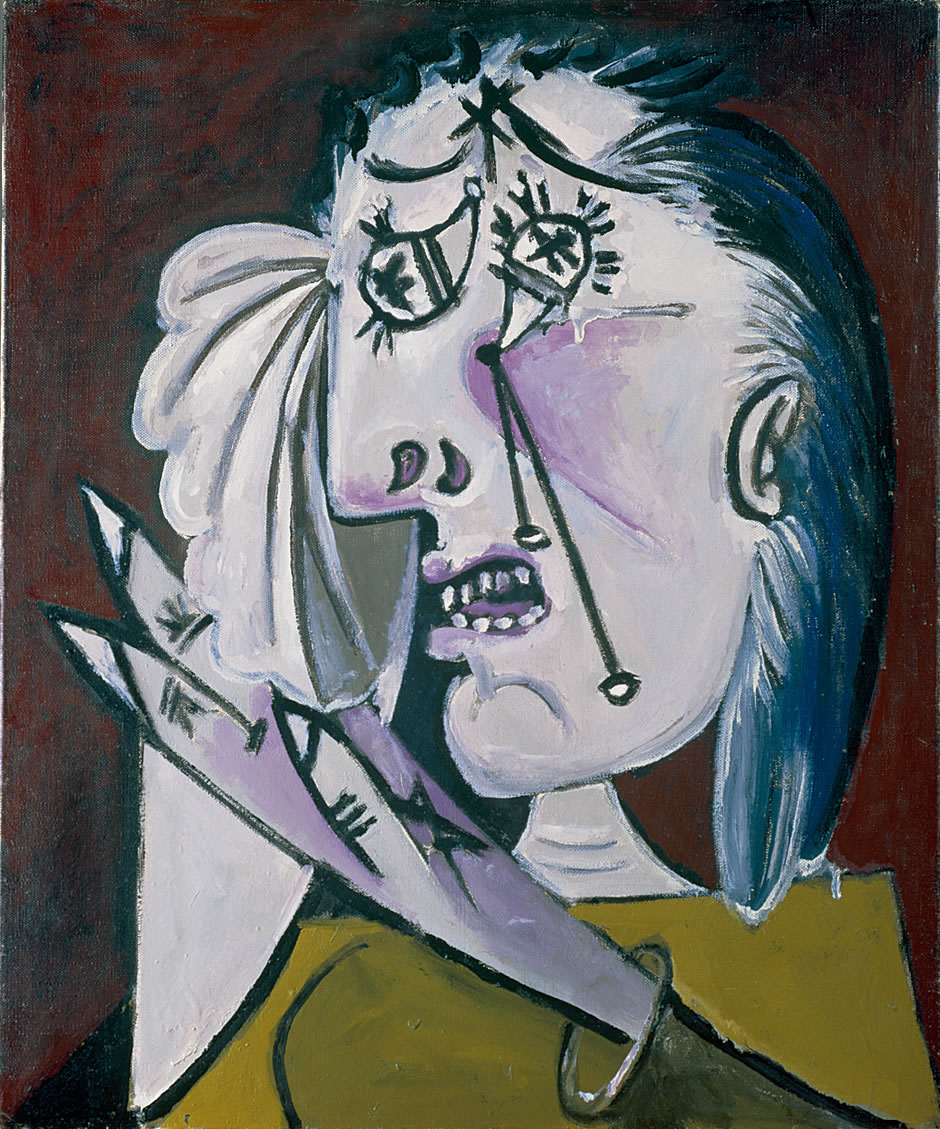 (Illustration: Pablo Picasso's 'The Weeping Woman [La Femme qui pleure],' found here).