A bit of sad news announced today — Clive Cussler, action-adventure novelist, who sent unflappable fiction hero Dirk Pitt on insane missions all over the globe, died Monday at his home in Scottsdale, Ariz. He was 88.
Cussler turned out a slew of adventure novels involving Pitt and his crew of National Underwater and Marine Agency daredevils in all kinds of exciting, and ludicrous escapades for nearly 50 years. A adventurer himself, he found his own real-life NUMA and searched for old sunken ships — including a steamship belonging to Cornelius Vanderbilt.
I was a late comer to the Pitt scenarios and started a full-scale read of his books about 15 years ago, churning through his stuff from the 1970s all the way up to his current run in the 2010s. Pitt was a swaggering everyman who fought bad guys under the seas, and even to piloting helicopters in South America. Escapism in its truest form. However, I haven't read any of his stuff in years.
And like his made-up hero, Pitt, Cussler also had a antique car collection, as attested in the image below.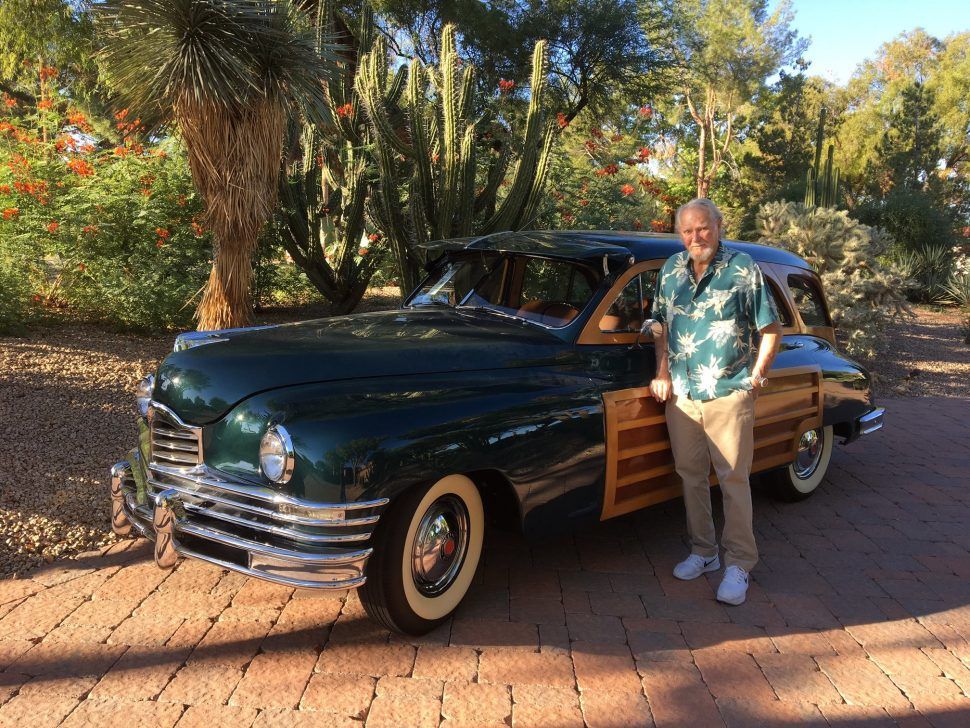 Clive Cussler in 2017 with his 1949 Packard Eight Station Sedan — (Illustration found here)
Obituary via the Washington Post this afternoon:
Mr. Cussler was an Illinois native who was raised in Southern California and lived in Arizona for most of his final years, but he sent Pitt around the globe in plots that ranged from the bold to the incredible.
"Treasure" (1988) features an aspiring Aztec despot who murders an American envoy, the hijacking of a plane carrying the United Nations secretary general and soldiers from ancient Rome looting the Library of Alexandria.
In "Iceberg" (1975), the presidents of French Guiana and the Dominican Republic are the ones in danger, during a visit to Disneyland.
In "Sahara" (1992), a race across the desert somehow leads to new information about the assassination of Abraham Lincoln.
"Again and again, Dirk Pitt, working for the fictional National Underwater and Marine Agency, must find a sunken vessel and retrieve some artifact," Mark Schone, summarizing Mr. Cussler's novels, wrote in the New York Times in 2004.
"Evil forces, be they Commies or Blofeldian madmen, try to stop him. Along the way Pitt saves himself, the world and the damsel of the moment."
Mr. Cussler has a new novel, "Journey of the Pharaohs," set to be released March 10, with several more awaiting posthumous publication.
And in that 'damsel of the moment' plug, Cussler was fairly sexist in presentations of women. Pitt bailed them out of all kinds of trouble all across the world, ending up married to a US congresswoman.
If you want, read some more on Cussler here, and here, and here.
The Cussler website here.
And this BBC write-up:
Cussler's 1992 thriller Sahara was adapted for the big screen in a 2005 film starring Matthew McConaughey and Penelope Cruz.
The writer, whose books have been published in more than 40 languages, was married to Barbara Knight for nearly 50 years until her death in 2003, and they had three children, Teri, Dirk, and Dayna.
He later married Janet Horvath.
His son Dirk, named after the character, co-wrote his final three novels.
"Dirk will always have a soft spot in my heart because he started if off," Cussler said in an interview with Working Mother in 2013.
"I hope readers see Pitt as a normal, average guy who is down to earth. He likes the Air Force, tequila, and an occasional cigar.
"I used myself as a model for Dirk. We are both 6'3″, have green eyes, and at that time were the same weight and the same age."
He added: "The only differences are that he is better with the girls and he has aged about 10 years while I have aged about 50."

After selling the Sahara story to the billionaire Philip Anschutz, Cussler later sued, telling a US court in 2007 Hollywood "tore the heart out" of the book.
The movie grossed $119 million (£92.1m) worldwide but was still considered a box-office failure as it failed to recoup its own filmmaking costs.
The novelist said the company broke its contract by changing the story without his consent.
"I thought it was just awful," he said of the film, adding that he considered the re-written dialogue to be silly.
In agreement on that, "Sahara" really, really sucked, and I like the whole cast. Changed the scope of the book, McConaughey played Pitt all wrong. Shitty, and Penelope Cruz was wasted.
Thanks and memories Clive for many hours of escape from this life's tribulations — Cussler way-often inserted himself into his fictional adventures, causing Pitt's longtime friend/sidekick and comic relief, Al Giordino, to usually marvel in astonishment and wonder about the name, Clive Cussler…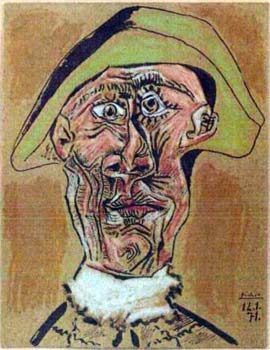 (Illustration: Pablo Picasso's 'Harlequin Head,' found here),