As we spiral out of control into the vapors of COVID-19, today's nut-shit press conference with the T-Rump revealed himself not only as an asshole of vile, way-low moral values, but also a dangerous, contemptible problem for America and any kind of democratic future. He's a zero sense of anything but himself.
An exchange with a reporter caught the T-Rump being ignorant of any humanity.
Peter Alexander was trying to get the president of the United States to address the fears Americans have about #coronavirus. His attack on Peter is absolutely shameful and hard to watch — but realize that he attacked Peter so he could avoid answering to you. pic.twitter.com/fJ0PC4Hk9N

— Caroline Orr (@RVAwonk) March 20, 2020
One obvious scene of a fucking shit-nasty, crazy person. The T-Rump is so marooned in the narcissistic bubble of his most-empty soul he can't handle the least, tinny-tiny examination of his actions, or in this case, a future action to reassure Americans in a calm, emphatic tone — Not!
This from Bess Levin this afternoon at Vanity Fair:
During a press conference at the White House, NBC reporter Peter Alexander asked Trump, "What do you say to the Americans who are scared, though? Nearly 200 dead, 14,000 who are sick, millions, as you've witnessed, who are scared right now. What do you say to Americans who are watching you right now who are scared?"
In reality this was a softball question that anyone with a semblance of a soul would be able to answer, responding with something like, "That's an understandable feeling. I would tell them we're in this together and we're doing everything we can, as fast as we can."

But Trump literally only thinks about himself, so instead he told Alexander: "I say that you're a terrible reporter. That's what I say. I think it's a very nasty question, and I think it's a very bad signal that you're putting out to the American people. The American people are looking for answers and they're looking for hope, and you're doing sensationalism and the same with NBC and con-cast. I don't call it Comcast, I call it 'con-cast.' Let me just tell you something. That's really bad reporting, and you ought to get back to reporting instead of sensationalism."

Seemingly responding to criticism that he'd irresponsibly hyped the drug chloroquine as a treatment for COVID-19, despite the fact that it hasn't yet been approved by the FDA for the virus, Trump snarled, "Let's see if it works. It might and it might not. I happen to feel good about it, but who knows. I've been right a lot."

As many have noted, employees at NBC, where Alexander works, lost a colleague to the virus today, but obviously it shouldn't take such an event for the president to muster up or even fake some empathy for people who are terrified about a fast-moving pandemic.
Later, given the opportunity to prove to the American people that he's not a total monster, Trump declined:
CNN's Kaitlin Collins follows up: "Do you really think going off on Peter, going off on a network is appropriate when the country's going through something like this?"
Trump responds: "I do." https://t.co/YJJFxynOLN

— Kyle Griffin (@kylegriffin1) March 20, 2020
The response:
NBC and other broadcast networks covered the briefing in a special report.
Later, on MSNBC, Andrea Mitchell talked to Alexander about the exchange.

"In TV terms, we call this a softball," he said.
"I was trying to provide the president an opportunity to reassure the millions of Americans, members of my own family and my neighbors and my community and plenty of people sitting at home, this was his opportunity to do that, to provide a positive or uplifting message."
He added, "I think it does sort of reveal a frustration, perhaps an anxiety of his political prospects, about a situation that is hard to keep in control as we witnessed it continue to spiral at this time."

In a statement, Lack (NBC News Chairman Andrew Lack) said that Alexander "is an outstanding reporter. His line of questioning at today's White House briefing was fair, straightforward and necessary."

On CNN, John King said that Alexander posed a"100 percent legitimate question."
"It was striking that this — forgive — bullshit attack on 'fake news' came just moments after the Secretary of State said the American people need to be careful about where they get their information and go to sources they can trust."
Surreal shit ahead…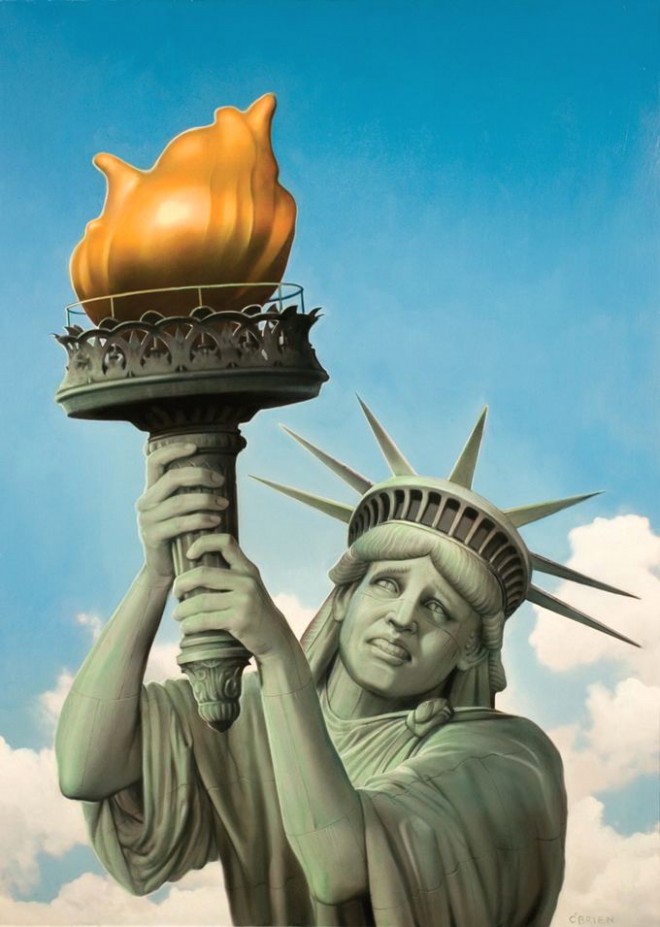 (Illustration by illustrator and portrait painter, Tim O'Brien, and can be found here).