(Illustration found here)
Nearly three days into a 'shelter in place'  routine, the world is freaking out, and shifting into a dystopian landscape getting darker by the day. Gov. Gavin Newsom's executive order on Thursday under California's Emergency Services Act is a 'stay home except for essential needs' mandate and we can be charged with a misdemeanor if we break the rules.
Newsom doesn't think that will be necessary — hope he's right.
Grocery stores, gas stations and other 'essential' places will be open. Still no toilet paper here in Merced. And also open are pharmacies, according to the order: 'You may leave their homes to obtain prescriptions or get cannabis from a licensed cannabis retailer.'
All good.
I've been walking my daughter's dog, Leroy, today and yesterday and a number of people were out on the trail, on bikes, with dogs, or just walking. Hopefully, people can still be out in a protective situation, maintaining distance and acting courteously. This is fucking crazy-ass circumstances and supposedly will get even more crazy-ass.
It doesn't appear dangerous, maybe I'm naive — again, hope not.
In an overview of the coronavirus via Agence France-Presse:
Close to one billion people worldwide were confined to their homes on Saturday as the global coronavirus death toll shot past 11,000 and US states rolled out lockdown measures already imposed across swathes of Europe.
The pandemic has completely upended lives across the planet, restricting movement, shutting schools and forcing millions to work from home.
So we're not alone in the madness, but apparently we're about to get really fucked — from Forbes yesterday afternoon:
As of today, the United States falls in last place with regard to limiting COVID-19 growth according to the number of confirmed cases.
According to the Johns Hopkins Coronavirus Resource Center, the number of confirmed cases in the United States grew at a faster rate than any other country in the world yesterday…
The number of confirmed coronavirus cases rose from 7,783 on Wednesday to 13,677 yesterday.
The growth of 5,894 new confirmed cases in just one day equates to a 76-percent increase in cases in just a 24-hour period.
And this note from the UN: 'It took three months to reach the first 100,000 cases of COVID-19 but only 12 days to double that, to reach over 200,000, the World Health Organization (WHO) said on Friday.'
WHO Director-General Tedros Adhanom Ghebreyesus: '"Today, I have a message for young people: You are not invincible…This virus could put you in hospital for weeks, or even kill you.  Even if you don't get sick, the choices you make about where you go could be the difference between life and death for someone else"'
And don't downplay the crisis, we're in the middle of a shit-storm (CNBC): '"Take one look at what's happening in some health systems around the world. Look at the intensive care units completely overwhelmed. Doctors and nurses utterly exhausted," Mike Ryan, executive director of the World Health Organization's emergencies program, said at a press briefing from the organization's Geneva headquarters. "This is not normal. This isn't just a bad flu season."'
And coming to America, and the T-Rump:
Important line of questioning from @JDiamond1, who pushed forward with facts when challenged with spin >> https://t.co/WkSdlqLc8Z

— Ali Vitali (@alivitali) March 21, 2020
Reality of a horror movie screenplay, and again this morning:
Donald Trump has dismissed a report that he ignored early warnings from US intelligence agencies about the threat posed by the coronavirus outbreak in China and repeated recent attacks on the press.
The agencies sounded the alarm in January and February but the president continued to minimize the risk and failed to act, the Washington Post reported.
On Saturday, Trump, who has made a habit of shooting the media messenger, attacked the Post without dealing with any of the substance of the allegations contained in the reporting.
"I think the Washington Post covers us very inaccurately, covers me very inaccurately," he told reporters at the daily White House coronavirus task force briefing.
"I saw the story. I think it's a disgrace but it's the Washington Post and I guess we have to live with it. It's a very inaccurate –"
As a journalist tried to interject, Trump raised his hand and snapped: "Quiet, quiet."
We need that guy gone…or we be really, really fucked…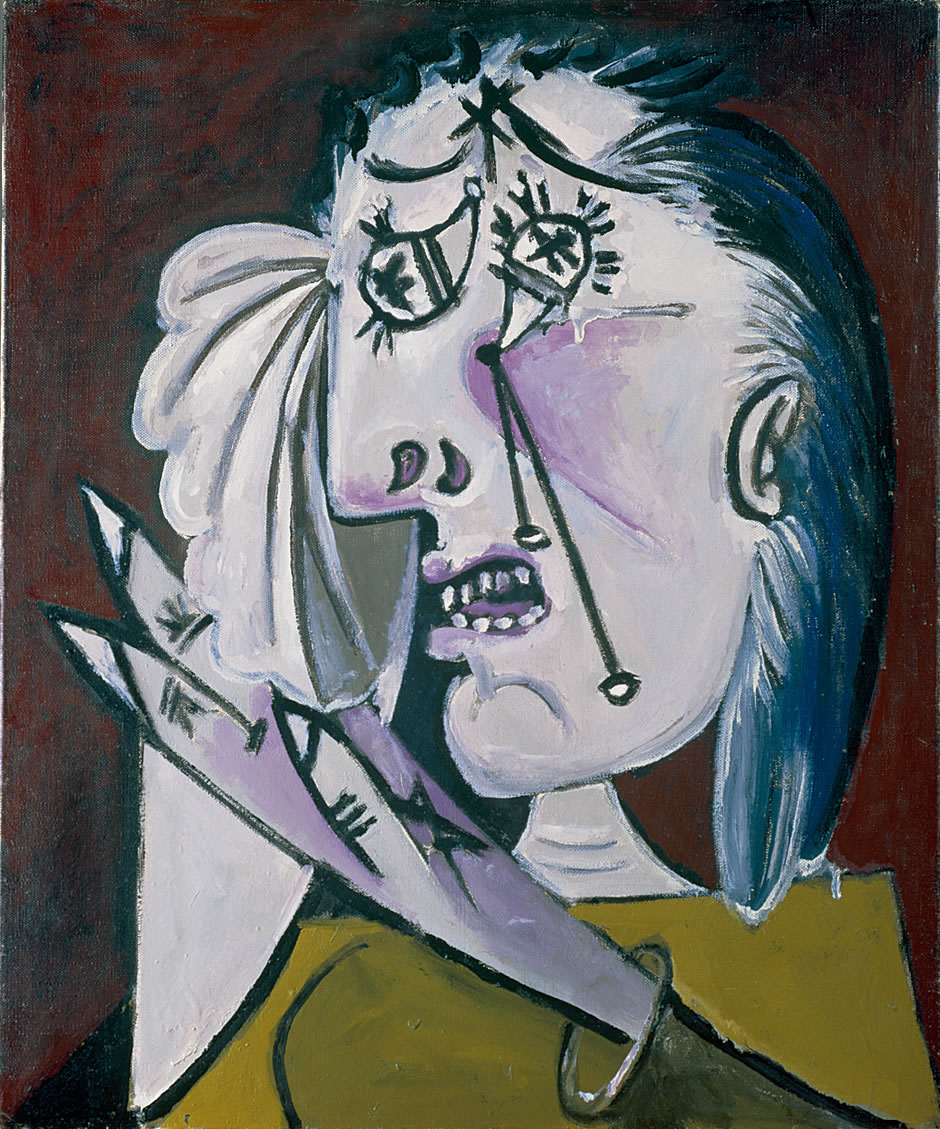 (Illustration: Pablo Picasso's 'The Weeping Woman [La Femme qui pleure],' found here).