Another day in the life.
Although we're under a 'shelter in place' order here in California, I had to visit the post office this morning to mail-off some 'essential' shit least I end up in legal crap. Some things we got to do, even while engaged inside a Twilight Zone episode — I went with my daughter and we took a container of wet-wipes along, rubbed-out car door latches, the steering wheel, and our hands coming and going.
Postal clerks wore gloves, and one was seen spraying/wiping down counters — they are also heroes on the front lines, doing an 'essential' job, and keeping us safer, too. Store clerks, gas station attendants, a lot of people putting health on the line for us.
Earlier, my daughter had ventured out to Target and managed to finally score some toilet paper. She told me store employees were handing-out one 12-roll package per individual (you couldn't pull the TP off the shelf yourself, it was unceremoniously handed to you), and there was a limit on a lot of shit.
As we wade into a pandemic, the guy in charge of supposedly orchestrating a defense of the coronavirus is sadly a mental case:
"I think it was quite a while ago," Trump tells ABC News when asked when he last had contact with Rand Paul, who tested positive for COVID-19.

"Romney's in isolation? Gee, that's too bad," Trump adds about Romney being among senators self-quarantining. https://t.co/YL2iazzYuq pic.twitter.com/Rkphe82Mox

— ABC News (@ABC) March 22, 2020
One thing is for absolutely sure — the T-Rump is an authentic, grade-A asshole. In yesterday's coronavirus presser, which are now nothing more than daily campaign rallies, the shit-head was asked about the news of Rand Paul testing positive for COVID-19 and being quarantined, and any contact (Mediaite):
ABC News correspondent Trevor Ault asked Trump about when he last had in-person contact with Paul, considering his positive test result.

"Gee, I think it was quite a while ago," Trump replied. "It's been a long time."

Ault then followed up, mentioning that four other senators were in isolation.

"Who are they, please, who are they?" asked Trump.

Various members of the press called out the names, including Romney, Sen. Mike Lee (R-UT), Sen. Cory Gardner (R-CO), and Sen. Rick Scott (R-FL).

Trump visibly reacted when Romney's name was mentioned, tilting his head.
Ault continued, attempting to ask whether the president thought the Senate rules that required voting to be done in person should be suspended so that the stimulus package could be passed.

Trump interrupted, asking, "Romney's in isolation?"

"Yes," the reporter replied.

"Gee, that's too bad," Trump said, a small smirk on his face.

"Do I detect sarcasm there, sir?"

"No, none whatsoever," Trump replied.
Nasty just to prove nastiness, and to make sure everyone knows — the T-Rump is the ultimate-vile piece of shit. And he's the supposed leader of the free world, or in such a position where that used-to-be the case. And the turn-around can be deadly as COVID-19 continues to seep into crevices everywhere, like a quiet, shadow of fright lurking about in the nowadays.
Even in the midst of the T-Rump:
White House reporter suspected to have coronavirus, WHCA says https://t.co/5ePRNSPEJJ

— WHCA (@whca) March 23, 2020
Details per msn:
White House Correspondents' Association (WHCA) President Jonathan Karl informed members on Monday that "one of our colleagues has a suspected case of COVID-19."
According to Karl, who also serves as White House correspondent for ABC News, the individual was at the White House on several occasions over the past two weeks, including on March 9, 11, 16 and 18.

On three of those dates, President Trump and Vice President Pence held Coronavirus Task Force briefings in the relatively small James S. Brady briefing room at the White House.
…
The WHCA on Monday also released a revised seating chart "to further implement social distancing in the press room."
"As we have said since this crisis began, our priority is ensuring that we can maintain a healthy pool to provide coverage of the president. To that end, the WHCA took the emergency step last month to issue a new, temporary seating chart," the association announcement reads.
…
Trump told reporters last Thursday they were "sitting too close" in the briefing room, which only seats a maximum of 48 people.
"You're actually sitting too close," Trump said at one point. "Really, we should probably get rid of about 75, 80 percent of you. I'll have just two or three of you that I like in this room. I think that's a great way of doing it."

"You're actually much too close," he added before pointing at one reporter. "You should move. You should move immediately."
An utter, complete disgrace on so many different levels, it's hard to collect them all into one focal point because the perils energized by the T-Rump are too numerous and varied to grasp by anyone with some type walking-around-sense of a brain. He's the way-worse person at the way-worse time.
An actual crazy, psychotic individual, and been that way his whole miserable life  — the T-Rump hates everybody and can't abide with anybody, even believers and ass-kissers after awhile, and did I mention he's wide-ranging cruel (h/t Crooks&Liars):
Nixon's enemies list = 20 names

Trump's enemies list = half of America, science, truth, beauty blenders, denture glue, physics, wit, intelligence, every legitimate media source, hero dogs, vegetables, doctors, nurses, Mitt Romney, Democrats, Obama, Hillary, and competence.

— Brienne of Snark (@BrienneOfSnark_) March 23, 2020
An insight into this particular trait from Cliff Sims, a former White House communications guy, in his book last year, "Team of Vipers: My 500 Extraordinary Days in the Trump White House" (via Axios)
"Give me their names," he said, his eyes narrowing.
"I want these people out of here. I'm going to take care of this. We're going to get rid of all the snakes, even the bottom-­feeders."

Only in retrospect did I see how remarkable this was.
I was sitting there with the President of the United States basically compiling an enemies list — but these enemies were within his own administration.
If it had been a horror movie, this would have been the moment when everyone suddenly realizes the call is coming from inside the house.

The President proceeded to name White House staffer after White House staffer.
Almost no one was deemed beyond reproach — not his chief of staff, not senior aides, almost no one other than those with whom he shared a last name.
He wanted me to help him judge their loyalty.
How, I wondered, had it come to this?
Dude, been coming to this for decades and decades. And now at a prize point in history, a horrible, mean person making the calls.
Indeed, a frightful update this afternoon from the Washington Post on the current COVID-19 situation (or at least at time of publishing, subject to quick change, of course) disclosed that for the first time since since this shit reached our shores, more than 100 deaths have been recorded in one single day, a tally which knocked the overall US death total beyond 500, and sure to only climb from there.
The rundown included this, which also been cropping-up today/yesterday on the various InterWeb news sites/blogs — an exact-opposite reflex to what's actually needed via the T-Rump:
Back in the U.S., President Trump is weighing calls from some Republican lawmakers and White House advisers to scale back steps to contain the coronavirus despite the advice of federal health officials as a growing number of conservatives argue the impact on the economy has become too severe, according to several people with knowledge of the internal deliberations.
Loosening restrictions on social distancing would override the internal warnings of senior U.S. health officials, including Anthony S. Fauci, who have said the worst of the pandemic has yet to be felt in the United States.
In keeping with that malignant strain of thought, the Trump sprouted emphatically today: "Our country wasn't built to be shut down…This was a medical problem, we're not going to let it turn it into a long-term financial problem. We're just not going to let it happen."
A personal proposal for our troubles, coupled naturally with a bowl:
Shine down…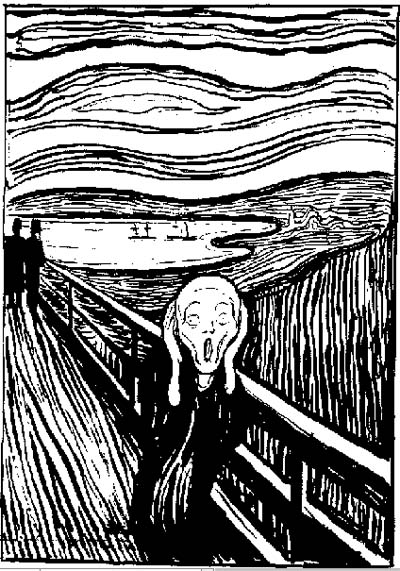 (Illustration: Edvard Munch's 'The Scream,' lithograph version, found here).