Once again, a supplementary coronavirus milestone today — the US now has more then 100,000 cases, doubling in just three days, and only two months since our first, original case. We're number-one in the world!
I was wrong yesterday in reporting the number of Merced County's COVID-19 cases — there's four not two, which came oddly-timely with two brand-new cases confirmed on Thursday by the Merced County Department of Public Health. The interactive map I wrote about in my post yesterday is apparently not quickly updated — it's still at two.
Also oddly-timely, our cases are all recent. The first reported last Sunday, the second on Wednesday, the last two yesterday, and three of those were under the age of 40.
According to the Merced Sun-Star, all four supposedly acquired the virus after traveling outside the county, and so as of right now, was not community acquired:
"It's going to take each of us doing our part to ensure that we minimize the effects of the COVID-19 pandemic here in our own community," said Public Health Director Dr. Rebecca Nanyonjo-Kemp in the release.
"We each have a responsibility to rise to the call."

"My fear is that mixed messaging has lessened the seriousness of COVID-19 which leads to misunderstanding the critical importance of adhering to simple and effective preventative measures."
I'm sure the good doctor was trying to bridge the seriousness gap between reality of the situation and the horrifyingly shitty 'messaging' coming from the mealy-mouth of T-Rump every fucking day and night. Today no exception:
JON KARL: So everybody who needs a ventilator will be able to get one?

TRUMP: "Look, don't be a cutie pie. 'Everyone who needs one'- nobody's ever done what we've done. Nobody's done anything like we've been able to do. Everything I took over was a mess. It was a broken country" pic.twitter.com/5eN8Q3pzrA

— Aaron Rupar (@atrupar) March 27, 2020
Actually even after all this time it's still hard to believe this shit comes from the president of the US, especially while in the midst of a freaking-giant medical/health emergency. The T-Rump continues to way-way-lower the bar for intelligence, empathy and just-plain general humanity — via Mediaite late this afternoon:
During Friday's coronavirus press briefing, ABC News' Jon Karl asked President Donald Trump if he can guarantee that "everybody who needs a ventilator can get a ventilator."
The president said in response that "we're in really good shape" dealing with ah unprecedented pandemic, saying, "We've distributed vast numbers of ventilators and we're prepared to do vast numbers."

"I hope that we're going to have leftovers so that we can help other countries."

Karl again asked, "Everybody who needs one will be able to get a ventilator??

"Look, don't be a cutie-pie, okay?" the president actually answered. "Nobody's ever done what e've done. Nobody's done anything like we've been able to do. And everything I took over was a mess. It was a broken country in so many ways, in so many ways other than this."

"I wouldn't tell me what you — you know, like being a wise guy," he added.
Shit…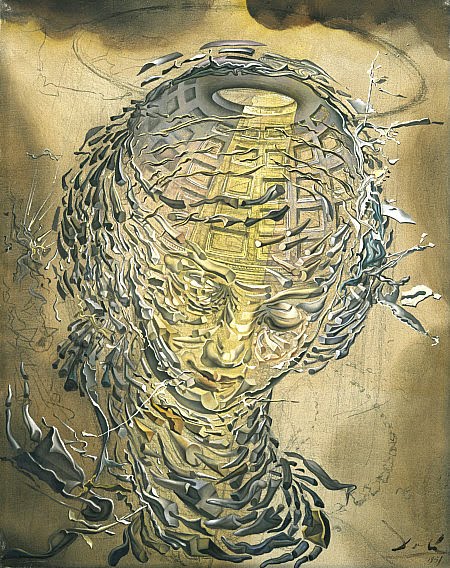 (Illustration: Salvador Dali's 'Raphaelesque Head Exploding' (1951), found here).