Rain, dark clouds and  thunder this early evening Monday here in California's Central Valley, a fitting day for the time.
Big news maybe (in relation to other 'Big News'), UK Prime Minister Boris Johnson has been placed in an ICU unit after his COVID-19 infection worsened, in case he required a ventilator. A shit-storm of activity in Britain, and the world, too, for that matter, in reference to Johnson's situation.
The T-Rump lathered also during his presser today (the Guardian):
Trump was asked for more details on the medicines he said he had sent to Boris Johnson's doctors, but he gives few more details, and does not name the companies involved.

"Well it's a very, it's a very complex treatment of things that they've just recently developed, and that they have a lot of experience with something else but recently for this. And .. they've already concurred. They've had meetings with the doctors, and we'll see whether or not they want to go that route. But when you're in intensive care it's a big deal. So they're there and they're ready."
…
Back to Trump's briefing, where the president is now taking questions. First up about Boris Johnson. He says:

"I found Boris to be a fantastic person, a fantastic warm strong smart guy. He loves his country, you see that. He fought like hell for his country. But intensive care is big stuff, really big stuff…"

When asked about the news of the UK prime minister meant the White House would reconsider its own safety procedures, Trump said: "Mike had his test … I had my test … We're here and here you are."
He said because of "questions like that," the White House will probably do more tests, which he said are so "quick and easy."
What a lackluster moron.
Idiocy to contrast a dismal tweet today from New York City Councilman Mark Levine — later to soften the fortuity of such a proclamation:
This tweet has gotten a lot of attention. So I want to clarify: the is a contingency NYC is preparing for BUT if the death rate drops enough it will not be necessary. https://t.co/6wLO8qWtML

— Mark D. Levine (@MarkLevineNYC) April 6, 2020
The original tweet scared the fuck out of everybody, that's why. The situation so dire, mass graves might be needed. Shades of dystopian fiction come fretfully alive.
Between between Sunday and Monday morning, 599 New Yorkers died from COVID-19 — statewide total 4,758, reportedly nearly 50-percent of all US deaths from the coronavirus.
Official nationwide numbers: 10,530 dead (including NY).
One way-major factor in the fright scale of this pandemic scenario is the T-Rump, as his performance this afternoon attests — he's a psychotic monster (via The Washington Post updates):
At Monday's coronavirus task force briefing, Trump rejected a report by the inspector general of the Department of Health and Human Services outlining the severe equipment shortages facing the country's hospitals, claiming without evidence that the results were politically biased.

"It's wrong," Trump told reporters. "Give me the name of the inspector general. Could politics be entered into that?"

The report, which was released earlier Monday, found that some hospitals are so desperate for protective masks that they are scrounging them from auto-body shops and nail salons.
At least one hospital is making its own hand sanitizer by mixing gel used for ultrasounds with alcohol from a nearby distillery, the report said.

Trump dismissed its findings by noting that Christi A. Grimm, the HHS principal deputy inspector general who issued the report, previously worked in the Obama administration — even though Grimm began working at the Office of the Inspector General in 1999, according to her official biography.
The enormity of the T-Rump's shitty-cruel influence will soon be so obvious, I really don't know how we'll be able to handle it. Anyone with any kind of walking around sense can see the disaster easily right now, what will happen if 100,000 of our family, friends and neighbors die? Obvious.
No matter how horribly-atrocious the T-Rump's so-called administration has conducted the people's business the past three years, now pales against what the orange turd-fucker has done (or not done) the past three months. No only the horror of the dying, and how they die (alone), actual living is quickly vanishing — the economy has tanked, unemployment getting to 'Great Depression' levels (not 'Great Recession' from 12 years ago, but the 'big one' from the 1930s), and society is falling into an unknown timeline.
We might be in the weirdest historical period yet, and being led by a way-dreadful abnormality who proclaims, '"What have you got to lose,"' to the shittiest questions. Including risky, unproven COVID-19 medications — fucker.
Meanwhile, back here on the Left Coast, we're also in the thick of it, though doing better than New York. As of this evening, California has a total of 15,221 reported COVID-19 cases with 351 deaths.
Closer still to home, yesterday Merced County reported its first death (under 65, but had pre-existing health problems) and an increase in cases from 27 to 29. (Merced Sun-Star).
One of my favorites from long, long ago and far, far away — yet maybe right-on-much today:
"Red lights flashing through the window in the rain…"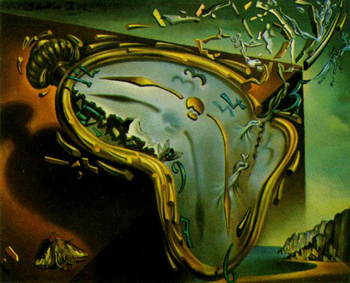 (Illustration: Salvador Dali's 'Soft Watch at the Moment of First Explosion,' found here).