Overcast-gloomy this early-evening Wednesday in California's Central Valley, looks and feels like more rain, just as forecast for tonight, along with a 60-percent chance tomorrow. Weather under the weather, too.
Still continuing onward the coronavirus, though, new predictions indicate maybe there could be less lives lost than originally expected, a glimmer of hope as 'pandemic' is the word everywhere — deaths in the US now number more than 14,000, with a single-day record yesterday in New York City where 806 died of COVID-19 (national daily total dying 1,858).
Worldwide 87,000 people have died in the couple of months this thing has been running hard, inflicting 1.5 million. COVID-19 has come a way-long way in a short space of time.
Meanwhile closer to home, yesterday Merced County reported five new cases, bringing our total to 34. The county on Monday also added a new where-you-caught coronavirus category with a "healthcare exposure" classification, creepy, scary anti-antiseptic, when a person catches the virus '…in a healthcare setting, like a hospital or doctor's office, either within or outside the county's borders.' (Read more local numbers and details at the Merced Sun-Star from last night).
Nowhere safe?
A horror beyond COVID-19 is another horror virus, Republicans. The T-Rump on down the line with an emphasis on killing people to stay in power. Witness the scenario which played out yesterday in Wisconsin as voters there had to face-mask the voting booth in a controversial primary.
Robin Vos is speaker of the Wisconsin State Assembly and an incredible asshole (h/t C&J):
"You are incredibly safe to go out" Republican @SpeakerVos tells his constituents, in full gown, gloves and mask. pic.twitter.com/c3wNVhWxew

— Justin (@JustinAHorwitz) April 7, 2020
Also an incredible hypocrite. The shit in Wisconsin is just a preview of this entire election year on how Republicans are trying to wrangle victory when the majority of voters hate their guts. Rat-fucking the system (BusinessInsider):
Wisconsin's Republican State Assembly Speaker Robin Vos assured voters it was safe to vote in person during the state's Tuesday primary election while decked out in full personal protective gear including a gown, gloves, and a mask.

As dozens of states have postponed their presidential primaries to May or June, Wisconsin's Tuesday election still proceeded as scheduled, despite the Governor telling Wisconsinites to stay at home after Republicans in the state legislature refused to act to postpone or make it all-mail.
…
For weeks leading up to the election, both Gov. Tony Evers and Republican leaders planned to hold the election as scheduled.
But as COVID-19 cases steadily rose and the state told citizens to stay at home, Evers made multiple 11th-hour attempts to move to an all-mail election or postpone it all together, which Vos and other Republicans blocked.

After a federal judge ruled against several plaintiffs attempting to delay the election on April 2, Gov. Tony Evers made in a last-minute attempt to postpone the vote to June with an executive order on Monday.
Vos and the Republican Majority Leader of the state Senate immediately challenged the order in Wisconsin's majority-conservative State Supreme Court, which sided against Evers and blocked his attempt to delay the election.
…
The Supreme Court's decision effectively left voters who had not yet received their absentee ballot with a difficult choice: either risk their health to wait in long lines to vote in person or not vote at all.
…
Milwaukee, a city of over 500,000 people, which usually has 180 open polling locations, is operating with just five on Tuesday, creating hours-long lines to vote in many neighborhoods.
Detailed additional background on voters and voting in Wisconsin at 538. Mail-in voting would appear to the rational person as the best and most-democratic way to cast ballots in the midst of the coronavirus outbreak, allowing people to vote from home, maintaining that way-important social distancing. But nooooooo…
President Trump: "I think mail-in voting is horrible, it's corrupt."

Reporter: "You voted by mail in Florida's election last month, didn't you?"

Trump: "Sure. I can vote by mail"

Reporter: "How do you reconcile with that?"

Trump: "Because I'm allowed to." pic.twitter.com/Es8ZNyB3O1

— MSNBC (@MSNBC) April 7, 2020
Obvious, up-front hypocrisy and bullshit (Vanity Fair): 'How exactly does allowing more Americans to vote by mail threaten the integrity of American elections They haven't quite said. But they have said how such measures, which would make it easier to cast ballots and likely drive up voter turnout, would impact them politically.
"They had things, levels of voting that if you'd ever agreed to it, you'd never have a Republican elected in this country again," Trump said recently of the proposals.
"This will be extremely devastating to Republicans and conservatives," Georgia State House Speaker David Ralston agreed.'
They know they're hated…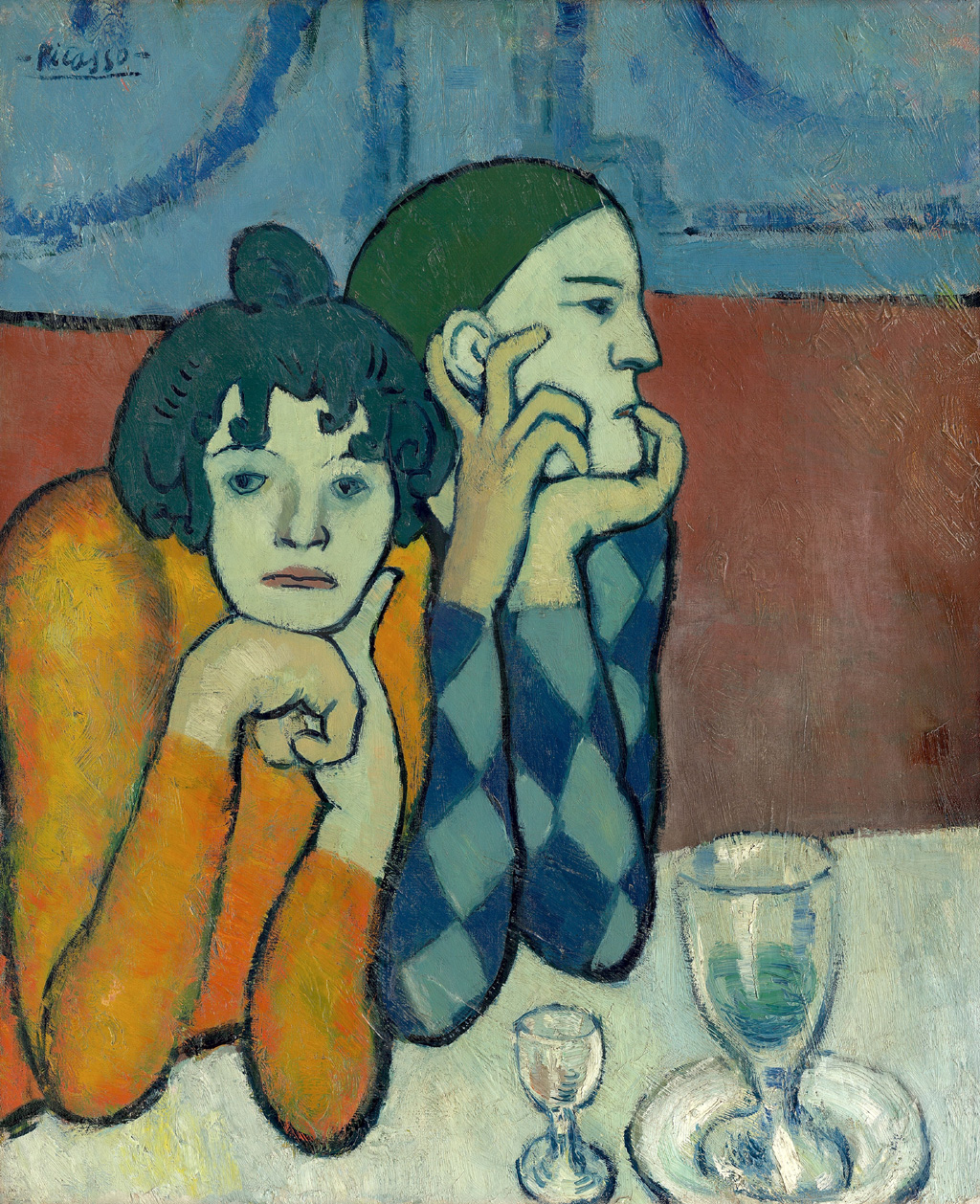 (Illustration: Pablo Picasso's 'Les Deux Saltimbanques: l'Arlequin et Sa Compagne,' found here).