As been written, and spoken: A picture is worth a thousand words: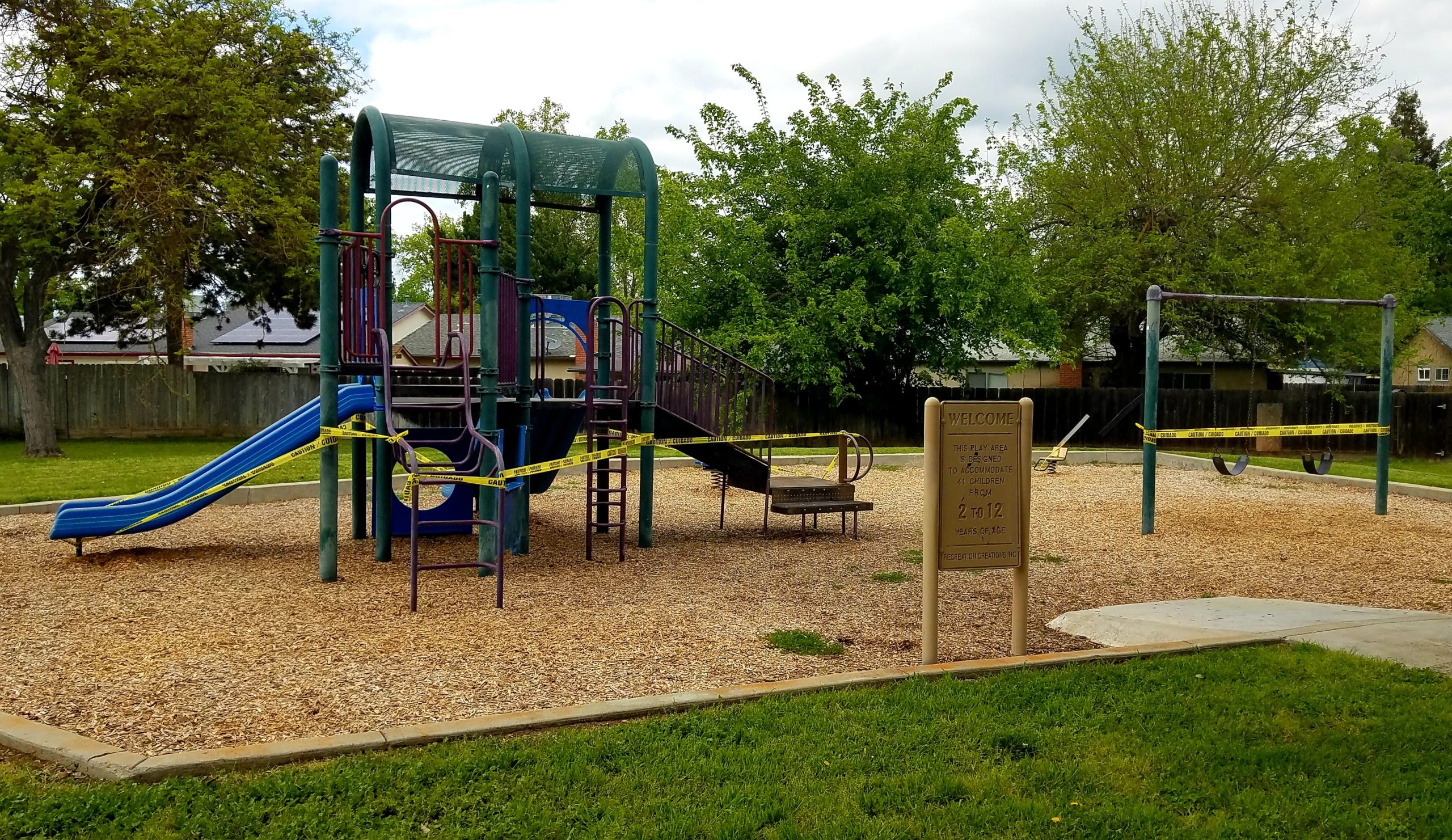 Last Friday, my daughter took the above photo of a playground on the Rascal Bike Path which meanders through the suburban northeast section of the City of Merced. I'd spied the tape across the equipment earlier that morning during my nearly-daily walk with her dog, Leroy, a basset hound-greyhound mix, and was surprised at its sudden sight as the tape wasn't there the day before. The sight was a sad reminder of the way-many side-effects of the coronavirus pandemic.
An even more sad sense this Monday morning was the strips were broken, swaying free in the breeze. Someone had used the equipment since yesterday about noon when Leroy and I passed the playground on our stroll on the bike path, and the tapes were intact.
My daughter also took the pix below of a similar playground further on Rascal, located at a wide grassy area near the entrance/exit to Columbia Avenue. However, in the lower part of the image can be seen a small child. Yesterday during our walk, the tapes across the swings/slides had been thrashed:
Seeking information on the playground-taping scenario, I e-mailed Joey Chavez, director of the City of Merced's Parks & Community Services, and as of yet, no reply.
However, the Merced Sun-Star this morning in its e-edition did supply some background on the taped playground equipment, an order which started on Thursday:
City Manager Steve Carrigan said the order from the County Health Officer is intended to prevent the spread of the disease and save lives.

"Use our parks to walk, jog, stretch you legs, play catch with your kids, but stay off the playground equipment," said Carrigan in the news release.

"Absolutely no groups, no team sports, no practices are allowed in the parks. It's OK to bring your immediate family to the park but that is it," Carrigan said in the release.

According to the city, the order does not affect regular use of walking trails or bike paths.
Also from the Sun-Star — yesterday, one new case in Merced County, bringing our local total to 65 infections, three deaths, and 16 recoveries, but that's just as last reported. Most-likely it will be more by evening, but as always, hope not. In California, 21,794 cases with 651 deaths.
In isolation with no touching, there is this:
'Living in a world that I left behind...'