Sunny and breezy a few minutes past the Thursday noon hour here in California's Central Valley. Warm, but not bad and nowhere like the last couple of days, the cool wind helps, I'm sure — blogging yard-style once more, grown used to doing the laptop business outside (inside mostly on the iPad), my daughter's apartment backspace is shady and way-comfortable.
Also carries an ambiance of creativity, which I need a vast amount…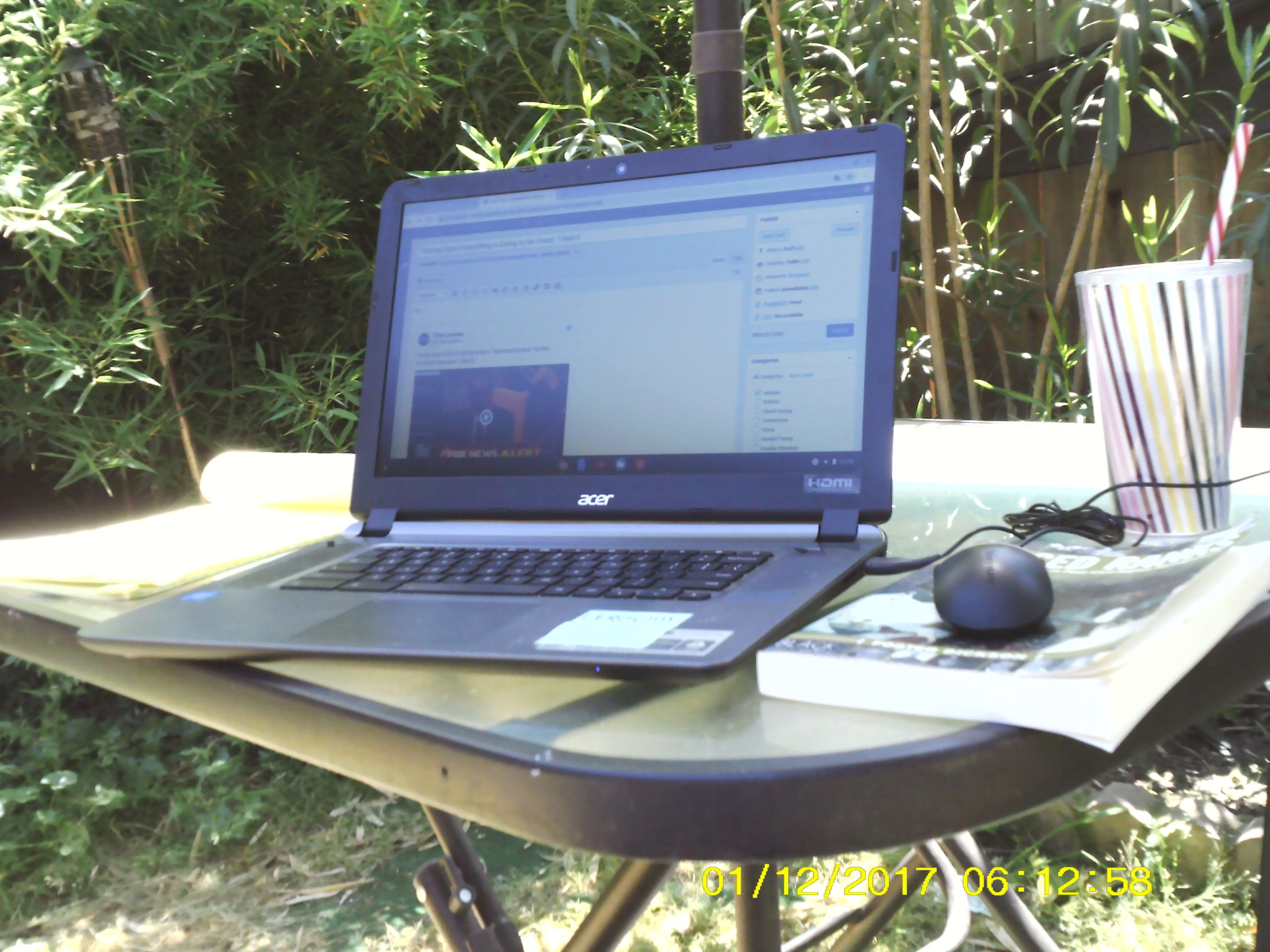 Due being outside in urban nature, the entire scene above jerks spasmodically to the left as the afternoon sun rolls across the sky; the early seat is straight across from this set-up, though, mornings only.
This situation belittles the actual scene beyond the small enclosure — in actual sound life out there on busy G Street in Merced appears to the ear as normal, even a Skill saw being used right now somewhere nearby, probably workmen repairing/building something, noise ringing true for 'normal' in a normal life.
Of course, out yonder is currently not normal at all. Except sitting in this pleasant backyard I'd never have a clue all of us are up shit-creek without a paddle.
Beyond the horrible medical/health crisis, the economics of the coronavirus is through the roof, well actually, more through the floor. I think because of the shut-down/shelter-in-place protocols, we're not fully sensing the disaster the economy is experiencing right now. The impact of 30 million people losing jobs the past six-to-eight weeks doesn't seem to register yet.
This morning from The Washington Post with some new numbers:
More than 3.8 million people filed for unemployment benefits last week, according to the Labor Department, as the coronavirus pandemic's economic toll burrowed deeper into the American workforce.

The outbreak and subsequent recession have wiped away all jobs created since the Great Recession.
Economists estimate the national unemployment rate sits between 15-and-20-percent, compared to about 25-percent at the peak of the Great Depression.

For comparison, 4.4 million people applied for benefits for the week ending April 18, and 30.3 million have sought benefits in the past six weeks alone.
That figure represents roughly 1 in 5 American workers.

There is no precedent for figures like this in modern American history.
Some economic people are reporting we're actually in more of a 'Great Depression' scenario than a 'Great Recession' story-line, and it will only get worse. Actually, life as if in the 1930s supposedly an inevitable circumstance in the near future.
Last Sunday, Kevin Hassett, one of the T-Rump's economic advisers, disclosed: '"This is the biggest negative shock that our economy, I think, has ever seen. We're going to be looking at an unemployment rate that approaches rates that we saw during the Great Depression…During the Great Recession …we lost 8.7 million jobs in the whole thing. Right now, we're losing that many jobs about every ten days."'
Yet Hassett's boss is a babbling crazy man:
Trump says 2021 is going to be a "spectacular year" for the economy because "I feel it." pic.twitter.com/ocQ0CmNfnS

— TPM Livewire (@TPMLiveWire) April 30, 2020
Against the actual rules of common sense, Republicans think by reopening the country, everything will get back to normal, money flows and people buy shit. Restaurants open, Las Vega slots will spin again. The T-Rump knows — via TPM this morning (back East 'afternoon'):
"I'll tell you what: I feel it," Trump told New Jersey Gov. Phil Murphy (D) and reporters in the Oval Office.

"And I will say I think next year is going to be a spectacular year in terms of growth, in terms of bringing our country back," he continued.
"I think we are going to have a really good year."

The U.S. economy has taken a major hit from the COVID-19 pandemic, and unemployment has skyrocketed to Great Depression levels of job losses.

The Labor Department reported on Thursday that 3,839,000 unemployment claims were filed last week, bringing the total number of claims over the past six weeks up to about 30 million.
During those notable days in the 1930s, at least there wasn't a virus spreading all over the place, killing a shitload of people real fast, and America didn't have the T-Rump:
Nowadays, too:
"Some of the owner men were kind because they hated what they had to do, and some of them were angry because they hated to be cruel, and some of them were cold because they had long ago found that one could not be an owner unless one were cold."