Sunday early-afternoon here in California's Central Valley. In the backyard again, blogging to outside sounds while being outside. Realism insinuated as normal.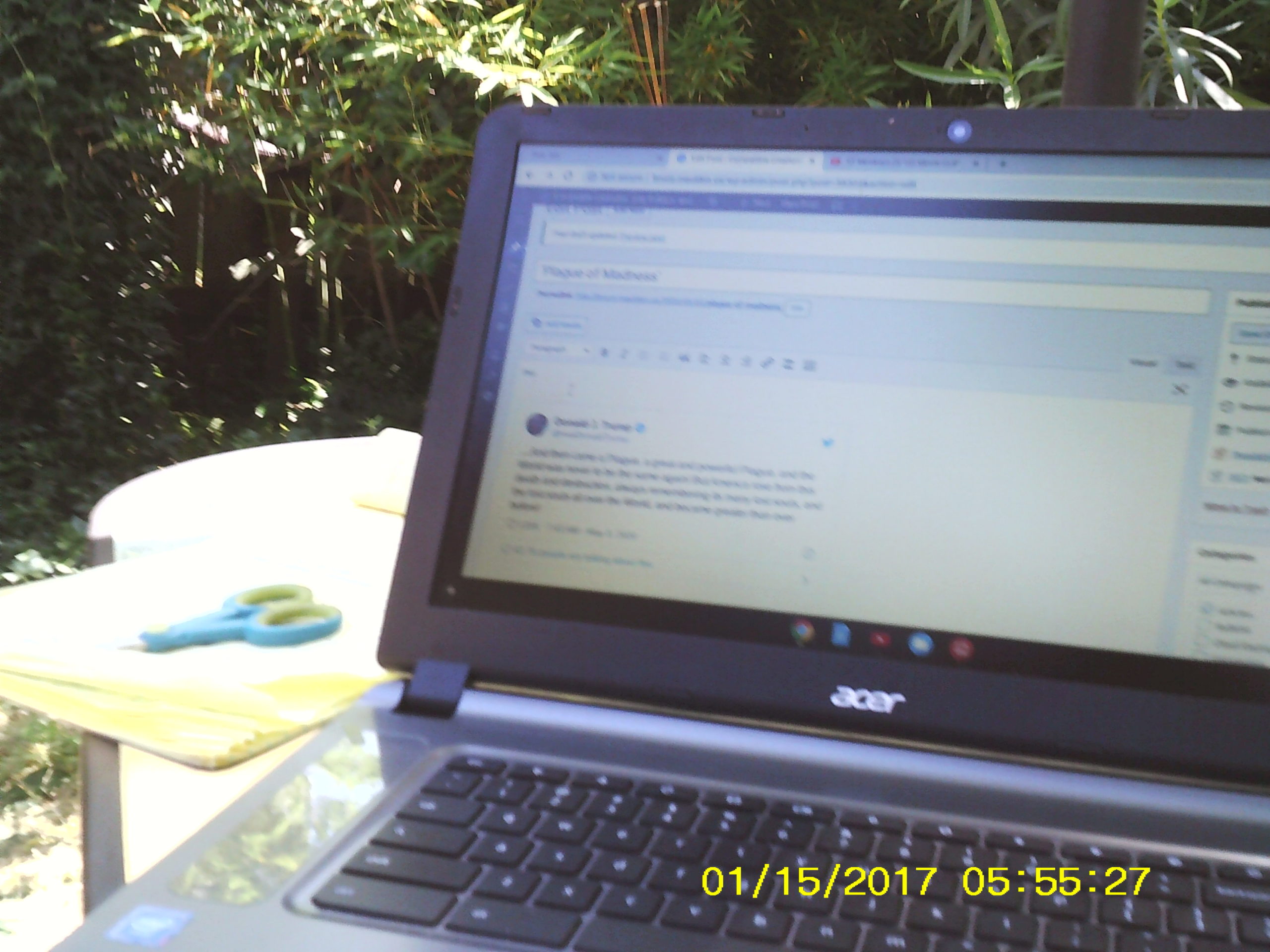 (My plague portal, or just my laptop).
A most-horrible note of this pandemic is the T-Rump — a deadly virus to handle while putting-up with a terrible asshole that is literally killing people with incompetence fueled by a huge dollop of a don't-give-a-shit mentality. He makes a horrible thing even-more horrible.
And this morning he displayed his pathological bent with dark craziness and petty whining:
….And then came a Plague, a great and powerful Plague, and the World was never to be the same again! But America rose from this death and destruction, always remembering its many lost souls, and the lost souls all over the World, and became greater than ever before!

— Donald J. Trump (@realDonaldTrump) May 3, 2020
Apparently, from what I can gather across the InterWebs, the tweet came from nowhere and crashed creepy-like (Raw Story):
Donald Trump attempted to wax poetic on Sunday morning, with a near biblical-sounding proclamation of "a great and mighty Plague" afflicting the country, leaving many wondering if he wrote it himself or farmed it out to one of his advisors who knows more words than him.
…
As former White Press Secretary Joe Lockhart wrote: "Who's writing these for you now…a third grader?"
Earlier, he went after GW Bush:
.@PeteHegseth "Oh bye the way, I appreciate the message from former President Bush, but where was he during Impeachment calling for putting partisanship aside." @foxandfriends He was nowhere to be found in speaking up against the greatest Hoax in American history!

— Donald J. Trump (@realDonaldTrump) May 3, 2020
The T-Rump does have some heavy-duty issues — story via The Hill this morning:
President Trump on Sunday took aim at George W. Bush after the former Republican president issued a call to push partisanship aside amid the outbreak of the novel coronavirus.

In a three-minute video shared on Twitter on Saturday, Bush urged Americans to remember "how small our differences are in the face of this shared threat."

"In the final analysis, we are not partisan combatants. We are human beings, equally vulnerable and equally wonderful in the sight of God," Bush said.
"We rise or fall together, and we are determined to rise."
…
While Bush never commented publicly on the allegations and the trial, he and other members of his family have voiced criticism of the president and his policies.

The former president released the video as confirmed cases of COVID-19, the disease caused by the novel coronavirus, continued to rise in parts of the U.S.
The country has confirmed more than 1.1 million COVID-19 cases and more than 66,000 deaths from it.
The T-Rump is fully fucked-up.
Explanation in a certain plague:
"…oozing, through telephone lines…wackos, plague of man…'
(Illustration: Salvador Dali's 'Hell Canto 2: Giants,' found here).