Early-afternoon Tuesday here in California's Central Valley, and the heat is already heating. A breeze does keep it down a bit, but only so much can be done.
In the backyard again, and still nice in the shade — getting warm, though.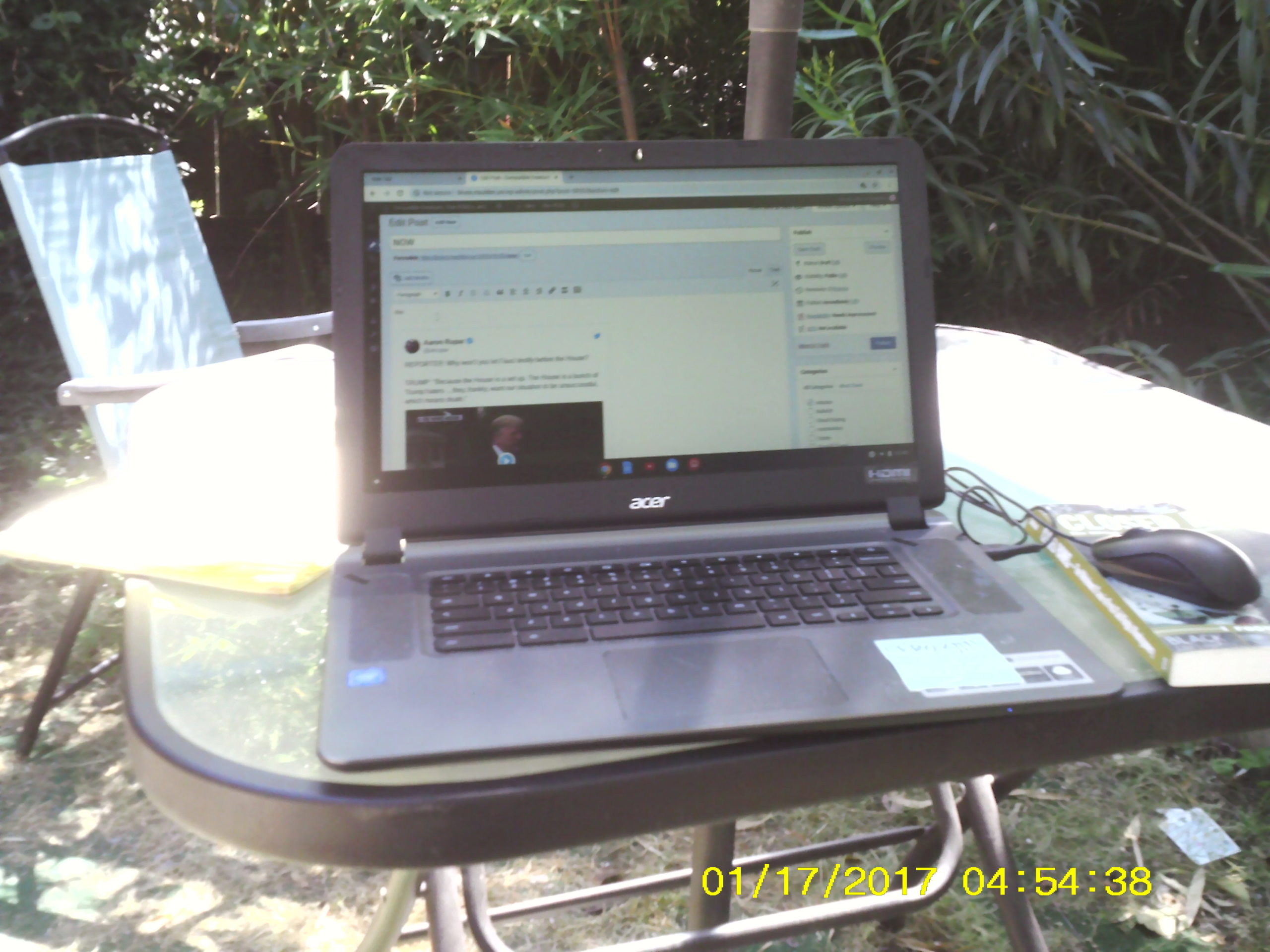 (External Station — even mystic bamboo in the faded background).
One conclusive result of the coronavirus, it revealed a major flaw in the US scheme of things and apparently there's nothing that can be done to make a correction. The T-Rump reign has been a shock to the American system, and now we're in a state of pure idiocy with fatal results  — one must remember, though, the T-Rump is not the cause, he's just the biggest, fattest asshole to come down that GOP pike, like maybe 50 years of this shit.
Boiling over now with the T-Rump, who's really out of control without any rails, or fencing.
And one other item via COVID-19 — it has made absolutely-glaringly obvious the T-Rump is an unhinged, mean-spirited, petty-tyrant of immeasurable depth, a pure-form villain without peer. Worse still, he's a fucking moron:
REPORTER: Why won't you let Fauci testify before the House?

TRUMP: "Because the House is a set up. The House is a bunch of Trump haters … they, frankly, want our situation to be unsuccessful, which means death." pic.twitter.com/G3G5OoV5IV

— Aaron Rupar (@atrupar) May 5, 2020
The T-Rump has so fucked the coronavirus response it's head-spinning, and now we're faced with some horrifying pieces of a real-shitty future, 100,000 dead at the end of this month, a million or more infected (those tested) and the economy reopens to a humongous load of body bags/caskets. The depressingly-sad note, though, is there's apparently no fucking thing we can do, at least until November, and what then?
Will the T-Rump leave peaceably?
Cruelty and chaos — via the Guardian's live blog this morning:
Taking questions from reporters before leaving for a trip to Arizona, Trump confirmed Dr Anthony Fauci, the government's top infectious disease specialist, would testify before the Senate but not the House.

Asked why he would not let Fauci testify before the Democratic-controlled House, Trump said, "Because the House is a set-up. The House is a bunch of Trump haters."

The president then alarmingly accused Democrats of wanting the country's response to coronavirus to fail. "They frankly want our situation to be unsuccessful, which means death," Trump said, providing no evidence for the sensational accusation.

Some of the president's allies have similarly claimed, without any kind of proof, that Democrats are resisting the reopening of the economy to hurt Trump's chances of reelection.

But that baseless argument ignores the fact that large majorities of Americans are opposed to reopening businesses like movie theaters, dine-in restaurants and nail salons.
According to them polls: 'According to a new Washington Post-University of Maryland poll, 74-percent of Americans said they were opposed to reopening dine-in restaurants and nail salons in their states. More than 8 in 10 Americans (82-percent) said movie theaters should not be allowed to reopen in their states.'
One thing, the T-Rump is afraid of Fauci, as the guy does indeed speak his peace: '"How many deaths and how much suffering are you willing to accept to get back to what you want to be some form of normality sooner rather than later," Anthony S. Fauci asked Monday night on CNN.'
No wonder what'd he say front of the Democrat House, but the Republican-controlled Senate might be another matter. But to pander into nasty politics of 'death.' without a scrap of anything like evidence.
And a bullshit clown of no-self worth.
Trump complains about tough questions from two standout women correspondents, @PaulaReidCBS & @weijia, and suggests they should act more like '50s housewives.

"It wasn't Donna Reed, I can tell you that," he said, referring to TV housewife actress.https://t.co/YeEgj4zs2k

— Philip Rucker (@PhilipRucker) May 5, 2020
This came off an interview in the New York Post, published this morning, and displayed a delusional sense of his surroundings, and actual history :
"We set every record with those press conferences. Six million people all the time. You know we had tremendous numbers, literally, it was in [Fox News host] Bret Baier's slot, and we did like 30 in a row," Trump said.
"I heard, is this true? It was the highest-rated hour in cable television history. That's what I heard. I don't know if that's true."
…
Trump said he enjoys sparring with reporters in the White House briefing room and that he believes "everybody" likes watching it, even senior citizens who his advisers began to believe were being turned off by hostile exchanges.
…
He singled out two CBS News journalists as people who particularly irritated him — Weijia Jiang and Paula Reid — during the briefings.

"It wasn't Donna Reed, I can tell you that," Trump said, referring to the film and TV star best known for playing Mary Bailey in "It's A Wonderful Life" and later starring as the mom in an eponymous family TV sitcom of the '50s and '60s.

"Paula Reid, she's sitting there and I say, 'How angry. I mean, what's the purpose?' They're not even tough questions, but you see the attitude of these people, it's like incredible.

"So you know, I enjoyed it," Trump concluded.
A horrifying idiot, childlike in a way-self-centered point of view. Donna Reed is a historical stalwart for me — "The Donna Reed Show" was part of my 'Camelot' years in grade school, the TV mom required for the times. Later, I was shocked by Reed's character in "From Here to Eternity," (she worked at a 'gentleman's club'). Growing up, apparently It took some time to accept what actors/actresses do.
Erick Loomis at LG&M has a good post on Reed, who ironically the T-Rump would despise if he had any sense of knowledge.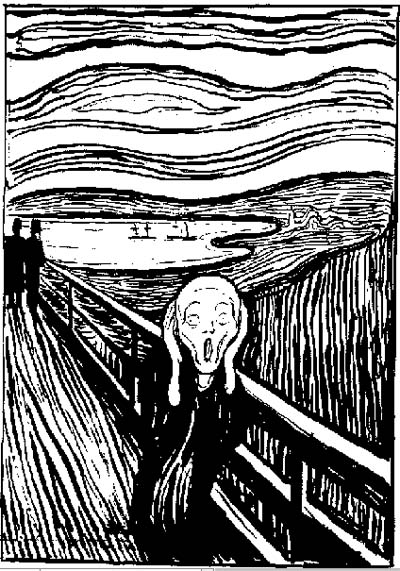 Image: Edvard Munch's 'The Scream,' lithograph version, found here.
The freakish cry has become a scream for the nowadays — the Guardian in January 2019:
The Scream was created by the Norwegian artist Edvard Munch in 1893 but it has become a masterpiece — the masterpiece — for our time.
There are comparably "iconic" works of art — the Mona Lisa, Van Gogh's Sunflowers — but they exist in a world of art and beauty.
The Scream is ugly and brutal and belongs in the here and now.
It is a symbol we reach for as we might for a strong word, to express what we're feeling this minute.