Midday Friday here in California's Central Valley, and a way-warm one already. According to WeatherUnderground, we're sitting on 97-degrees right now, working to a reported high of 98 — hot tomorrow, too, into the high 90s again. Cooling by Monday, maybe down to the high 70s-80s. Cooling?


Meanwhile, a view of an opposite for this weekend:
An extreme weather pattern is setting up for Mother's Day weekend that will shatter dozens of temperature records, wring out strange May snow in the interior Northeast and possibly set May pressure records both in parts of New England and northern Canada.
…
Temperatures could also approach some all-time May record lows in a few spots this weekend, including Detroit (25-degrees), Lexington, Kentucky (26-degrees), Pittsburgh (26-degrees), Indianapolis (28-degrees), Knoxville, Tennessee (32-degrees), and Nashville (34-degrees).
Hence, weather is like the old resturant success moniker: Location, location, location.
Backyard blogging again, as witnessed by the image above of a work-station in a hot jungle on a virus-infected hot planet. Shade in the shade, though.
And there's a lot of nasty shit going, too, seemingly even more than usual and a lot of shade being thrown by the T-Rump's people — I've been following the Guardian's live blog for some good updates on the idiocy flowing from the T-Rump's White House.
And the net swarms closer: Yesterday, it was reported one of the T-Rump's military valets had tested positive for COVID-19, and then today, VP Pence's press secretary did the same:
BREAKING: President Trump just said "Katie" is VP staffer who tested positive. Katie Miller is VP spox & wife of WH adviser Stephen Miller. Entire West Wing has now been directly or indirectly exposed to COVID-19.

— Paula Reid (@PaulaReidCBS) May 8, 2020
Via the Guardian:
White House press secretary Kayleigh McEnany just finished the briefing for the press and has exited the room.
As she was walking out, a reporter could be heard calling out her question, which was not answered.

"Why did you spent the first half of the briefing talking about Michael Flynn when both the president and the vice president have been exposed to coronavirus?" the unseen journalist asked.

Good question.
A few moments before, McEnany did say, upon being asked about the news that a staffer to Vice President Mike Pence earlier today tested positive for Covid-19, a day after Trump's personal valet tested similarly, that "the White House is continuing to operate safely."
McEnany said: "We have put in place the guidelines that our experts have recommended for this building," before then saying about the guidelines "we are now putting in place here in the White House", so it's a little confusing.
Anyway, Potus and Veep have stepped up from being tested weekly for Covid to now being tested daily.

The pool report from the briefing adds: Pool spotted all 14 seated reporters wearing masks as the press secretary spoke. All photographers were wearing masks.

The White House stenographer was wearing a mask, but the press secretary and three press aides who joined her in the room were not.
This is an Orwellian-influenced Twilight Zone episode. Stephen Miller cooties is indeed susceptible to the coronavirus, at least there's that — pure-not good doesn't bring immunity.
And back-step: 'This morning Trump was asked in a Fox News interview whether those who serve him food would now cover their faces. "They've already started," he said'
And final retardation for today — enough is enough! (Raw Story):
TRUMP: "I feel about vaccines like I feel about tests. This is going to go away without a vaccine, it's gonna go away, and we're not going to see it again, hopefully."

Shameful. This man is going to get tens of thousands more people killed. pic.twitter.com/qDfExkR89h

— CAP Action (@CAPAction) May 8, 2020
Ignorant asshole:
During a meeting with GOP lawmakers on Friday, President Donald Trump suggested that developing a vaccine for coronavirus might be unnecessary because it will "go away" on its own.

"I feel about vaccines like I feel about tests," said Trump. "This is going to go away without a vaccine, it's gonna go away, and we're not going to see it again, hopefully, after a period of time. You may have some flare-ups."

He then qualified his statement, adding he wasn't saying it would go away this year.
Beyond Rod Serling…
'You unlock this door...'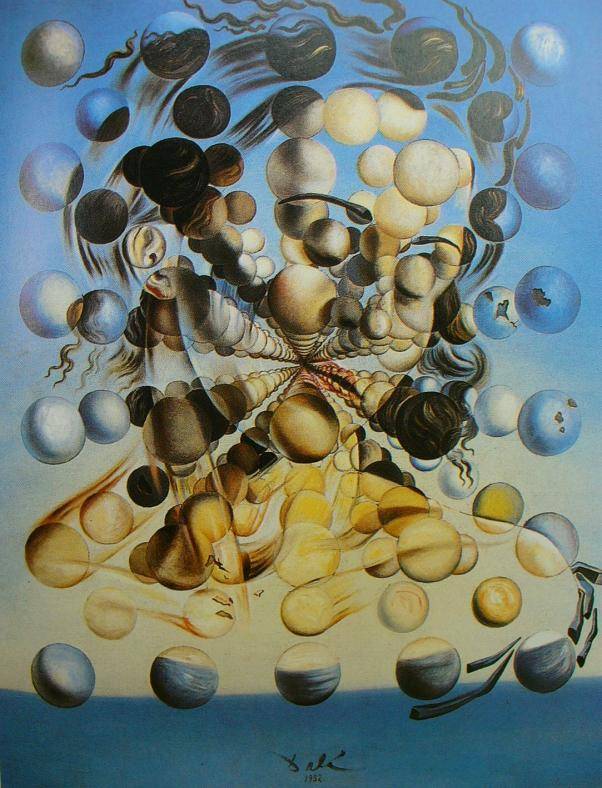 (Illustration: Salvador Dali's 'Galatea of the Spheres,' found here).