Occasional sunshine near mid-day Tuesday here in California's Central Valley. Cloudy most of the morning, earlier even looked like rain for awhile, but appears the afternoon will sunny and warm, as normal.
Weather-wise, of course, not much normal about the nowadays.
Top-of-the-news today was in the US Senate where occurred a medical/scientific push-back of the T-Rump (Washington Post): 'Anthony S. Fauci, the nation's top infectious-disease expert, warned of avoidable "suffering and death" and of further economic damage if states reopen too quickly and said the U.S. death toll from the novel coronavirus is probably higher than the 80,000 reported.'
Dr. Fauci also said the virus spread is not over, we're not testing enough, and the phrase, "we don't know everything about this virus," makes COVID-19 even more dangerous. He also cautioned against opening schools too soon, children need to be protected just as much as the old folks.
He pretty-much decimated T-Rump's stance on the coronavirus response, even after yesterday the T-Rump proclaiming the US has "prevailed" over the virus, and everything is peachy.
Worse shit is hitting the fan than was hitting the fan just before (h/t Susie):
The news that the virus has invaded the White House, and that they're using testing and tracing against it, doesn't just show a depraved double standard. It also wrecks Trump's whole deception campaign about the safety of reopening the country. New piece:https://t.co/XlSXAZW7xB

— Greg Sargent (@ThePlumLineGS) May 11, 2020
Further deeper, Fauci continued to nick the rump — via CNN:
Sen. Tina Smith, a Democrat from Minnesota, started her five minutes of questions with a simple one for Dr. Anthony Fauci.
"How are you doing and how are you holding up?" she asked him.
"I'm doing fine, senator, thank you very much for asking," he said.

Fauci continued:

"This is, this is such an important problem. It transcends all of us individually, and we have to be working as a team. And I enjoy very much working with your senators and the governors, because it's at the local level that we're going make it work. So I am fine. I appreciate your concern."
Catch that, 'it's at the local level that we're going make it work,' a notion to reality and a fuck-you to the T-Rump.
Also in T-Rump news today, the US Supreme Court heard arguments about financial records, like T-Rump's loans and tax returns, a subject matter under review for years. Despite the obvious bullshit from T-Rump's lawyers, I suspect SCOTUS to make this particular asshole-president above the law.
Closing arguments tomorrow morning, with a ruling maybe in weeks.
As from Vox this afternoon: 'And yet, at Tuesday's oral arguments on both cases, a majority of the Court seemed concerned that the House has too much power to investigate the president. The Supreme Court appears likely to create a special rule for Trump — or, at least, for sitting presidents — that it wouldn't apply to any other person.'
We be in heap-a-trouble…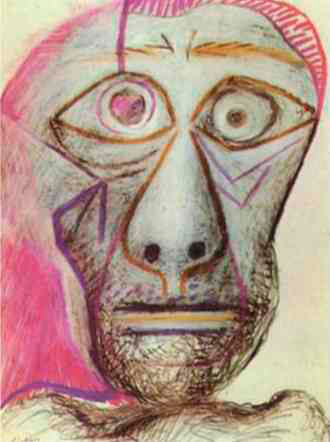 (Illustration: Pablo Picasso's 'Self Portrait Facing Death' (June 30, 1972), was originally found here).