An open-ugly side of hiring nasty, dip-shits:
.@PeterAlexander: "Why does the president keep hiring people who are dumb as a rock, overrated, way over their heads, whacko and incompetent?"@PressSec: "…he likes the model of having a Team of Rivals, like with what we saw in President Lincoln's administration." pic.twitter.com/BPKXqKukWY

— CSPAN (@cspan) June 19, 2020
A few details via The Hill this afternoon:
"The president makes hiring decisions based on the fact that he likes to have countervailing viewpoints," McEnany told reporters during a press briefing.

McEnany said she spoke to Trump specifically about his decision to hire John Bolton, his former national security adviser who penned a forthcoming book that offers a scathing picture of the White House.
McEnany said Trump told her he likes "to counterbalance my own opinion with individuals who oftentimes have the very opposite opinion of my own."

"He likes the model of having a 'team of rivals' like what we saw in President Lincoln's administration," McEnany continued.
"I've been a part of that. I often see rigorous debate and the president uses his gut and makes the best decision how to move forward."
…
McEnany was asked why Trump hires people he views as "dumb as a rock," "overrated," "way over their heads," "wacko" and "incompetent" — phrases he has used to describe Bolton or other former officials including former Secretary of State Rex Tillerson and former Defense Secretary James Mattis.

McEnany said Bolton had proven those labels to be "particularly true," noting he praised the president during his time working in the White House before turning to criticize Trump in his memoir, "The Room Where It Happened."
…
Speaking on CNN earlier Friday, former acting White House chief of staff Mick Mulvaney said Trump "didn't hire very well" when asked about criticism from Bolton and other former officials.

"He did not have experience in running government and didn't know how to put together a team that could work well with him," said Mulvaney, who also served as the director of Trump's Office of Management and Budget and has since been appointed as his special envoy for Northern Ireland.
And of Bolton's book: 'A federal judge on Friday heard arguments on a request by the Justice Department to block the publication of former national security adviser John Bolton's memoir over concerns it contains classified information — but the judge warned "the horse … seems to be out of the barn," as copies have already been distributed.'
The judge didn't think anything could be judicially done and will rule on the case maybe by Monday.
And this:
! DOJ acknowledges that some of the material it says is classified in Bolton's book was classified AFTER the first reviewer completed her review on April 27.

— Kyle Cheney (@kyledcheney) June 19, 2020
All bullshit, and just shows how 'wacko' and 'incompetent' the whole-entire operation of the T-Rump. And working for the T-Rump White House is shitty — from Bolton's book: "This is the very definition of confusion and disorder."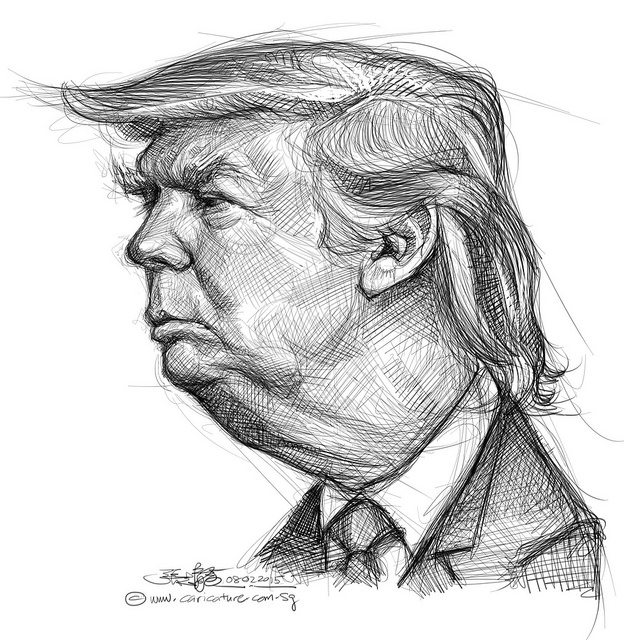 (Illustration: 'Basic Shapes,' by caricaturist/illustrator Chong Jit Leong found here).