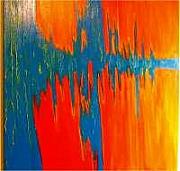 Earthquake just a few minutes ago, and according to the USGS, the shaker, located south of Lone Pine, California, registered a 5.8 on the Richter Scale.
I was lying on my bed surfing the InterWebs on my iPad when I felt a couple of 'ripples,' a physical impossibility without some external, weird help, and I leaped up to my laptop which has the USGS site bookmarked — the original posting reported a 6.1, but minutes later it was downsized to a 5.8.
Earthquakes are apart of California life, but this is the first one this year — had a 7 last summer south of Bakersfield.
This morning's epicenter was in the Owens Valley, about three hours southeast as the crow flies from here in Merced. Shown so far, four aftershocks of 2.5 or stronger, one 4.6, and three at 3.1 or better.
A cluster of some worth, all still coded red in color on the USGS image.
Prelim M6.0 Earthquake Central California Jun-24 17:40 UTC, updates https://t.co/j7OqJ1bFzn

— USGS Big Quakes (@USGSBigQuakes) June 24, 2020
And this from ABC News a few minutes ago:
People at several businesses near Lone Pine and Bishop told ABC News the while the shaking was "intense," they didn't see any damage.

Some shaking was felt in LA.

This comes a day after a 7.4 magnitude quake hit Mexico, near the resort of Huatulco, killing at least six people and damaging hundreds of homes, according to The Associated Press.
At least six others were hurt, including two people in Mexico City, more than 300 miles from the epicenter.
Supposedly, a 4.6 quake was felt in same location two nights ago, and a fore-shock to the one today.
(Illustration above found here).