Once again here we are still waiting — as of Thursday morning Joe Biden was at 264 electoral votes (same number late last night), and the T-Rump remained at 214 votes, with not much changing the last 12 hours or so.
We await today for the end of the 2020 election, and from all I've seen, most-likely a slow-walking win for Biden. Yet with such a downer Tuesday on how much nasty-red is America, feeling anything but numbness and a get-this-shit-over-with-quick sensation spiked by pessimistic-influenced optimism — only recourse can be felt right now.
In the spirit of the moment, one of my all-time favorites from Neil Young, guaranteed to bring you right down, and aptly titled, "Don't Let It Bring You Down" (Young actually introduced the song like that on the live-concert album, "4 Way Street" with Crosby, Stills and Nash):
Second verse, poetic as the first, but more nowadays:
Blind man running through the light of the night
With an answer in his hand
Come on down to the river of sight
And you can really understand
Red lights flashing through the window in the rain
Can you hear the sirens moan?
White cane lying in a gutter in the lane
If you're walking home alone

Don't let it bring you down
It's only castles burning
Just find someone who's turning
And you will come around
Will we…?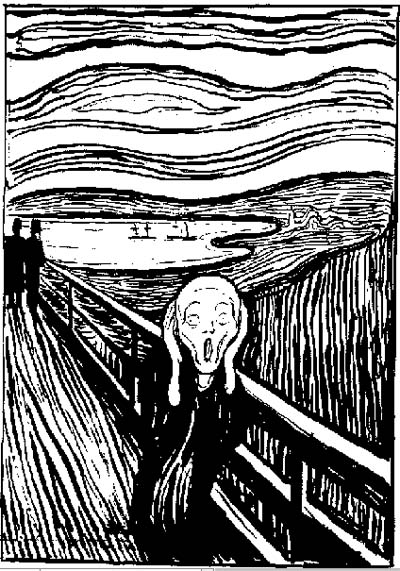 (Illustration: Edvard Munch's 'The Scream,' lithograph version, found here)