Celebratory outakes continue as Joe Biden basks in the moment. Boris Johnson finally sent congrads to Joe, being a Trumpster and all, but curdled it in a message saying he looks '"forward to working closely together on our shared priorities."'
And an UK image for Sunday:
Tomorrow's front page pic.twitter.com/zqwFwcbI6N

— The Observer (@ObserverUK) November 7, 2020
Meanwhile, far to the east in DC, the T-Rump is holed-up in his bunker-modified, walled-off White House babbling like a baby and won't give a concession speech, threateing to release a torrid avalanche of legal shit on Monday, contesting the voting in a load of states, and conceding only '"this election is far from over."'
Only problem is the T-Rump is an idiot.
Despite the bullshit, bullshit is still bullshit and the T-Rump is just all mouth — via Time early this afternoon:
This week alone, the Trump campaign blitzed state and federal courts with roughly a dozen new lawsuits, most attempting to halt the vote-counting process or disqualify tranches of ballots.
The majority of the Trump campaign's lawsuits were filed in Pennsylvania, Nevada, Georgia, and Michigan—states where either Biden's margin of victory is relatively slim, or where a winner has yet to be called.
After Biden declared victory on Saturday, President Donald Trump seemed poised to continue to fight in court.
In comments from the White House, he vowed to pursue a lawsuit in Pennsylvania.
But legal experts say his chances of meaningfully challenging the election are dwindling.
Many of his campaign's lawsuits filed this week have been dismissed on lack of merit, and the ones that have gained some traction are unlikely to change the outcome of the Presidential race.
…
"There's literally nothing that I've seen yet with the meaningful potential to affect the final result," Justin Levitt, a law professor at Loyola Law School, told TIME in an email.
Another stage set for the Trump and his lackeys to be shamed — a good concise synopsis of the situatiob was also found this afternoon at the Guardian — high points:
None of what Trump alleged has been proved to be true. Nonetheless, Republican legal challenges in key states are set to continue. Leading the effort to marshal a legal force like that which led the party to victory in the 2000 Florida recount were Jared Kushner, Donald Trump Jr and his younger brother Eric Trump, and Rudy Giuliani, the former New York mayor recently seen apparently trying to seduce a young actor posing as a reporter in Sacha Baron Cohen's second Borat movie.
…
Trump's daughter, Ivanka, has largely stayed quiet. Nowhere to be seen is an army of lawyers of the size – and skill – Trump will need. The failure to assemble a coherent legal team, and to raise as much as $60m to fund attempts to stop vote counts in some swing states and continue them in others, was in many ways a reflection of previous failures among the small circle of mostly family advisers Trump has kept around him.

"What a campaign needs to do to staff one statewide recount, let alone multiple recounts, is overwhelming," Benjamin Ginsberg, a top Republican lawyer who was national counsel to George W Bush in 2000 and 2004, told CNN.

"Bush v Gore was one state [Florida]. We put out a call and hundreds of lawyers, political operatives and many others responded. Even with that, it taxed the party to its limits to do just one state. It is at best unproven that the Trump campaign can command the sort of infrastructure they would really need to pull this off."
The legal challenge to Biden's victory was placed in the hands of Jay Sekulow, who defended the president during the Mueller investigation and the impeachment process, and Giuliani, who went to Philadelphia to publicly demand Republican operatives be granted greater oversight over the Pennsylvania count.

Among experts dismissing Trump's legal moves was James Baker, who led the effort for Bush in Florida which wrested the White House from Al Gore.

It was reported this week that Kushner was placing calls from the Trump war room, in search of his own version of Baker, a former chief of staff, treasury secretary and secretary of state.
Baker has backed Trump.
But he told the New York Times that 20 years ago, "We never said don't count the votes. That's a very hard decision to defend in a democracy."
…
Late on Friday, the Fox News host Laura Ingraham, an ardent loyalist, advised the president to "accept defeat", should it come, with "grace and composure."
Ingraham also railed at "failed" consultants and campaign officials who "blew through hundreds of millions of dollars without the legal apparatus in place to challenge what we all knew was coming.

"Why aren't the best lawyers in America on television night after night explaining the president's legal claims?" she asked.
Indeed. Unless the whole scheme/schemes were nothing but shit, which is what they be…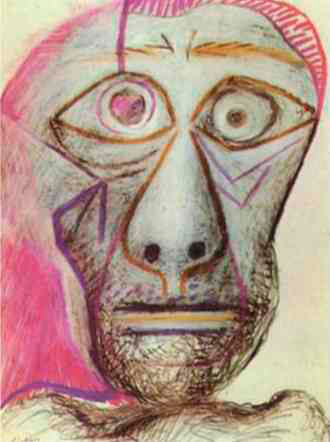 (Illustration: Pablo Picasso's 'Self Portrait Facing Death' (June 30, 1972), was originally found here).