Fog and a chill in the AM, but now early-evening Saturday has mostly clear skies with fading, but-still bright sunshine, and the air is much warmer. Weather here this morning in California's Central Valley was just a preview to our immediate future — endless Tule fog and coldness.
Horror of the fog is driving, reportedly visibility was reduced to a quarter mile or less in some places, and which most-likely caused a fatal smash-up north of Sacramento, involving five tractor-trailers and five other vehicles — Shit! Fuck that fog.
Nothing we can do, though, until spring anyway.
Meanwhile, far to the east, a small mass of people were encased in another type fog, one composed of shit particles. Nutcases for the T-Rump made an idiotic scene today in DC in support of the orange turd:
The "Million MAGA March" didn't quite live up to its name, though more than a thousand Trump supporters did show up on Freedom Plaza in a show of solidarity with the president, who has spent the last week desperately seeking to overturn the results of the election by falsely claiming widespread voter fraud.

Accompanying Trump supporters was a large contingent of Proud Boys, a violent street gang whose accomplishments include a call from the president to "stand by."
Other militia groups, including the Oath Keepers, and members of the right-wing extremist group Boogaloo Bois were also present, according to reporters on the scene.
…
While Trump encouraged his supporters to come out on Saturday in a tweet that also teased his own appearance, the president could only be bothered for a drive-by wave.
Multiple videos on Twitter showed the president's motorcade roll past his most ardent supporters, waving through a window on his way to Sterling, Virginia, where he planned to play golf for the day.
An asshole even to his beloved fans.
In direct relation within that fog of ignorance:
AMAZING!

More than one MILLION marchers for President @realDonaldTrump descend on the swamp in support.

Best base in political history — we LOVE you guys!!! ???? pic.twitter.com/vU65nqCSns

— Kayleigh McEnany (@kayleighmcenany) November 14, 2020
And the reality:
Million MAGA March — Here's the overhead view of Freedom Plaza at 11:15AM #MillionMAGAMarch2020 @WUSA9 @CBSNews pic.twitter.com/rQwUZoxtUu

— Mike Valerio (@MikevWUSA) November 14, 2020
A few thousand maybe, a million?
The Washington Post this evening in its round-up of the march: 'On a day when the president's supporters touted a vast array of falsehoods, his spokeswoman, Kayleigh McEnany, offered perhaps the most ludicrous.'
A fog of ludicrous — idiots:
'The subliminal mind-fuck America…'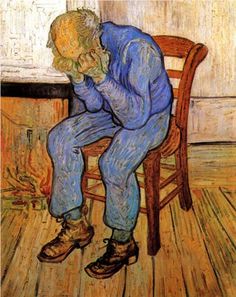 (Illustration: Vincent van Gogh's 'Old Man in Sorrow (On the Threshold of Eternity)' found here).