Cool and clear this early-evening Friday here in California's Central Valley, and my sense right now feels a bit like a way-dark comedy seething with measurable trepidation — an unhinged monster is calling the shots in some serious shit, especially with a part of that shit, a vast war machine.
Domestically, the T-Rump has been a horror the last four years, but with few instances, we've been spared heavy blow-back in international events, only fucking-up shit from the peripheral, and withdrawing from every accord/treaty from climate to Iran, shuffling the US to the backburner of world affairs — isolated in our 'America First' bullshit.
When I started 'Compatible Creatures' in April 2007, the main subject matter was war (as in 'War, Politics and Life') as the US was then neck-deep in the blood-soaked terror of Iraq. GW Bush was flopping around like a crazed doll, flailing-responding to a senseless, major fuck-up which needlessly might have killed overall a million innocent people and totally shit-faced the Middle East.
Happy those innocent days now seemingly another lifetime away. GW is a hinged monster, staying within the norms of polite society for cruelty. And here we are with the 'unhinged' variety.
In the wake yesterday left by the assassination of Iran's top nuclear scientist, Mohsen Fakhrizadeh, in Damavand, east of Tehran, this report creates an action of foreboding:
Just In: The aircraft carrier USS Nimitz is being moved back into the Persian Gulf region along with other warships to provide combat support and air cover as US troops withdraw from Iraq and Afghanistan by January 15 under President Trump's orders a defense official tells CNN.

— Barbara Starr (@barbarastarrcnn) November 27, 2020
Although supposedly the decision on the Nimitz was made before the killing of Fakhrizadeh, the timing makes it a bit shady. Some info on the situation via the UK tabloid, Daily Mail this afternoon (good piece on the Mail from last August at Vanity Fair):
The United States military has deployed its aircraft carrier USS Nimitz to the Persian Gulf alongside other American warships in order to provide 'combat support and air cover' for soldiers withdrawing from Iraq and Afghanistan.

The deployment, which was first reported by CNN, comes as tensions in the region have ratcheted up following the assassination on Friday of a top scientist who headed Iran's nuclear program.
…
Iran on Friday accused Israel of trying to provoke a war by assassinating Fakhrizadeh-Mahabadi, whom Netanyahu named as the father of the rogue nation's nuclear program.

Fakhrizadeh-Mahabadi was killed in his car following an explosion and then machine gun fire near to Tehran.

The Trump administration has set a January 15 deadline for the US military to draw down its forces from Iraq and Afghanistan.
…
Israel has reportedly been pushing for the outgoing Trump administration to deal a heavy blow to Iran's nuclear program by bombing key reactors.

But Saudi Arabia's Crown Prince Mohammed bin Salman, who is said to have met in secret with Secretary of State Mike Pompeo and Israeli Prime Minister Benjamin Netanyahu last Sunday, is reluctant to go along with the plan, Middle East Eye reported.
…
If the Trump administration orders its military to strike Iran, it could then lead to an escalation across the region involving Israel, the Saudis, and the Gulf States.

Once President-elect Joe Biden takes office on January 20, he could then negotiate a de-escalation with Iran that would culminate in a return to the 2015 nuclear agreement that the Trump administration pulled out of.

'In the meeting Netanyahu was advocating hitting Iran,' Saudi sources told Middle East Eye.

'Pompeo did not commit either way.'
Yes he has — Pompeo wants a war, and the T-Rump might give him one. A tightening with reports that Pompeo and his ass-in-assistant, Elliott Abrams, is planning a "flood" of new sanctions on Iran through Joe Biden's inauguration on Jan. 20, all of which could make some shit worse.
And make Biden's job that much tougher — T-Rump loves him some nasty vengeance.
And how did our commander-in-chief spend today — once again on the golf course — and how did he show a leader's spirit: As a self-centered asshole:
Scenes from Pres. Trump's golf outing today at his Virginia course. Different today, Marine One picked him up at his private club and flew him directly to Camp David. (@nbcnews video) pic.twitter.com/YEGA3SUA7Y

— Kelly O'Donnell (@KellyO) November 27, 2020
President Donald Trump fly directly from his private golf course to his vacation at Camp David as the leader of the free world continues to sulk after losing the 2020 presidential election to Joe Biden.

"President Trump arrived at the his Golf Club in Sterling, Virginia, at 10:59 am, marking his 417th day in office spent at a Trump property and his 306th day spent at a golf course," CNN's Jim Sciutto reported Friday.
HuffPost White House correspondent S.V. Dáte added more details.
"He has now spent 287 days on a golf course he owns in his 1,408 days in office. It was his 105th day at Sterling," Dáte reported. "Taxpayer-paid golf tab remains at $148 million."
TMZ has a clip of T-Rump playing golf yesterday — he's true to his asshole shit: 'You hear Trump grouse, "Oh s**t," and it's clear he had a history with this particular hole, and it ain't a good one. As he watches the ball disappear in the water, he mutters, "I hate this f**king hole!!!"'
Relating to this morning's subject about Diaper-Don T-Rump's tiny desk at his press conference was a reminder of the smallness of his brain, and his hands — from The Washington Post, Aug.4, 2016 (great h/t Digby):
Trump does, in fact, have unusually small hands.
15th percentile small.

After numerous attempts to measure Trump's hands — including one in the Post that analyzed photographs of the candidate — a journalist from The Hollywood Reporter cracked the case.

Near the exit of Madame Tussauds wax museum in New York hangs a bronze cast of Trump's hand.
It's been there since 1997, after the museum's artists took impressions of Trump's body parts to create a wax figure of him for their collection.
…
According to data from Ergonomics Center of North Carolina, the average American male's hand is 7.61 inches long.
Trump's hand sits at the 15th percentile mark.
That is, 85 percent of American men have larger hands than Trump.
As do a third of women.

But bear in mind, that is the 15th percentile among all American men.
Trump is tall — about 6-foot-3, half a foot taller than the 5-foot-9 average among American men, according to the Center for Disease Control.
If Trump were compared to men of his stature rather than the public at large, his hands would comparatively be even smaller.
What can you say? Small hands gripping the nuclear codes…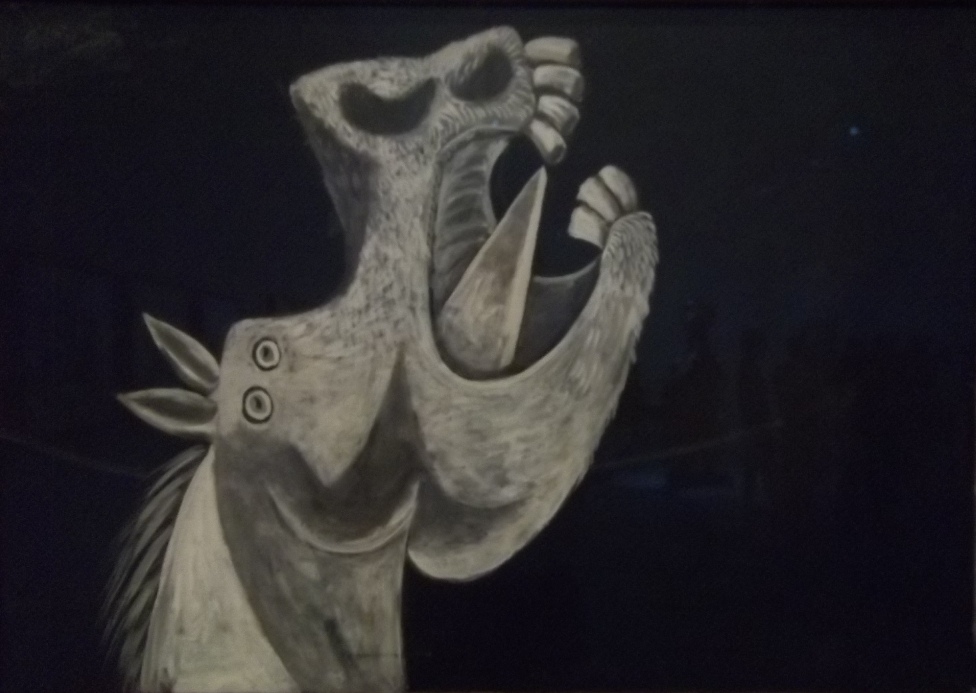 (Illustration: Pablo Picasso's 'Agonizing Horse,' found here),