Surge really isn't the absolute-right description right now for the spread of COVID-19, it's more like a tsunami without precedent, a whiplash of horror.
Last month was the shits (CBS News yesterday afternoon):
The United States reported more than 4 million coronavirus cases in November, which is higher than the total number of cases seen all year by any country in the world except India and Brazil.
Public health experts are warning that the U.S. will keep seeing record-breaking numbers in the final month of 2020.

Since the pandemic began, the U.S. has seen more than 13.3 million confirmed cases and over 267,000 deaths, by far the highest numbers in the world, according to data from Johns Hopkins University.
The U.S. accounts for nearly 20-percent of the global death toll.
And it's a full-blown nationwide national disaster. Here in California's Central Valley we're a hot spot — in Merced County where I live, we're rolling thunder — according to the daily 'Alert' from the county health department: 'As of 3:30 p.m. Monday, November 30, 2020, there are 12,175 confirmed cases (+638 from Wednesday) of COVID-19 (novel coronavirus) in Merced County. Approximately 1,623 of those cases are active, and 181 have died.'
Statewide to date, 1.22 million Californians have tested positive for COVID-19 with more than 19,000 deaths. And so far today, a reported 12,221 new cases, and also today we set a new record-high of hospitalization with 8,240 patients. Obviously a health-care system on the verge of collapse.
(Illustration found here).
We're in such dire straits, another statewide 'lockdown; most-likely willbe forthcoming — Deadline yesterday:
"Red flags are flying," California Gov. Gavin Newsom at the top of his Monday COVID-19 press conference.

Newsom ran through the state's dismal coronavirus numbers, warning that, "If these trends continue we're going to have to take much more dramatic, arguably drastic action. If these trends continue, the potential for a stay-at-home order for those areas in the Purple…more in line with the stay-at-home order that folks were familiar with at the beginning of the year."
…
In terms of the timing of the orders, "Those are being assessed in real time," said Newsom, before stressing should not think in terms of weeks, but days.
Hospital beds the key: 'As to what threshold could trigger further action, "We are looking at intensive care capacity as the trigger for further action," California Director of Health and Human Services Dr. Mark Ghaly said.'
As this grisly scenario unfolds, a related side-bar of the concept that language/word usage might play a factor-role in helping the nit-witted populace of America grasp the seriousness of the situation, at least according to GOP pollster and wicked-wordsmith, Frank Luntz — via Axios (h/t tengrain): 'Lockdowns: Survey respondents had a much more positive reaction to the term "stay-at-home order." "Calling it a lockdown brings to mind jailing your population," Luntz said.'
Read the whole article, though, the shit directly-mostly applies to GOPers as '…Republicans tend to take the coronavirus less seriously, in part because the vocabulary used to describe safety measures feels invasive of their constitutional rights.'
Hence where we be…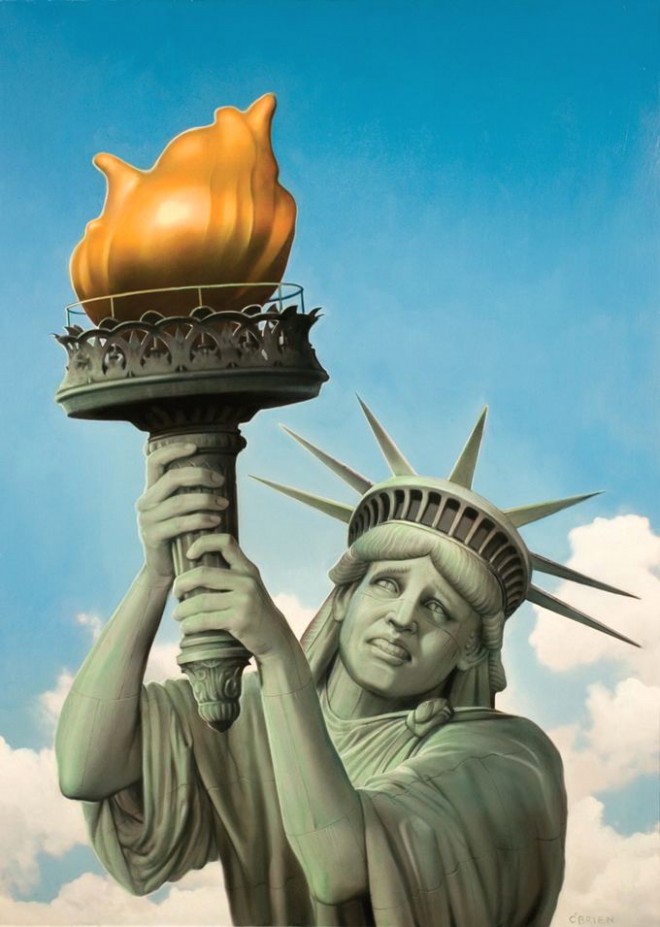 (Illustration by illustrator and portrait painter, Tim O'Brien, and can be found here).