Family of the T-Rump need to ready themselves for legal matters:
Ivanka Trump was deposed Tuesday by the DC attorney general's office as part of its lawsuit alleging misuse of inauguration funds, according to a new court filing.

— Kara Scannell (@KaraScannell) December 2, 2020
Ivanka is up to her fashion-tinted eyeballs in an example of early-in-the-presidential-game T-Rump grift: She testified in a lawsuit on 'misuse' of inaugural funds: 'The Washington, D.C. attorney general's office sued the 58th Presidential Inaugural Committee (PIC) in January, alleging the committee misused over $1 million in payments to the Trump hotel in D.C. for event space during the president's 2017 inauguration. Those funds "flowed directly to the Trump family," the lawsuit claims.'
And the whole bunch of them face legal shit wading in waist-deep.
A kind of insider viewpoint comes from the T-Rump's niece, Mary L. Trump, author of the bigly-bestseller last summer, "Too Much and Never Enough: How My Family Created the World's Most Dangerous Man," and who knows the pratfalls ahead for her monster of an uncle.
In an interview posted today at Vanity Fair, Mary explained the wonderfully ugly waters for the 'loser' T-Rump:
I mean, he's already checked out.
Two thousand people are dying every day, and he's playing golf.
I think he's much more focused on what he can get in the next 50 days, what kinds of deals he can make.
So far the likeliest scenario I've heard is that he's gonna counterprogram the inauguration, maybe with a rally announcing his 2024 candidacy, which is a complete joke, or something like that.
…
First of all, as soon as Biden is inaugurated, Donald loses a huge amount of relevance, and therefore so do his children.
I don't think they quite understand how badly damaged that brand is.
Also, and this is what gives me some hope, Donald isn't just looking at lawsuits from me and E. Jean Carroll and other people.
He's also looking at serious exposure from banking institutions, which no longer have to protect him.
And then of course there's the legal exposure.
He is, and his children are, looking at potentially very serious charges — tax fraud, money laundering, and what have you.
I think the New York attorney general and Manhattan district attorney were very serious about pursuing these things all along, but I think Donald made the urgency of holding him accountable even greater just by his egregious behavior over the past several weeks.
They're gonna have their hands full.
Yet we can't allow a GW Bush again and let the T-Rump's crimes float away:
It's not so much what they can do.
I'm more worried about what happens if he's not held accountable, if they're not held accountable.
I think that would be as damaging to this country as Mitch McConnell staying majority leader in the long term, because then it's just gonna happen again — there will be a savvier politician parading as a populist who has the same autocratic tendencies, but he's just better at it.
And next time we won't be so lucky.
Such a situation will always dog this country as long as the Republican party has any power at all. And Mary's right that if the T-Eump is not prosecuted for his immoral/amoral crimes we're going to get really fucked when a shitty someone comes along with half a brain.
Apparently, there's a mass of criminal shit just waiting in the wings.
And speaking of wings, how about a high-five to Four Seasons Total Landscaping for taking flight. Site of Rudy Giuliani's unhinged press conference early last month has become renown, making additional profit off sweaters, hoodies, face masks, even Tee-shirts:
— Jake Tapper (@jaketapper) November 28, 2020
And according to the commercial gardening company's owner, Marie Siravol: '"Not a day goes by where there's not a crowd outside."'
Via the Guardian this afternoon:
Since Giuliani's 8 November appearance, fans of Four Seasons Total Landscaping have reportedly sent the business cheesesteaks, gift cards, fruit baskets and even beard oil, Siravo said. And tourists have worn a trail to her door, posing and posting pictures of themselves on social media, or spoofs such as the now-disappeared Utah metal monolith/desert litter superimposed in front of the premises.
…
Four Seasons Total Landscaping moved swiftly to capitalize on the interest. The company expanded its merchandise range to include tree ornaments, sweaters, hoodies, and face masks.

Demand has been high, with the company reportedly selling more than 35,000 products since the Giuliani appearance, totaling $1.3m in sales.

"The response is overwhelming, that there's still so, so many good people in the world, and they got to laugh with this," Siravo said.

"And it was nothing we anticipated."
A way-rare nice side effect in the shit-horror of the T-Rump…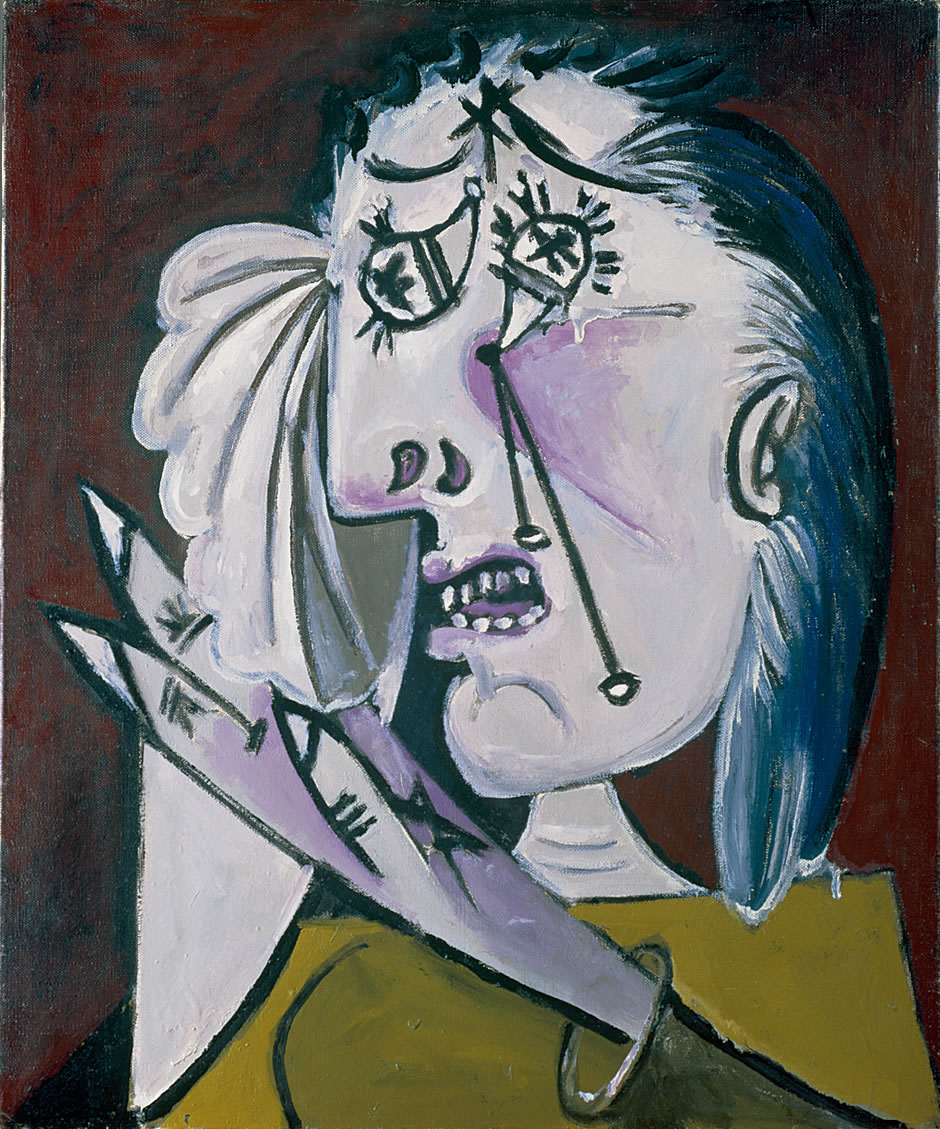 (Illustration: Pablo Picasso's 'The Weeping Woman [La Femme qui pleure],' found here).