Virus as plague:
#BREAKING: New CA stay-at-home order to go into effect in regions with less than 15% ICU availability. Health officials tracking CA by 5 regions:

Southern CA
Northern CA
Bay Area
Greater Sacramento
San Joaquin Valley.

No regions meet threshold but some expected to this week

— Anabel Muñoz (@abc7anabel) December 3, 2020
Here in California, as in way-too many other places, COVID-19 is overwhelming medical systems. We reported 18,591 new cases in just the last 24 hours, a daily average of 15,121. One month ago, the state reported just 14 Covid-related deaths, yesterday 113. Since this shit started, California has reported more than 1.2-million cases, more than 19,400 deaths.
Meanwhile, today America as a whole recorded more than 3,100 COVID-19 related deaths in a single day, obliterating the record set last spring. In the face of a reckoning.
California faces another 'lockdown,' stay-at-home mandate — per CNN this afternoon:
Millions of Californians will likely find themselves under a regional stay-at-home order once again under new restrictions announced Thursday by Gov. Gavin Newsom.

The new order will take hold in regions where hospitals are feeling the squeeze on capacity to treat the incoming surge of Covid-19 patients.
A strict stay-at home order will go into effect 48 hours after hospital intensive care unit capacity drops below 15-percent in one of five regions the state is divided into: Northern California, Bay Area, Greater Sacramento, San Joaquin Valley and Southern California.
"We are at a tipping point in our fight against the virus and we need to take decisive action now to prevent California's hospital system from being overwhelmed in the coming weeks," Newsom said.
…
None of the regions currently meet the threshold but state officials project four of the regions will drop below 15-percent ICU capacity in early December, with the Bay Area to follow in mid-to-late December, Newsom said.
The five regions include 99-percent of the state's 39 million residents.
"We need to do everything we can to stem the tide" until coronavirus vaccines are ready for the public, the governor said.
In Merced County where I'm located, within the San Joaquin Valley region, we're up shit creek without a paddle: 'As of Wednesday, officials at Merced County Department of Public Health said they only had seven ICU unit beds left.'
Reportedly, on Tuesday the county reported 146 new cases — one can see where this is going…
In his press conference today, Newsom seemingly dodged questions about evidence that new business closures will actually slow the spread of the coronavirus, which underscored the ominous undertone of an answer from Dr. Mark Ghaly, California's secretary of Health and Human Services — SFGate this afternoon:
"Many of the industries that you spoke about John, I think it's simple," he said.
"What we know is where you're not able to mask entirely or consistently, where they are indoors rather than outdoors, where physical distance is difficult to maintain, that each of those activities that we've been talking about for months as relatively lower risk when you can do all of the things we've discussed, but today, they're all a little more risky than they were a month ago.
And that's just because we have more COVID in our communities, and it's able to transmit not necessarily more easily, but because we have more of it in our communities."
Catch the throw of flattening the curve different now because 'we have more of it.' Dr. Ghaly repeated the motif for emphasis, I guess. So what he's saying is there's nothing left to pull out of the hat until full-scale vaccines are spread amongst the people, which most-likely and from all indications, maybe six months from now. Until then…
Our biggest help comes in 47 days and 14 hours — Joe Biden's inaugural. Turn-about is way-fair play:
In a CNN exclusive, Biden says he will take the COVID vaccine as a model to the nation, and that he spoke to Dr. Fauci today:

"I asked him to stay on in the exact same role he has had for the past several presidents. And I asked him to be chief medical adviser for me." pic.twitter.com/Ug1l5yzihN

— The Recount (@therecount) December 3, 2020
Joe will at least try to save people along with Dr. Fauci — via the BBC this evening:
In the interview with CNN's Jake Tapper, Mr Biden said: "The first day I'm inaugurated to say I'm going to ask the public for 100 days to mask. Just 100 days to mask, not forever. One hundred days.

"And I think we'll see a significant reduction if we occur that, if that occurs with vaccinations and masking to drive down the numbers considerably."

Constitutional experts say a US president has no legal authority to order Americans to wear masks, but Mr Biden said during the interview he and his Vice-President Kamala Harris would set an example by donning face coverings.

The president's executive authority does cover US government property, and Mr Biden told CNN he intended to exercise such power.

"I'm going to issue a standing order that in federal buildings you have to be masked," he said.

The Democratic president-elect said he would be "happy" to take a vaccine in public to allay any concerns about its safety.

Three former presidents – Barack Obama, George W Bush and Bill Clinton – have said they are also prepared to be inoculated publicly to show that it is safe.

"People have lost faith in the ability of the vaccine to work," Mr Biden said, adding that "it matters what a president and the vice-president do."
The T-Rump only wants credit for the vaccines, not giving a-rat's-ass whether they take it or not.
And on the mixed-word usage of coronavirus and the plague — this oddity noted at Dictionary.com in a post on similarites between COVID-19 and the plague: 'So, can we liken the coronavirus to a plague? Well, a word like plague generally connotes a massive scale of death that we're thankfully not witnessing so far with the coronavirus—and we don't say this to downplay the cost COVID-19 has wreaked on people's lives and livelihoods.'
Apparently written months ago…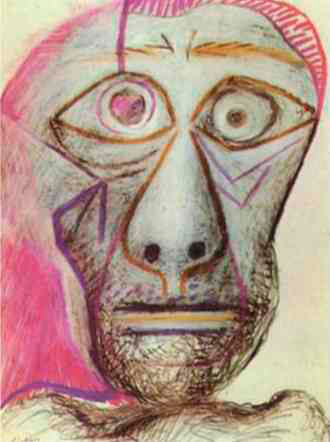 (Illustration: Pablo Picasso's 'Self Portrait Facing Death' (June 30, 1972), was originally found here).