As the COVID-19 coronavirus sweeps across the planet, all of us have a shitload of time on our hands and a lot of sofa-dwelling, binge-TV time, and there's a lot to view. Reportedly, popular for the era/moment are movies about virus outbreaks (Duh!) and assorted-like scenarios in keeping with our current predictament.
What caused this particular post is a new one, "Songbird," released and on VOD starting yesterday.
Supposedly, the movie started filming in June, and 17 days later, was a wrap — the first shot during the pandemic, and directly about a pandemic.
This movie received a somewhat-glowing review on Thursday from the Guardian, and accordingly seems to be a must-see for recreating our horrible current situation — even with whiz-bang Michael Bay on board.
Some snips from the critique:
Action supremo Michael Bay was a co-producer; the cast includes Demi Moore, Bradley Whitford and Craig Robinson.
"I just thought I'd get a group of friends together, and write something for them to shoot on their iPhones," says Mason.
Instead he wrote Songbird, a sci-fi action movie which will be in every history book that covers the film business in its rockiest year to date.
…
As speedily as Songbird was made, however, it progressed a long way from Mason and Boyes's initial concept of a Cloverfield-style creature feature.
They had envisaged 200ft-high monsters roaming Los Angeles, as glimpsed by characters who were stuck inside their apartments.
"But it felt like we were beating about the bush," says Mason.
"It seemed silly to invent a monster as a metaphor for what we were going through when there was a real monster that we couldn't see outside our front doors. After we'd been stuck in our houses for three weeks, there was something appealing about imagining the worst-case scenario four years down the line."

The story they ended up with is set in 2024.
The world has been ravaged by the latest and deadliest strain of coronavirus, Covid-23, and the government's system to stop the spread is a lot simpler than anything involving tiers and scotch eggs.
Every morning at 9am, you use a mobile phone app to scan yourself for the virus.
If you test positive, hazmat-suited goons from the sanitation department break down your door, throw you into a van, and drive you to be quarantined in a high-walled shanty town.
…
There is every possibility that 2020 has more horrors in store for us, of course, because 2020 is like that.
But it looks as if the US is edging away from the world of Songbird instead of towards it.
Still, Mason is not too concerned.
"Frankly, I hope that the film does feel outdated," he says.
"I haven't been able to see my parents back home in England. My dad is 85, and is maybe a few weeks away from getting the vaccine, so if the film becomes a strange little time capsule of this strange time we've all lived through, that would be the perfect way to end the year."
Oddly touching, that.
And there's other movies in the genre as well, some recent, some from way-back, Here's a short list of the better ones, some I've seen, some not, there's tons more:
"Contagion" (2011) — Steven Soderbergh tracks the outbreak of an unknown virus and the task of bringing it under control (Gwyneth Paltrow starts the action by dying badly):
And a 'splendid' pair from 1995 — first "Outbreak" with Dustin Hoffman, Rene Russo, Morgan Freeman, and Kevin Spacey, who also dies a horrible death:
And "12 Monkeys," Terry Gilliam's best, with Bruce Willis, Madeleine Stowe and Brad Pitt. A wonderful turn from the late-great Frank Gorshin. I've seen this a shitload of times:
Fifty years old, and still current — a virus from outer space, "The Andromeda Strain," from the Michael Crighton novel, which I've read numerous times — seen the movie maybe twice:
"The Seventh Seal" (1957), Ingmar Bergman's black-and-white masterpiece, set during the Black Death plague of the 1300s, with a young Max von Sydow:
There's also movies where a virus turns those infected into zombies — the better like "World War Z" (2013), and "28 Days Later" (2002), and lesser ones, like the "Resident Evil" series (2002-2017), or even the now-classic "Dawn of the Dead" (1978/2004 remake).
Lists of similar pandemic-like movies can be found at The Wrap from last July, and at Vulture in April.
Cuddle up during lockdown and laugh insanely…with Brad Pitt: "Get Outta My Chair!"
Reality or celluloid…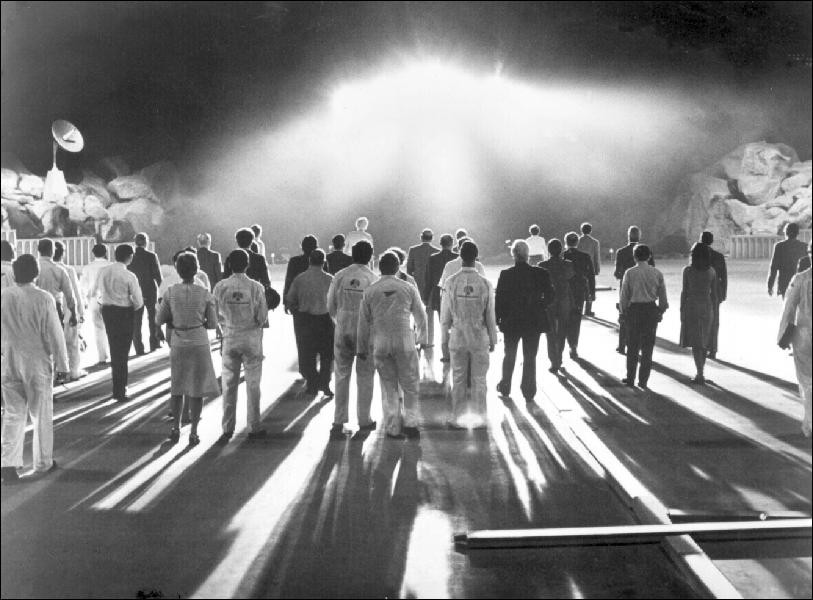 (Illustration: Scene from "Close Encounters of the Third Kind," found here).