As if there wasn't enough shit on our plates, now the Russkies:
EXCLUSIVE: U.S. Treasury breached by hackers backed by foreign government – sources https://t.co/7QJwzkpjpC

— Chris Bing (@Bing_Chris) December 13, 2020
And it was the Russians — via Reuters, updated this evening:
Hackers believed to be working for Russia have been monitoring internal email traffic at the U.S. Treasury Department and an agency that decides internet and telecommunications policy, according to people familiar with the matter.

There is concern within the U.S. intelligence community that the hackers who targeted Treasury and the Commerce Department's National Telecommunications and Information Administration used a similar tool to break into other government agencies, according to four people briefed on the matter.

The people did not say which other agencies, but late Sunday Austin, Texas-based IT company SolarWinds said software updates it released in March and June of this year may have been surreptitiously tampered with in a "highly-sophisticated, targeted and manual supply chain attack by a nation state."

SolarWinds stopped short of saying the hack at Treasury occurred via them, but two of the people familiar with the investigation said the company was believed to be the channel by which the hackers got in.
…
Three of the people familiar with the investigation said Russia is currently believed to be behind the attack.

Two of the people said that the breaches are connected to a broad campaign that also involved the recently disclosed hack on FireEye, a major U.S. cybersecurity company with government and commercial contracts.
…
The hack is so serious it led to a National Security Council meeting at the White House on Saturday, said one of the people familiar with the matter.
…
The breach presents a major challenge to the incoming administration of President-elect Joe Biden as officials investigate what information was stolen and try to ascertain what it will be used for.
It is not uncommon for large scale cyber investigations to take months or years to complete.

"This is a much bigger story than one single agency," said one of the people familiar with the matter.
"This is a huge cyber espionage campaign targeting the U.S. government and its interests."
And how did the T-Rump respond? He went golfing, and tweeted the shit out about his stolen election, without a word about the hack — if you can stomach it, the tweets can be found at Raw Story.
The Washington Post also has a report.
A major event downplayed as usual by this so-called administration.
And a couple of other stories blinking about this Sunday, both about the monstrous icompetence, and the don't-give-a-shit attitude of the T-Rump and his lackeys:
First off, the economy — per CNN:
But another set of numbers adds insult to his psychological injury.
They show that — notwithstanding lies as promiscuous as the ones he tells about election fraud — Trump will leave office in January with a historically bad record on the economy.
That sounds discordant since many Americans believe the economic fable that Trump has repeated relentlessly throughout his term.
But placing his bottom-line results alongside those of his predecessors paints a deeply unflattering portrait.
Alone among the 13 presidents since World War Two, Trump will exit the White House with fewer Americans employed than when he started.
He will have overseen punier growth in economic output than any of the previous 12 presidents.
…
"Trump's economic record ranks near or at the bottom compared with other presidents," concludes Moody's chief economist Mark Zandi, who compared the economic results of all presidents from the last 70 years.
"The economy under his watch has performed very poorly."
Secondly, the T-Rump is kicking the starving — from Rolling Stone last night:
As more Americans go so hungry that shoplifting of food is on the rise, the president is about to let his Farmers to Families program lapse on December 31.
That program has supplied food to needy families during the Covid-19 pandemic, but some states are already running out of funding for it, the Washington Post reported.

Trump announced Farmers to Families as part of the $19 billion Coronavirus Food Assistance Program in April of 2020, and it launched the next month.
It has brought fresh fruits, vegetables, dairy products and meat from American farms to low-income neighborhoods and food banks, delivering more than 125 million food boxes between May and December.
…
If the program's funding is not renewed, it will leave many Americans high and dry for the holiday season and beyond.
And food pantries are already feeling it.
Northern New York stopped receiving Farmers to Families boxes entirely since August, months before the program was scheduled to run out, WCAX 3 reported.

According to Feeding America, a hunger relief non-profit, the US is seeing record levels of child hunger, and as many as 17 million children will experience food insecurity this year alone.
And the organization projects that 15.6 percent of American households are without enough food, a more than four percent increase over 2015.
This uncertainty and lack of supplies is pushing American families — and food banks — to the limit.

As Robin Bialecki, who works on Massachusetts food drives, told ABC 7, "Every distribution we are running is out of food, and I am calling suppliers, and I'm calling food banks like, 'We need more food.'"
Just two of the mass of others — like, 82-percent of Trumpers believe Joe Biden stole the election, or Bill Barr is unperturned about T-Rump blather, just "none of this matters –  it's the deposed king ranting. Irrelevant to the course of justice and to Trump's election loss," or maybe:
Rove on Trump: "America likes comebacks, but they don't like sore losers" https://t.co/MBJEZxWdDi pic.twitter.com/cL13FStDoj

— Peter Wade (@brooklynmutt) December 13, 2020
And on and on, and so forth…
The Electoral College votes tomorrow and we'll see what happens, but it's not over until the fat-orange turd  is kicked out the door.
Until then, the Pinball still has the last word:
So…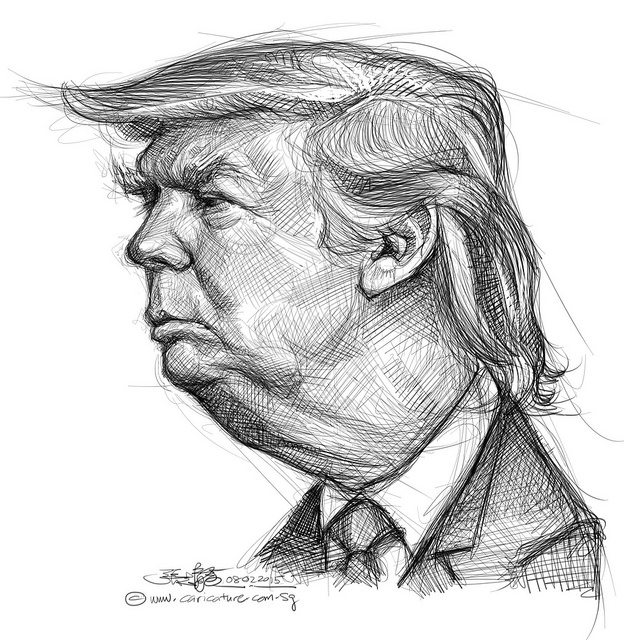 This is my favorite of the T-Rump mugs, though, 'favorite' does not mean in any form or fashion, as in, 'my favorite movie,' or 'my favorite song.'
It's more of an anti-appreciation/like.
And aptly titled, 'Basic Shapes,' by caricaturist/illustrator Chong Jit Leong (found here), and displays the elemental form of a purloined sociopath — a bloated profile of flatulent bile and arrogant ignorance.