Yesterday seemed special as politics and the coronavirus overlapped each other with Joe Biden finally nabbing the Electoral college president-elect title (and this morning both MoscowMitch and his benefactor, Vlad Putin, belateldy proclaimed as such), and America's first COVID-19 vaccine rolled out — the Pfizer/BioNTech shot was first administered to New York health-care worker, Sandra Lindsay, at Long Island Jewish Medical Center as vaccinations started across the country.
In the good-news/bad-news side effect, the death toll from the virus topped 300,000 since the pandemic began, and yesterday a record 110,549 Covid-19 patients were hospitalized, which is the nightmare aspect of the virus — the collapse of the health-care system.
Here in Californbia we're in a surge (h/t BJ):
California again shatters single-day coronavirus case record: more than 42,000 cases https://t.co/h98GXryalp

— L.A. Times: L.A. Now (@LANow) December 15, 2020
This morning, Gov. Gavin Newsom held an update press briefing on the virus and the vaccine roll-out for the state. A mixture of dark-forbidding and shitty — via Deadline:
At his news conference, the governor ran through the distribution of the initial 327,000 doses from Pfizer, 60-percent of which could be delivered on Tuesday.
Newsom announced an additional 393,000 from Pfizer as early as next week.
The total number of doses delivered by the end of the year, could rise to 2.1 million, he said.

The first phase of the vaccine rollout will inoculate three million mostly frontline healthcare workers.
The second phase will inoculate eight million others, which could include teachers, farm workers, grocery story workers.
The workers included on that list are still being firmed up by a state working group.

The governor reported 32,326 new cases in the state over the past 24 hours.
Even more grimly, California had seen 142 deaths.
Newsom said that 163 people had been lost to the virus on average over the past 7 days.
"This is not something to be trifled with," he said.
"Think about what the January number may look like if we continue [like this]."

Newsom then announced that the state had activated mutual aid among the state's coroners.
That means if one area's coroners are overwhelmed, they can call on those from nearby regions for help.

"We have orders for 63 refrigerated units," he said.
"We just had to order 5,000 additional body bags and distribute them down to San Diego, L.A. County." Newsom said his intention was not to scare Californians, but the gravity of the announcement was hard to ignore.
And hospitals are swamped: 'The state had 3,081 ICU beds occupied by Covid-19 patients. Statewide, ICU capacity stood at 5.7-percent. Some areas of the state were critically low.'
Here in the Central Valley we've tanked — and in Merced County where I reside, we're at zero ICU beds:
And you wonder why the virus shit has hit the fucking asshole fan (from Sunday night):
As ICUs run out of capacity, this Huntington Beach, CA scene was posted by a resident noting that today's Green Bay/ Detroit game can be seen on overhead TVs. pic.twitter.com/Dcr3IlOOaS

— Margot Roosevelt (@margotroosevelt) December 14, 2020
And the reality:
"I've gotten harassed for wearing a mask," said Dr. Isabel Pedraza, the ICU Medical Director of Los Angeles hospital Cedars-Sinai.
"I've gotten, you have to sit there and listen on the news to people saying we are infringing on their constitutional rights and yeah, it's incredibly demoralizing. I think that there isn't anyone who does this that doesn't feel demoralized by it. Our lives don't matter, the patient's lives don't matter. It seems like this suffering is meaningless to some people, that's what it feels like it — it doesn't matter until it happens to them."
Fairly simple — wear a fucking mask! And maintain a sociable distance — WTF! Not anywhere-near rocket science, just do it!
Asshole!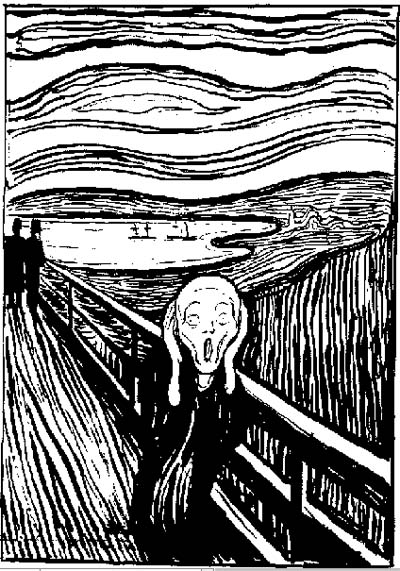 (Illustration: Edvard Munch's 'The Scream,' lithograph version, found here)