Good grief!
Outgoing President Trump pardons Roger Stone, Paul Manafort, and Jared Kushner's father Charles, whom then-US Attorney Chris Christie prosecuted for tax evasion, witness tampering and illegal campaign contributions. 

Current swamp status: pic.twitter.com/dyZoUj4y98

— Jake Tapper (@jaketapper) December 24, 2020
Yesterday, the orange-turd issued pardons and commutations to 20 assholes, liars, embezzlers, killers, all either pled guilty of crimes, or were convicted in court of crimes, most were political shitheads, four were found guilty of killing Iraqi civilians for no reason in 2007.
All today's shit via The Washington Post this afternoon:
President Trump on Wednesday granted pardons or clemency to another 29 people, including real estate developer Charles Kushner, his son-in-law's father, and two former advisers who were convicted as part of the FBI's 2016 probe of Russian interference in the 2016 election — once again using his executive power to benefit his allies and undermine an investigation that dogged his presidency.

With his time in office nearing its end, Trump pardoned former campaign chairman Paul Manafort, who was convicted in 2018 of committing financial fraud and conspiring to obstruct the investigation of his crimes, and he upgraded the clemency he had earlier provided to longtime friend Roger Stone to a full pardon.

Trump also pardoned Kushner, the father of Trump son-in-law Jared Kushner, who pleaded guilty to in 2004 to having made false statements to the Federal Election Commission, witness tampering, and tax evasion stemming from $6 million in political contributions and gifts mischaracterized as business expenses.
…
Trump has drawn significant criticism for how he has used his pardon power, though one adviser said the president is unconcerned about the blowback.

"He's just burning it all down," this person said.
The adviser said the president has also discussed pardoning former Steve Bannon, his former chief strategist, and Rudy Giuliani, his personal lawyer, and will issue dozens more before he leaves office.
An example of what kind of people we're dealing with:
According to court documents, while Charles Kushner was under investigation for campaign contributions, he grew angry when he learned that other family members were cooperating with the probe.
He paid a prostitute to seduce his brother-in-law in a New Jersey motel room, where hidden cameras had been set, and later had the tape mailed to his sister as a warning, according to the documents.
And a note on the depth of this horrid shit:
Trump flew to his resort at Mar-a-Lago Wednesday, where he was greeted by hundreds of supporters along his motorcade route.
The mostly unmasked supporters waved Trump flags and signs and chanted "Four more years!"
One small boy had a sign that said, "We're going to miss you."
The entire T-Rump phenomenon is way-incomprehensible…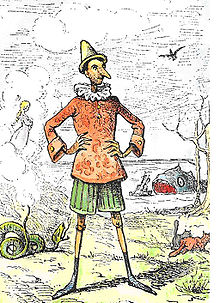 (Illustration: 'Pinocchio,' by Enrico Mazzanti (1852-1910), found here).