We all know rhe T-Rump hates losers, and that's due to the unmistakable fact he himself is a giant loser. And he does a shitty job of trying to gloss-over the fact, despite all the energy given to trying to hide it.
Odd, too, he's not only a political loser, but he's way-more a financial loser than anything, despite his constant blather to the contrary.
And speaking (writing) of gloss:
Cheers to the New Year! We hope to see you all on the golf course even more in 2021! pic.twitter.com/ALZZJSznQu

— Trump Golf (@TrumpGolf) January 1, 2021
In reality, not so bright and happy. In nearly half a century, T-Rump has just fallen forward and other people's feet have caught him — first his daddy, later others in his finacial food chain propped him up, bailed him out, or just created TV shows promoting a false persona, allowinfg cash to flow. All phony, and bound to always ultimately fail.
And like his dismal financial disaster with supposedly money-making casinos — Atlantic City is currently holding a lottery on the chance to push the dynamite-button, blowing up T-Rump's failed and long-time empty Trump Plaza casino — the loser T-Rump hasn't been able to get out of the sand traps of his golf resorts — people who have sense stay away.
A review of T-Rump's not-so-green links at Forbes this afternoon:
That's bad news for the Trump Organization, which has now declared losses of roughly $90 million at its European golf resorts, according to an analysis of records from Ireland and the United Kingdom.
Since the president opened his Aberdeen course in 2012, he has lost $15.5 million.
Business has been even worse at Turnberry, which Trump bought in 2014 for $65 million.
Despite investing an additional $75 million or so to fix up the property from 2014 to 2018, the place piled up losses of $58 million, according to an analysis of financial reports.
The 2019 figures, first reported by the Scotsman, bring Turnberry's total losses to $61 million since 2014.

The Turnberry and Aberdeen properties make up half of Trump's troubled portfolio of golf resorts.
In Doonbeg, Ireland, he spent nearly $20 million on a third property, the Trump International Golf Links & Hotel, in 2014.
The president poured in another $12 million from 2015 to 2018, but he failed to see much of a return, racking up about $9 million in losses.
Irish documents released in December show an additional $1.5 million of losses in 2019.
…
Trump's fourth golf resort is in the United States.
The 643-room Trump National Doral used to throw off big money. Documents obtained through public records requests show that 2015 profits (defined as earnings before interest, taxes, depreciation and amortization) hit $13.8 million on $92.1 million of revenue.
Trump's politics eventually poisoned the property, however.
In 2016, the year Trump won the presidency, revenues dropped to $87.5 million in 2016, and profits slid to $12.4 million.
After election night, the resort lost 100,000 booked room nights, according to someone familiar with the business.
Revenue plummeted to $75.4 million in 2017, and profits sank to $4.3 million.
The T-Rump is one of the worse human beings who have ever lived — he really is not worth a shit. At anything. The way-downer, of course, is that the useless twit is POTUS.
On a side note, great piece by Jordan Hoffman at Vanity Fair today on the passing of Joan Micklin Silver on New Year's Eve at age 85 — Silver was an artist at stage and film directing, breaking female directiorial barriers her whole life.
Although I'm not that familar with all her work, I am wonderfully thankful for her introducing me to Carol Kane in "Hester Street" (1975) back in the day:
Another death in a year of many, many untimely deaths…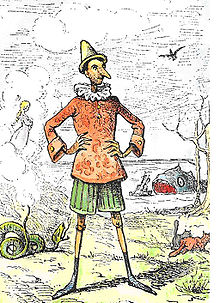 (Illustration: 'Pinocchio,' by Enrico Mazzanti (1852-1910), found here).