UPDATE Below:
---
As I type-out this post now near-mid-day Wednesday here in California's Central Valley, far to the East the US House of Representatives in DC is arguing an impeachment article against the T-Rump, leading off with Rep. Jim McGovern, D-Mass. proclaiming, "We are debating this historic measure at an actual crime scene," and the rest flows from there.
The shit-heel T-Rump faces a single charge of "incitement of insurrection," which isn't a light accusation at all, but enough to get the thing to the Senare, where he could be found guilty:
"Those insurrectionists were not patriots. They were not part of a political base to be catered to or managed. They were domestic terrorists and justice must prevail," House Speaker Nancy Pelosi said on the House floor, kicking off two hours of debate before the final vote is schedule to be held around 3 p.m. ET.

"But they did not appear out of a vacuum. They were sent here, sent here by the president, with words such as a cry to 'fight like hell,'" Pelosi, D-Calif., continued.
"The president saw the insurrectionists not as the foes of freedom, as they are, but as the means to a terrible goal: the goal of him personally clinging to power."
We're a few minutes short of that allotted time (h/t tweets via the Guardian live blog):
"Donald Trump is a living, breathing impeachable offense" — Rep. Hakeem Jeffries pic.twitter.com/8P8I7Dgebi

— Aaron Rupar (@atrupar) January 13, 2021
Moments later, Jamie Raskin, the Democrat who will serve as the lead impeachment manager this time around, also criticized Republicans who have tried to blame Democrats for the violence seen last week.
Rep. Raskin: "It is a bit much to be hearing that these people would not be trying to destroy our government and kill us if we just weren't so mean to them." pic.twitter.com/TEydYa2PSn

— Aaron Rupar (@atrupar) January 13, 2021
A majority of the American public still want the T-Rump to go — per The Hill this morning:
The Morning Consult-Politico survey found that 53-percent support the House impeachment of Trump and 54-percent say the Senate should convict him and remove him from office.

Support for impeachment is deeply divided along partisan lines, with nearly 90-percent of Democrats supporting it and about 80-percent of Republicans opposing.
Among independents, 47-percent support impeachment and removal, compared to 38-percent who oppose it and 15-percent who have no opinion.
And the hard-dumb-ass folded among the GOPer 80-percent noted above, despite reality: 'Seventy-seven-percent of Republicans approve of the job Trump is doing, down 8 points since the riot.'
You can give a horse (or elephant) water, but you can't make them drink. Republicabs are going to argue until the sun comes up (and then goes down) that the left is worse than inciting insurrection and sedition — some shit is just not going away.
One view of this comes from Harvard political scientist Daniel Ziblatt, author of "How Democracies Die" (2018), in an interview published this afternoon at Vox — which includes this main theme for our current clusterfuck:
"I think what was so striking for everyone watching this is just how unfamiliar it all felt and looked — to American eyes.
There is a record of these sorts of uprising across US states in recent years and in the past, but having this happen at the seat of power was so disorienting.
Hence the proliferation of names to describe it: "coup," "putsch," "riot," "insurrection," and so on. We just don't know how to make sense of it.

But in the days since, it has become clear this was a regime-threatening moment.
Not only because of the violence but also because the aim was to disrupt the constitutional transfer of power.
This is serious business, and most worrying is that it has, at the very least, the tacit support of some leading figures in the Republican establishment.

As I saw the video of Sen. Lindsey Graham being harassed at the Washington, DC, airport for having failed to sufficiently support President Trump, I was reminded of Churchill's definition of an appeaser — as one who feeds a crocodile, hoping he will be the last one eaten.
We have a rotten sore in the midst of our political system, infecting the whole system, that isn't going anywhere anytime soon."
A 'rotten sore' is way-more than equivalent to the infamous John Dean line — "We have a cancer — within — close to the Presidency, that's growing.It's growing daily."
A T-Rump cancer…
UPDATE
First president in US history to snag a two-fer, and the timing — via HuffPost:
Donald John Trump on Wednesday became the first U.S. officeholder — let alone president — to be impeached twice by the House of Representatives.
The vote took place exactly one week after he incited an insurrection at the Capitol and one week before the inauguration of President-elect Joe Biden.
The House voted 232-197 in favor of impeachment.

Ten Republicans joined Democrats in voting to impeach, a record number for the president's party.
The Republicans who voted for impeachment are Reps. Liz Cheney (Wyo.), Jaime Herrera Beutler (Wash.), John Katko (N.Y.), Adam Kinzinger (Ill.), Fred Upton (Mich.), Dan Newhouse (Wash.), Peter Meijer (Mich.), Anthony Gonzalez (Ohio), David Valadao (Calif.) and Tom Rice (S.C.).
However, the mission looks shaky as the article goes to the Senate, where most-likely it will stall:
Senate Majority Leader Mitch McConnell (R-Ky.) has informed Senate Democrats that he will not consent to convening an emergency session to consider impeachment. That means the process is likely to drag into the early days of the Biden administration and prevent the Senate from confirming Biden's Cabinet in a timely manner.

After the House vote, McConnell released a statement saying, "There is simply no chance that a fair or serious trial could conclude before President-elect Biden is sworn in next week."

"In light of this reality, I believe it will best serve our nation if Congress and the executive branch spend the next seven days completely focused on facilitating a safe inauguration and an orderly transfer of power to the incoming Biden Administration," he said.
Lying like a pious=skunk stinks…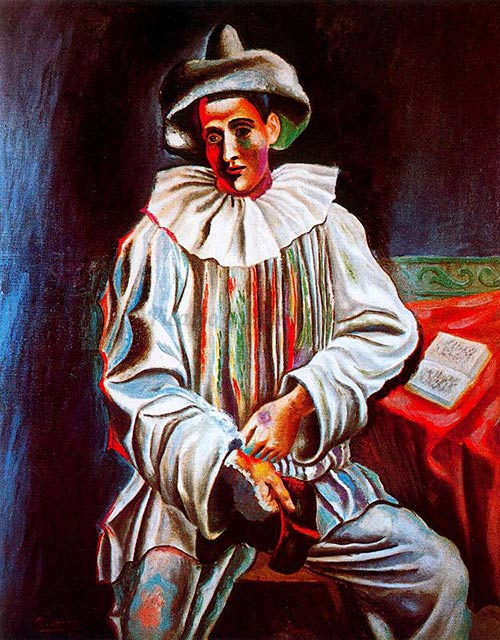 (Illustration: Pablo Picasso's 'Seated Pierrot,' found here).